Tue Dec 11, 2012, 09:30 AM
marmar (70,152 posts)
Love Song to the UAW
from
Dissent
magazine:
Love Song to the UAW
Brothers on the Line
Directed by Sasha Reuther, 2012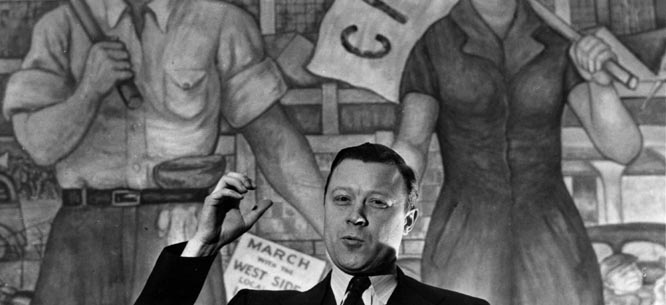 [font size="1"]
Walter Reuther (Walter P. Reuther Library, Wayne State University)
[/font]
Few things fire up nostalgia and kindle hope for American progressives more than the sit-down strikes of 1937. That winter in Flint, Michigan, autoworkers boldly grasped the means of production, gained recognition from General Motors, and proceeded to build the kind of institutional power that transformed history. It's an incredibly seductive story. Perhaps too seductive.
At the center of that struggle stood the shrewd and daring Reuther brothers. As the modern UAW took shape, Roy worked the administrative and legislative agenda, Victor managed international affairs and education, while Walter became one of the most famous labor leaders in American history in his role as UAW president from 1946 until his death in a plane crash in 1970. Together they pushed American pluralism about as far as it could go by advancing union power to unprecedented heights, advocating for civil rights, and keeping their eyes on a future social democratic America.
Once household names, sadly the Reuthers are now largely lost to popular lore—a problem that Brothers on the Line goes a long way toward rectifying. A time when a handsome, eloquent working-class leader—flanked by his indefatigable younger brothers—could go toe-to-toe with the bosses publicly and win on a regular basis seems today more like fantasy than history. For that reason alone, Brothers on the Line deserves a wide audience. A viewer unfamiliar with the forty-four-day occupation of the Fischer Body plant, the assassination attempts on the young Reuthers, the extraordinary gains in collective bargaining, and the important role of the UAW in the civil rights movement will certainly be surprised—if not astounded—at this amazing archival footage and the extraordinary story that changed the direction of American history.
Raising the popular consciousness about the role of the Reuthers seems to be the goal of Sasha Reuther, Victor's grandson, who directed and helped produce this film. That is good, and every generation needs a new introduction to these amazing stories. Perhaps I am asking too much of a documentary, but this project needs a higher calling. With the increasing cultural distance between the Reuthers' time and our own, in which the entire CIO seems to bracket a sort of generational accomplishment more than a long-term victory, we have much more pressing and important concerns than the dramatic stories of these (truly) great men. In a world in which working-class power may be approaching a hundred-year nadir, we need to understand where all that power and energy came from and how it dissipated so quickly. .........................(more)
The complete piece is at:
http://www.dissentmagazine.org/online_articles/love-song-to-the-uaw
3 replies, 1206 views
Replies to this discussion thread
| | | | |
| --- | --- | --- | --- |
| 3 replies | Author | Time | Post |
| Love Song to the UAW (Original post) | marmar | Dec 2012 | OP |
| | Smarmie Doofus | Dec 2012 | #1 |
| | Hestia | Dec 2012 | #2 |
| | Smarmie Doofus | Dec 2012 | #3 |
---
---
Response to Smarmie Doofus (Reply #1)
Tue Dec 11, 2012, 01:36 PM
Hestia (2,798 posts)
2. The DVD won't be available until 2013
---