Mon Dec 10, 2012, 11:58 AM
polly7 (20,582 posts)
Human Rights Day, 10 December
Human Rights Day, 10 December
[IMG]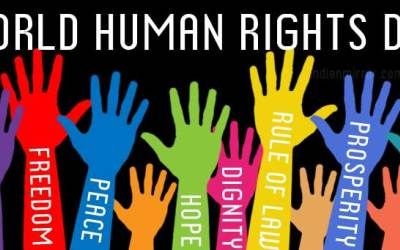 [/IMG]
Human Rights Day presents an opportunity, every year, to celebrate human rights, highlight a specific issue, and advocate for the full enjoyment of all human rights by everyone everywhere.
This year, the spotlight is on the rights of all people — women, youth, minorities, persons with disabilities, indigenous people, the poor and marginalized — to make their voices heard in public life and be included in political decision-making.
These human rights — the rights to freedom of opinion and expression, to peaceful assembly and association, and to take part in government (articles 19, 20 and 21 of the Universal Declaration of Human Rights) have been at the centre of the historic changes in the Arab world over the past two years, in which millions have taken to the streets to demand change. In other parts of the world, the "99%" made their voices heard through the global Occupy movement protesting economic, political and social inequality.
Universal Declaration of Human Rights
Zimbabwe: Ruramai's Story - International Human Rights Day 2012
BY MADZIMBABWE, 10 DECEMBER 2012
Ruramai was married young, at 15. The age of sexual consent in Zimbabwe is 16.

When she got married, her now late husband, Simbarashe, was a self-employed cross-border trader who spent most of his time travelling to faraway places such as Dar-es-Salam, Lusaka, Gaborone and Johannesburg to buy clothing for resale back home. This is a common pastime for many in Zimbabwe, a country with an employment rate estimated at over 90 percent.

Ruramai's father, Zakaria, is a polygamist with six wives and 29 children. Ruramai's mother is 'wife number two', and she has five daughters. Zakaria is old and unemployed, feeding his large family through subsistence farming.

Ruramai's entire life has been one of being at the receiving end of violence against women.
More:
http://allafrica.com/stories/201212101561.html
0 replies, 1961 views