Mon Nov 12, 2012, 09:42 AM
marmar (70,152 posts)
The Rise and Fall of the American Linguistic Empire
from
Dissent
magazine:
The Rise and Fall of the American Linguistic Empire
By Paul Cohen - Fall 2012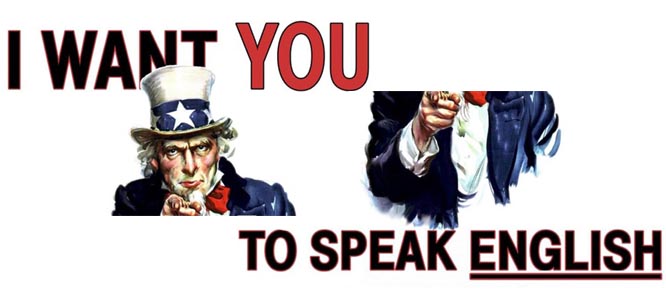 In an op-ed piece entitled "What You (Really) Need to Know," published on January 20, 2012, in the New York Times, former president of Harvard University Lawrence Summers called upon American universities to revamp their curricula in order to better prepare their students for the twenty-first century. Among his propositions, Summers made the case that the study of foreign languages represents a waste of time. As more and more people acquire English across our increasingly interconnected globe, he argued, mastery of foreign languages will become less and less necessary. Colleges and universities should instead teach their students leading-edge skills better suited to an increasingly competitive employment marketplace.
Cost-cutting university administrators have been putting this modest proposal into practice in institutions across the United States for some time now. In 2010, for example, cash-strapped SUNY Albany shuttered its degree programs in French, Italian, Russian, and classical languages (it has since restored French and Russian as undergraduate minors and course offerings in Italian). This closing of linguistic minds is by no means peculiar to America. In Britain, the government's 2004 decision to cease requiring secondary-school students to study a foreign language has triggered a precipitous drop in university language departments' enrollments. The University of Toronto, where I teach, moved in 2010 to merge all foreign-language teaching into a single school of languages before a firestorm of public debate forced its administration to beat a hasty retreat back to the disciplinary status quo. As public funding for higher education shrinks and endowments plummet, language education is now the first up on the chopping block—an unmistakable sign of the low esteem in which university and government leaders hold the study of languages today. At the very moment my dean and provost went to war against foreign languages, contractors were hard at work building a massive new addition to the university's business school, a telling symbol of the hierarchy of academic values now in play. That Summers lent his name to such arguments drapes them with all the legitimacy that his résumé as former chief economist of the World Bank, Bill Clinton's Secretary of the Treasury, Barack Obama's director of the National Economic Council, and president of Harvard University can offer.
.....(snip).....
Summers's celebration of the global reach of English can only be read as an unabashed apology for American empire. By even the most strategically hard-headed criteria, however, cadres drawn from a monolingual American elite are a poor choice as ambassadors of U.S. interests. Imagine for a moment what America's interlocutors abroad—say, the minister of foreign affairs of Tunisia's emerging democracy, China's delegation to the World Trade Organization, or corporate executives in Québec—think when faced with American counterparts who expect them to communicate exclusively in English. In the same way that American power creates asymmetrical geopolitical and economic relationships with certain parts of the world, so too does the reliance on English as an international lingua franca engender cultural asymmetries with non-anglophone cultures. However widespread the mastery of English is in academic, business, and diplomatic circles today, to cease teaching languages is quite simply a recipe for cultivating anti-American resentment around the world. Languages have always been more than semiotic systems for the transmission of information, and the belief that English's status as a global idiom will ease twenty-first-century life belies their powerful symbolic charge, notably as banners for national, ethnic, social, and cultural identities.
.....(snip).....
But it would also be a big mistake to overestimate the reach of English. Though it is widely assumed that the planet is becoming more linguistically homogeneous, hard evidence suggests otherwise. Most of the approximately six thousand languages in use today are indeed spoken by relatively small communities, nearly half by populations of less than ten thousand. Although a great many of these idioms are in danger of dying, many new languages and dialects are coming into existence as well. More broadly, there are a number of major world languages other than English, used by large portions of the planet's inhabitants, in the context of dynamic social, cultural, and economic activities. Fifteen idioms are spoken by at least one hundred million people—including Spanish, Hindi, Arabic, Japanese, Portuguese, and French. At around one billion, there are more than twice as many speakers of Mandarin Chinese as of English. Chinese is almost as equally present on the Internet as English. India, home to the world's largest film industry, produces movies in a staggering number of languages: in 2010 alone, 1,274 films were produced in a total of twenty-three languages—of these, 215 were shot in Hindi, 202 in Tamil, 181 in Telugu, 143 in Kannada, 116 in Marathi, 110 in Bengali, and 105 in Malayalam (and 117 films were dubbed from one regional language to another). Only seven were produced in English. While the Moroccan government joined the broader trend in English-language higher education when it opened the anglophone Al Akhawayn University in Ifrane in the 1990s, it is also currently breaking ground for a French-language engineering school in partnership with France's elite École des Mines. Once outside Tokyo, try navigating Japan with only English. In the central Asian republics, Russian will get you a lot further than English, just as French will in most of West Africa. Good luck, by the way, to any well-meaning monolingual American doctor who heads off to treat villagers in Mali, Angola, or Chad. ...................(more)
The complete piece is at:
http://www.dissentmagazine.org/article/the-rise-and-fall-of-the-american-linguistic-empire
6 replies, 1400 views
Replies to this discussion thread
| | | | |
| --- | --- | --- | --- |
| 6 replies | Author | Time | Post |
| The Rise and Fall of the American Linguistic Empire (Original post) | marmar | Nov 2012 | OP |
| | xchrom | Nov 2012 | #1 |
| | Sekhmets Daughter | Nov 2012 | #2 |
| | kestrel91316 | Nov 2012 | #5 |
| | Sekhmets Daughter | Nov 2012 | #6 |
| | lexx21 | Nov 2012 | #3 |
| | bemildred | Nov 2012 | #4 |
---
Response to marmar (Original post)
Mon Nov 12, 2012, 09:51 AM
xchrom (108,903 posts)
1. du rec. nt
---
Response to marmar (Original post)
Mon Nov 12, 2012, 09:52 AM
Sekhmets Daughter (7,513 posts)
2. I'd be happy if native born Americans would speak English....
---
Response to Sekhmets Daughter (Reply #2)
Mon Nov 12, 2012, 11:22 AM
kestrel91316 (51,666 posts)
5. They speak it marginally, but it's when they WRITE it that we see
the true magnitude of the problem.

sigh
---
Response to kestrel91316 (Reply #5)
Mon Nov 12, 2012, 11:42 AM
Sekhmets Daughter (7,513 posts)
6. Heartbreaking.
---
Response to marmar (Original post)
Mon Nov 12, 2012, 09:54 AM
lexx21 (321 posts)
3. I argue that it isn't just other languages
the so called "business elite" don't value English skills either. They don't want people who use English well and properly in their boardrooms, in their marketing departments, in their speeches, and on their websites.

There really is a disdain for liberal arts talents generally.
---
Response to marmar (Original post)
Mon Nov 12, 2012, 10:02 AM
bemildred (90,061 posts)
4. Summers is a known fool.
Multiple languages are a big plus intellectually for those that have them, and one of them should be math.
English IS a great language, but like any other language, it is not sufficient in itself for all our needs.

It deserves mention in this context, that English as a global language is already very fragmented, but the internet may serve to preserve a common core by facilitating its use as a common tongue, sort of like church Latin, or diplomatic French.