Mon Nov 12, 2012, 09:33 AM
marmar (70,152 posts)
A Charter for the 99 Percent
from
Dissent
magazine:
A Charter for the 99 Percent
By Todd Gitlin - November 8, 2012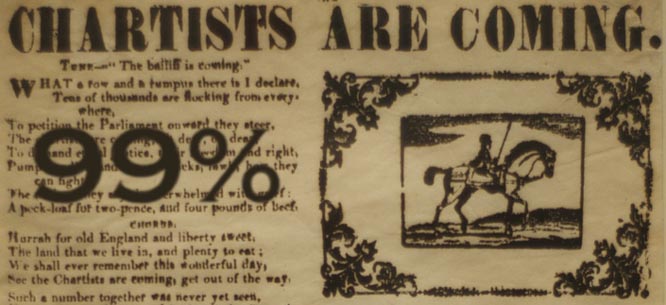 The whole world is breathing. Let the Republican bloodletting begin, even as half of America's voters sulk, skulk, and scheme to yank re-elected President Barack Obama off the fiscal cliff with them.
Now, the next phase of a 99 percent movement needs to get—and keep—busy. Why do I say "next phase"? Because the Occupy movement that came about in 2011 has accomplished just about as much of its mission as possible. In effect, whatever its even-handed contempt for conventional politics, Occupy did great good work for Obama. Not least, the movement had the effect of encouraging him to run a head-on campaign against a vulture capitalist. Whether he follows through depends not only on his resolve and acumen but on the wind at his back.
Now the initiative passes to the outer movement, that much larger penumbra of Occupy's supporters in unions and membership organizations who turned out for the large demonstrations and, in fits and starts, jolted much of the country to its senses. Even though the Occupy core took it as a point of principle to disdain specific demands, they actually didn't need demands in 2011 to arouse the sluggish public mind to pay attention to vicious inequalities and a botched political system. And demandlessness paid an unintended dividend: Occupy saved itself some bitter fights over what any hypothetical slate of demands should look like. The movement, at its best, was inclusive enough to become a center of energy, and to change what we are pleased to call the national conversation. Now what?
With Obama back in a place where he can be pushed, let the push proceed—smarter, more accelerated, more cogent. There must be a rebuilding and it must go deep. There must be a persistent, independent movement capable of winning tangible political-economic reforms—reforms that change lives and encourage newcomers to join. A focused common program for the long haul—a decade, say—would make sense to millions who know that plutocracy threatens decent livelihoods, shared growth, and a sustainable planet. However short of the millennium, a specific program would be a magnet and a beacon. We need a reconfiguration powered by people of many sorts and networks and organizations of many sorts, cohering around a reform program that is at once ambitious, urgent, and achievable this side of the millennium. ................(more)
The complete piece is at:
http://www.dissentmagazine.org/online_articles/a-charter-for-the-99-percent
0 replies, 599 views