Fri Aug 17, 2012, 03:43 AM
struggle4progress (94,087 posts)
Assange's Special Asylum: Why Ecuador Isn't Nice to Anyone Else
The government of Rafael Correa extends its hospitality to the WikiLeaks founder but is accused of harassing unfriendly journalists and may extradite a whistle-blower from Belarus to face grave charges in the country described as "Europe's last dictatorship"
By Stephan Küffner / Quito | August 16, 2012
Like WikiLeaks founder Julian Assange, Alexander Barankov has worked to expose government misconduct via the Internet. Both men have received refuge on Ecuadorian territory. But while the South American country made world headlines granting Assange diplomatic asylum on Thursday morning, Barankov faces imminent extradition from Ecuador to its new ally Belarus, described by most observers as "Europe's last dictatorship" ...
The plight of Barankov poses a real test of Ecuador's commitment to human rights. A former Belarusian army captain, Barankov arrived in Quito in 2008 thanks to the Ecuadorian government's very liberal immigration laws. He then set up a blog denouncing corruption and other crimes allegedly committed under authoritarian ruler Alexander Lukashenko. Ecuador initially granted him refugee status, but after a state visit by Lukashenko to Quito on June 29, he was arrested and is being held in the capital's infamous, 19th century prison while the top court hears the case on Belarus' fresh extradition request. If sent there, according to his partner, Maribel Andrade, he will face charges of treason and could be put to death.
http://world.time.com/2012/08/16/assanges-special-asylum-why-ecuador-isnt-nice-to-anyone-else/
10 replies, 3824 views
Replies to this discussion thread
| | | | |
| --- | --- | --- | --- |
| 10 replies | Author | Time | Post |
| Assange's Special Asylum: Why Ecuador Isn't Nice to Anyone Else (Original post) | struggle4progress | Aug 2012 | OP |
| | struggle4progress | Aug 2012 | #1 |
| | struggle4progress | Aug 2012 | #2 |
| | struggle4progress | Aug 2012 | #3 |
| | struggle4progress | Aug 2012 | #4 |
| | struggle4progress | Aug 2012 | #5 |
| | struggle4progress | Aug 2012 | #6 |
| | struggle4progress | Aug 2012 | #7 |
| | navarth | Aug 2012 | #8 |
| | struggle4progress | Aug 2012 | #9 |
| | navarth | Aug 2012 | #10 |
---
Response to struggle4progress (Original post)
Fri Aug 17, 2012, 03:45 AM
struggle4progress (94,087 posts)
1. Holocaust denier in charge of handling Moscow cables
Extract from WikiLeaks: Inside Julian Assange's War on Secrecy discloses the antics of Israel Shamir, who pilloried the Swedish women who complained of rape
David Leigh and Luke Harding
Monday 31 January 2011 15.01 EST
Shamir claims to be a renegade Russian Jew, born in Novosibirsk, but currently adhering to the Greek Orthodox church. He is notorious for Holocaust denial and publishing a string of antisemitic articles. He caused controversy in the UK in 2005, at a parliamentary book launch hosted by Lord Ahmed, by claiming: "Jews … own, control and edit a big share of mass media." Internal WikiLeaks documents, seen by the Guardian, show Shamir was not only given cables, but he also invoiced WikiLeaks for €2,000 (£1,700), to be deposited in a Tallinn bank account, in thanks for "services rendered - journalism". What services? He says: "What I did for WikiLeaks was to read and analyse the cables from Moscow."
Shamir's byline is on two previous articles pillorying the Swedish women who complained about Assange. On 27 August, in Counterpunch, a small radical US publication, Shamir said Assange was framed by "spies" and "crazy feminists". He alleged there had been a "honeytrap". On 14 September, Shamir then attacked "castrating feminists and secret services", writing that one of the women involved, whom he deliberately named, had once discussed the Cuban opposition to Castro in a Swedish academic publication "connected with" someone with "CIA ties".
Subsequently, Shamir appeared in Moscow. According to a reporter on Russian paper Kommersant, he was offering to sell articles based on the cables for $10,000 (£6,300). He had already passed some to the state-backed publication Russian Reporter. He travelled on to Belarus, ruled by the Soviet-style dictator Alexander Lukashenko, where he met regime officials. The Russian Interfax news agency reported that Shamir was WikiLeaks' "Russian representative", and had "confirmed the existence of the Belarus dossier".
According to him, WikiLeaks had several thousand "interesting" secret documents. Shamir then wrote a piece of grovelling pro-Lukashenko propaganda in Counterpunch, claiming "the people were happy, fully employed, and satisfied with their government" ...
http://www.guardian.co.uk/media/2011/jan/31/wikileaks-holocaust-denier-handled-moscow-cables
---
Response to struggle4progress (Original post)
Fri Aug 17, 2012, 03:48 AM
struggle4progress (94,087 posts)
2. Israel Shamir and Julian Assange's cult of machismo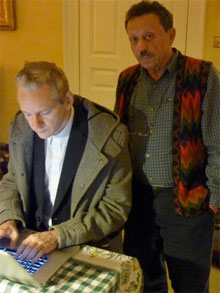 Israel Shamir (right) with WikiLeaks editor Julian Assange
That Shamir ever gained access outraged many at WikiLeaks. Now Assange's dictator-admiring friend has surpassed himself
James Ball
Tuesday 8 November 2011 16.15 EST
... When questions were asked about Shamir's involvement with WikiLeaks, given his controversial background and unorthodox requests, we were told in no uncertain terms that Assange would not condone criticism of his friend. Instead, a mealy-mouthed statement distancing WikiLeaks from its freelancers was issued. Still later, when damning evidence emerged that Shamir had handed cables material to the dictator of Belarus – a man he holds in high esteem – to assist his persecution of opposition activists, Assange shamefully refused to investigate ...
http://www.guardian.co.uk/commentisfree/cifamerica/2011/nov/08/israel-shamir-julian-assange-cult-machismo
---
Response to struggle4progress (Original post)
Fri Aug 17, 2012, 03:53 AM
struggle4progress (94,087 posts)
3. Why I felt I had to turn my back on WikiLeaks
Former staffer tells how dismay mounted during his three months with the whistleblowing group
James Ball
Friday 2 September 2011 16.25 EDT
... So I decided to grit my teeth and carry on. Dismay mounted, however, with the arrival of Israel Shamir, a self-styled Russian "peace campaigner" with a long history of antisemitic writing. Shamir was introduced to the team under the pseudonym Adam, and it was only several weeks after he had left – with a huge cache of unredacted cables – that most of us started to find out who he was.
Press enquiries started to trickle in. A little research revealed his unsavoury history, but I was told Julian would be unwilling for WikiLeaks to publish anything critical of Shamir. Instead, shamefully, we put out a statement simply distancing WikiLeaks from him.
There followed even more damning allegations. Shamir had been seen leaving the interior ministry of Belarus, an eastern European dictatorship.
The next day, the country's dictator, Alexander Lukashenko, boasted he would start a Belarusian WikiLeaks showing the US was funding his political rivals ...
http://www.guardian.co.uk/media/2011/sep/02/why-i-had-to-leave-wikileaks
---
Response to struggle4progress (Original post)
Fri Aug 17, 2012, 11:26 AM
struggle4progress (94,087 posts)
4. Assange Case Exposes 'International Hypocrisy'
... The leftist Die Tageszeitung writes: ...
"Far from the world's attention, the (Ecuadorian) government is evicting an ex-government worker from Belarus who has enjoyed three years of asylum status in Ecuador. The reason is that six weeks ago, Belarussian President Alexander Lukashenko was in Quito to sign a number of trade agreements and applied pressure. A short time later the man, Alexander Barankov, was arrested in Quito. Against this background, the flowery words of Ecuador's foreign minister about the huge importance of political asylum don't hold much value" ...
http://www.spiegel.de/international/europe/german-newspapers-comment-on-assange-case-a-850625.html
---
Response to struggle4progress (Original post)
Fri Aug 17, 2012, 11:30 AM
struggle4progress (94,087 posts)
5. Policeman escaped from Lukashenko, on hunger strike in Ecuador prison
Updated at 12:59,17-08-2012
31-07-2012, 16:54
... Two weeks after Alexander Lukashenko's visit, the story about the Belarusian was shown in night newscast "Televistazo" on TV channel "Ecuavisa", which the locals consider the most objective. It says, the case of depriving Barankov of the refugee status hasn't completed, yet.
"Platforma" which he contacted by phone on June 17, informed about Alexander Barankov's detention in Ecuador. It happened on the eve of Alexander Lukashenko's Latin American tour. Barankov connects his arrest with the arrival of the Belarusian ruler to Ecuador.
Former investigator left the homeland after the KGB filed against him two criminal cases. According to Barankov, it could be the revenge for his service in police, when he has identified numerous instances of abuse and corruption among law enforcement agencies and commercial entities. After his departure to Ecuador the government named him wanted by Interpol.
http://udf.by/english/politics/63327-policeman-escaped-from-lukashenko-on-hunger-strike-in-ecuador-prison.html
---
Response to struggle4progress (Original post)
Fri Aug 17, 2012, 11:40 AM
struggle4progress (94,087 posts)
6. Audiencia de extradición de ciudadano bielorruso se realizó este jueves
Jueves 09 de Agosto de 2012 17:15
Hoy se cumplió la audiencia de extradición del ciudadano bielorruso Aliaksandr Barankov, quien está refugiado en Ecuador desde el año 2010. En solo tres días se conocerá si tiene que regresar a su país, en donde podría enfrentar pena de muerte.
La Comisión Interamericana de Derechos Humanos (CIDH) conoce el caso y analiza otorgar medidas cautelares.
A las nueve de la mañana llegó a la Corte Nacional de Justicia, Aliaksandr Barankov, ciudadano bielorruso a quien el gobierno ecuatoriano dio asilo hace dos años, pero que ahora enfrenta una audiencia de extradición ...
Barankov huyó de su país porque descubrió hechos de corrupción que involucran al gobierno del presidente de Bielorrusia, Alexander Lukashenko. El Ministerio de Relaciones Exteriores consideró que su vida está en peligro y por eso le concedió protección a través del refugio ...
http://www.ecuavisa.com/noticias/noticias-actualidad/53280-audiencia-de-extradicion-de-ciudadano-bielorruso-se-realizo-este-jueves.html
---
Response to struggle4progress (Original post)
Tue Aug 21, 2012, 04:52 PM
struggle4progress (94,087 posts)
7. Ecuador could extradite Belarusian dissident
Aliaksandr Barankov says his life would be at risk if Ecuadorean court refuses to extend his status as a political refugee
Associated Press in Quito
Tuesday 21 August 2012 07.33 EDT
... Barankov's fate could be decided as early as Tuesday, less than a week after Ecuador granted political asylum to WikiLeaks founder Julian Assange.
Prosecutors in Belarus accuse the 30-year-old Barankov of fraud and extortion. He calls the charges bogus, retribution for having exposed a petroleum-smuggling ring involving senior officials of president Alexander Lukashenko's government, including relatives of the leader ...
http://www.guardian.co.uk/world/2012/aug/21/ecuador-belarus-extradite-aliaksandr-barankov
---
Response to struggle4progress (Original post)
Thu Aug 23, 2012, 04:06 PM
navarth (5,927 posts)
8. "struggle for progress"
Hey can I make some extra money on the side attacking Assange too? Where do I sign up?
---
Response to navarth (Reply #8)
Thu Aug 23, 2012, 04:36 PM
struggle4progress (94,087 posts)
9. I've posted 8 links in this thread from a variety of sources, including a former Wikileaks intern
You might actually learn something by reading the links

"Israel Shamir" is the pseudonym of an anti-Semite and holocaust-denier who (1) happens to be an associate of Assange's and (2) happens to be an admirer of the dictatorship in Belarus

There's some reason to think "Israel Shamir" has used his access to Wikileaks material for personal gain, in particular by routing some unredacted embassy cables from Wikileaks to the Belarusian government, enabling them to more easily root out dissidents

And, curiously, while media eyes are fixed on Assange's attempt to fly to Ecuador, there are also reports that Ecuador is extraditing a Belarusian dissident from Ecuador to curry favor with Belarus

Now, it is fine with me if you don't want to rush to judgment on such matters -- but there really are some questions that need to be asked about Assange and Wikileaks: this is a man who has made his reputation and his money by dribbling out other r people's stolen secrets, and it's not that silly to wonder a bit whether he is the entirely honest servant of Public Good he claims to be
---
Response to struggle4progress (Reply #9)
Fri Aug 24, 2012, 10:03 AM
navarth (5,927 posts)
10. wonderful!
let's bring him back and put him in the gulag next to Bradley Manning! then I'm sure you'll be happy.

Methinks thou protest too much.

Let me see....Daniel Ellsberg, or 'struggle for progress'....I think I'll trust Daniel Ellsberg.