Thu Aug 2, 2012, 09:28 AM
salvorhardin (9,995 posts)
Billionaire Jeff Greene thinks the super-rich should buy a little democracy insurance
[div style="text-align: center;"]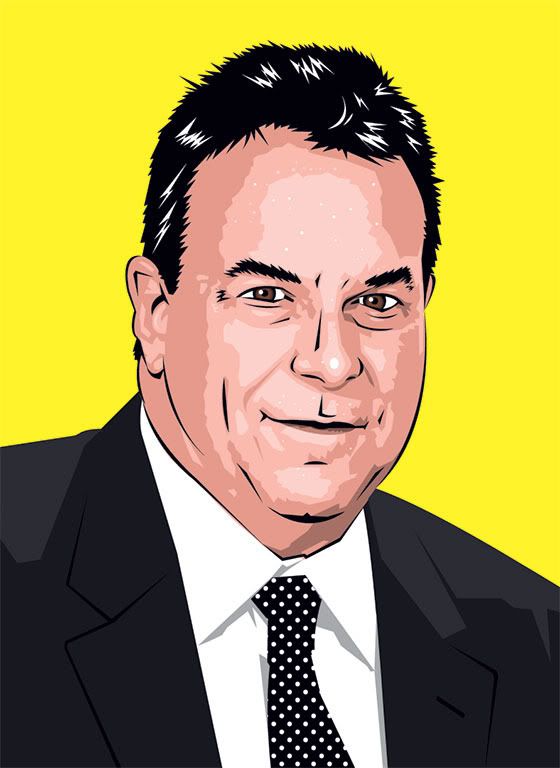 It's strange to imagine someone like Greene, who counts Mike Tyson as a close friend, and who has a streak that caused the L.A. party girls to refer to him as "Mean Jeff Greene," feeling vulnerable. It's hard to think of any superrich person as vulnerable, just as it's hard to think that a bear with outstretched claws and giant teeth is more afraid than you are. But over the past few months, it's become clear that rich people are very, very afraid. Sometimes it feels like this was the main accomplishment of Occupy Wall Street: a whole lot of tightened sphincters. It's not a stretch to say many residents of Park Avenue harbor vivid fears of a populist revolt like the one seen in The Dark Knight Rises, in which they cower miserably under their sideboards while ragged hordes plunder the silver.
"This is my fear, and it's a real, legitimate fear," Greene says, revving up the engine. "You have this huge, huge class of people who are impoverished. If we keep doing what we're doing, we will build a class of poor people that will take over this country, and the country will not look like what it does today. It will be a different economy, rights, all that stuff will be different."
...
This past April, at the Milken Conference, the annual confab hosted by the felon turned philanthropist, Greene sat on a lunchtime panel with Charles Murray, the author of Coming Apart: The State of White America, and historian Niall Ferguson, whose recent book could have been called the same thing. "Do you see this?" Greene asked the audience, pointing to a slide that showed the widening income gap. The crowd, whose members had paid the $6,000 entry fee to get investing tips, not guilt trips, made restless noises. Then there was a smattering of impressed applause, followed by uneasy laughter. Greene blinked, surprised. "People look at Occupy Wall Street as, This is just a little kind of a disorganized joke," he said, raising his voice. "If we take another 10 percent of middle-class America's income, who knows what kind of other social unrest could happen in this country and the changes that could happen to our way of life?"
The level of Greene's concern is such that, last year, he was inspired to run for Senate in Florida. But stories about the Summerwind's goings-on dogged his campaign ("I particularly ­remember serving Tyson a vodka–and–Red Bull while he was receiving oral sex from a hired entertainer," one former employee told the ­Broward–Palm Beach New Times), and arriving in recession-strapped towns on his private jet did little to convince most voters he understood them. Greene calls his loss "a huge mistake on behalf of the people of Florida."
Link:
http://nymag.com/news/business/themoney/jeff-greene-2012-8
4 replies, 2235 views
Replies to this discussion thread
| | | | |
| --- | --- | --- | --- |
| 4 replies | Author | Time | Post |
| Billionaire Jeff Greene thinks the super-rich should buy a little democracy insurance (Original post) | salvorhardin | Aug 2012 | OP |
| | Shagman | Aug 2012 | #1 |
| | Mopar151 | Aug 2012 | #2 |
| | salvorhardin | Aug 2012 | #4 |
| | bemildred | Aug 2012 | #3 |
---
Response to salvorhardin (Original post)
Thu Aug 2, 2012, 10:12 AM
Shagman (135 posts)
1. the really scary thing?
Not that Greene is afraid, but that the other billionaires make fun of him for it. Class warfare, it's on.
---
Response to salvorhardin (Original post)
Thu Aug 2, 2012, 10:13 AM
Mopar151 (7,048 posts)
2. This guy ain't stupid.......
Do you want to be comfortably rich in a nice country, or obscenely rich in a lawless wasteland?
---
Response to Mopar151 (Reply #2)
Thu Aug 2, 2012, 10:18 AM
salvorhardin (9,995 posts)
4. Exactly
Inequality is a public health issue.
---
Response to salvorhardin (Original post)
Thu Aug 2, 2012, 10:14 AM
bemildred (90,061 posts)
3. See, they aren't all morons. nt