Wed Jun 7, 2023, 10:57 AM
Fla Dem (22,148 posts)
Turns Out "Stand Your Ground" Didn't Stand for Ajike Owens' Shooter Story by Kalyn Womack
Last edited Wed Jun 7, 2023, 12:34 PM - Edit history (1)
The Root
Story by Kalyn Womack • 1h ago
The woman who fatally shot a Black mother of four in Ocala, Florida has finally been arrested and charged, per The Washington Post. The arrest comes four days after residents and family members demanded justice be served for the heinous crime.
Susan Louise Lorincz, 58, was arrested Tuesday evening and charged with manslaughter with a firearm, culpable negligence, battery and two counts of assault in connection to the shooting death of Ajike "AJ" Owens, according to the Marion County Sheriff's Office. Lorincz is accused of shooting from behind her closed front door, striking Owens who stood outside with her 10-year-old son standing beside her. Owens was confronting Lorincz about allegedly throwing items at her children and yelling racial slurs at them. Shortly after, officers responded to a possible trespassing call and found Owens suffering from the gunshot wound and performed aid to try and save her life, the report says. She died moments later.
According to the sheriff's office, Lorincz told investigators that she and Owens had a past history of animosity and claimed that Owens "previously attacked her." She said that she acted in self-defense in shooting Owens, "and that Owens had been trying to break down her door prior to her discharging her firearm," the office said.
Initially, Sheriff Billy Woods was reluctant to make an arrest because it was speculated that Lorincz could have been protected under the "stand your ground" law. However, the Major Crimes Unit found through interviews and surveillance footage that Lorincz initiated the conflict after she grew increasingly angry at Owens' children, who were playing in a field nearby.
More>>>>>>
https://www.msn.com/en-us/news/crime/turns-out-stand-your-ground-didnt-stand-for-ajike-owens-shooter/ar-AA1cfpki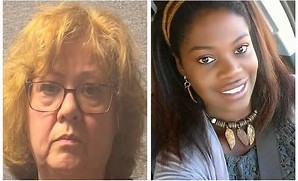 ~~~~~~~~~~~~~~~~~~~~~~~~~~~~~~~~~~~~~~~~~~~~~~
So glad they arrested and charged her. Was afraid she would get away with it. Beautiful young woman. What a shame. DeSantis better keep his hands off this and not demand the woman not be charged.
8 replies, 1413 views
Replies to this discussion thread
| | | | |
| --- | --- | --- | --- |
| 8 replies | Author | Time | Post |
| Turns Out "Stand Your Ground" Didn't Stand for Ajike Owens' Shooter Story by Kalyn Womack (Original post) | Fla Dem | Jun 2023 | OP |
| | tblue37 | Jun 2023 | #1 |
| | brush | Jun 2023 | #2 |
| | Aristus | Jun 2023 | #5 |
| | brush | Jun 2023 | #6 |
| | louslobbs | Jun 2023 | #3 |
| | LetMyPeopleVote | Jun 2023 | #4 |
| | IzzaNuDay | Jun 2023 | #7 |
| | Fla Dem | Jun 2023 | #8 |
---
Response to Fla Dem (Original post)
Wed Jun 7, 2023, 11:29 AM
tblue37 (62,057 posts)
1. I think it was just a matter of time before she killed one of the children.
---
Response to Fla Dem (Original post)
Wed Jun 7, 2023, 11:37 AM
brush (50,088 posts)
2. These gun humping, racist magats are out of control with their killings.
She should've been arrested that day when the cops arrived and found the victim shot, and who died shortly after they got there.

The stand-your-ground laws have to be re-visited as they give the trigger-happy racists license to kill.
---
Response to brush (Reply #2)
Wed Jun 7, 2023, 02:21 PM
Aristus (64,268 posts)
5. Ironically, they are out of control because they are no longer entirely in control.
---
Response to Aristus (Reply #5)
Wed Jun 7, 2023, 02:24 PM
brush (50,088 posts)
6. "Power-crazed monsters..." Agreed.
---
Response to Fla Dem (Original post)
Wed Jun 7, 2023, 12:18 PM
louslobbs (3,194 posts)
3. What would have happened if this involved a black woman
who did the exact same thing as this white woman? Would the police have waited until they conducted an investigation, giving the black woman the same "courtesy?"
---
Response to Fla Dem (Original post)
Wed Jun 7, 2023, 12:38 PM
LetMyPeopleVote (136,380 posts)
4. I am glad that this killer was arrested
---
Response to Fla Dem (Original post)
Wed Jun 7, 2023, 07:58 PM
IzzaNuDay (282 posts)
7. Sheriff said "justified or non-justified"
I can't wrap this around my head. Why do these fools think that it is appropriate to use guns to solve domestic problems? To me it's unjustifiable. Either woman could have called law enforcement.

Amerikkka has bastardized the intent of the 2nd amendment.

Yeah, there is a racist component in this. white woman feels victimized so she kills the scary black woman.

I will not be surprised if this woman walks not guilty, just like George Zimmerman.
---
Response to IzzaNuDay (Reply #7)
Wed Jun 7, 2023, 08:45 PM
Fla Dem (22,148 posts)
8. In other reports I've read, Ajike "AJ" Owens did call the police in the past.
Evidently nothing that was done proved to be effective in addressing the gun toting neighbor's behavior.