Sat Mar 25, 2023, 12:27 AM
Celerity (36,976 posts)
The Paranoid Style in American Politics - by Richard Hofstadter (Harper's Magazine, 1964)
It had been around a long time before the Radical Right discovered it—and its targets have ranged from "the international bankers" to Masons, Jesuits, and munitions makers.
https://harpers.org/archive/1964/11/the-paranoid-style-in-american-politics/
American politics has often been an arena for angry minds. In recent years we have seen angry minds at work mainly among extreme right-wingers, who have now demonstrated in the Goldwater movement how much political leverage can be got out of the animosities and passions of a small minority. But behind this I believe there is a style of mind that is far from new and that is not necessarily right-wing. I call it the paranoid style simply because no other word adequately evokes the sense of heated exaggeration, suspiciousness, and conspiratorial fantasy that I have in mind. In using the expression "paranoid style" I am not speaking in a clinical sense, but borrowing a clinical term for other purposes. I have neither the competence nor the desire to classify any figures of the past or present as certifiable lunatics. In fact, the idea of the paranoid style as a force in politics would have little contemporary relevance or historical value if it were applied only to men with profoundly disturbed minds. It is the use of paranoid modes of expression by more or less normal people that makes the phenomenon significant.
Of course this term is pejorative, and it is meant to be; the paranoid style has a greater affinity for bad causes than good. But nothing really prevents a sound program or demand from being advocated in the paranoid style. Style has more to do with the way in which ideas are believed than with the truth or falsity of their content. I am interested here in getting at our political psychology through our political rhetoric. The paranoid style is an old and recurrent phenomenon in our public life which has been frequently linked with movements of suspicious discontent. Here is Senator McCarthy, speaking in June 1951 about the parlous situation of the United States:

Now turn back fifty years to a manifesto signed in 1895 by a number of leaders of the Populist party:

Next, a Texas newspaper article of 1855: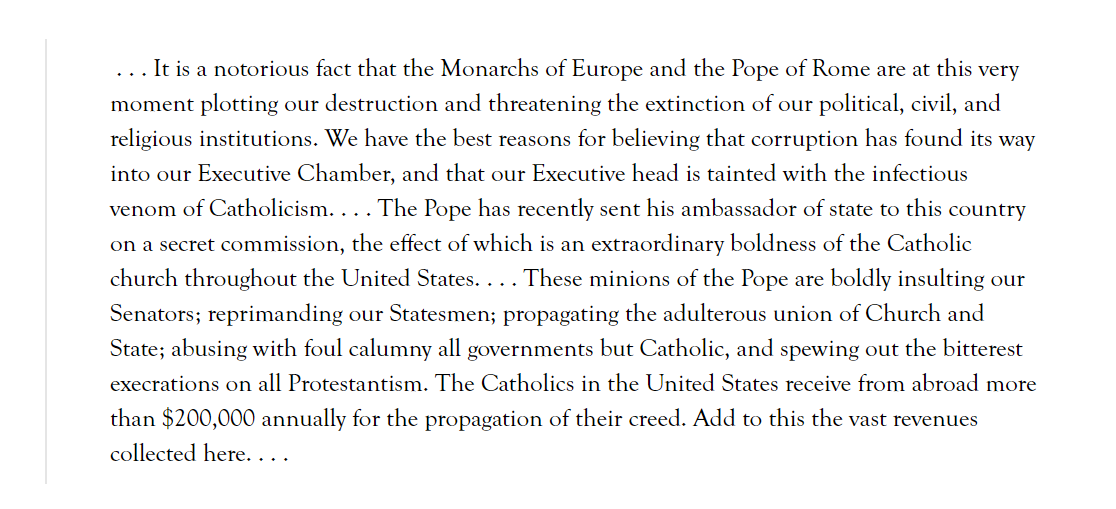 These quotations give the keynote of the style. In the history of the United States one find it, for example, in the anti-Masonic movement, the nativist and anti-Catholic movement, in certain spokesmen of abolitionism who regarded the United States as being in the grip of a slaveholders' conspiracy, in many alarmists about the Mormons, in some Greenback and Populist writers who constructed a great conspiracy of international bankers, in the exposure of a munitions makers' conspiracy of World War I, in the popular left-wing press, in the contemporary American right wing, and on both sides of the race controversy today, among White Citizens' Councils and Black Muslims. I do not propose to try to trace the variations of the paranoid style that can be found in all these movements, but will confine myself to a few leading episodes in our past history in which the style emerged in full and archetypal splendor.
Illuminism and Masonry
I begin with a particularly revealing episode—the panic that broke out in some quarters at the end of the eighteenth century over the allegedly subversive activities of the Bavarian Illuminati. This panic was a part of the general reaction to the French Revolution. In the United States it was heightened by the response of certain men, mostly in New England and among the established clergy, to the rise of Jeffersonian democracy. Illuminism had been started in 1776 by Adam Weishaupt, a professor of law at the University of Ingolstadt. Its teachings today seem to be no more than another version of Enlightenment rationalism, spiced with the anticlerical atmosphere of eighteenth-century Bavaria. It was a somewhat naïve and utopian movement which aspired ultimately to bring the human race under the rules of reason. Its humanitarian rationalism appears to have acquired a fairly wide influence in Masonic lodges.
snip

related
Sean Wilentz: Richard Hofstadter and the "paranoid style" as an American phenomenon
INTERVIEWS
September 15, 2020
https://www.loa.org/news-and-views/1735-sean-wilentz-richard-hofstadter-and-the-paranoid-style-as-an-american-phenomenon
Released this spring, Library of America's
collection
Richard Hofstadter: Anti-Intellectualism in American Life, The Paranoid Style in American Politics, Uncollected Essays 1956-1965
gathers together an indispensable historian's essential works on the irrationalism, demagoguery, and conspiratorial thinking that have long influenced American politics and culture. The pertinence of Hofstadter's preoccupations to the contemporary American moment can hardly be overstated: In the last few months alone, for instance,
New Yorker
writers
Jelani Cobb
,
Luke Mogelson
, and
David Remnick
have all cited Hofstadter's work as a touchstone for making sense of events in 2020.
The editor of LOA's Hofstadter volume is Sean Wilentz, George Henry Davis 1886 Professor of American History at Princeton University. His many books include
The Politicians and the Egalitarians: The Hidden History of American Politics
(2016);
Bob Dylan in America
(2010); and
The Age of Reagan: A History, 1974–2008
(2008).
The Rise of American Democracy: Jefferson to Lincoln
(2005) was awarded the Bancroft Prize, and he has received two Grammy nominations for his writings on music. Earlier this year, Wilentz participated in Library of America's webinar on the anthology
American Conservatism: Reclaiming an Intellectual Tradition
with that book's editor, Andrew J. Bacevich. Via email, Wilentz answered our questions about Hofstadter and the unmistakable relevance of his work in 2020.
Library of America: The new Library of America volume argues for Richard Hofstadter's prescience in understanding the role of resentment, suspicion of elites, and conspiratorial thinking in American political culture. Why do you think Hofstadter was alert to—and interested in—these tendencies ahead of other historians?

Sean Wilentz: Richard Hofstadter, after starting out in the Marxist '30s, became increasingly alert to the myths and irrationalities of American politics and culture. Other historians in his cohort—like his colleagues Kenneth Stampp and Frank Freidel during their early teaching days together at the University of Maryland—were blazing new trails but were involved in more familiar scholarly pursuits. In grappling with ideas and politics as they did not, with a certain Mencken-like acerbity, Hofstadter quickly detected self-serving fables and folly, though without dismissing the value and honor of his subjects. In The American Political Tradition, published in 1948, he debunked the leftist and liberal myths surrounding mainstream figures from the Founders through FDR. After McCarthyism hit, he turned to the anxieties and obsessions of popular movements and cultural trends, as examined first in Anti-Intellectualism in American Life and then in The Paranoid Style in American Politics.
snip
2 replies, 1140 views
Replies to this discussion thread
| | | | |
| --- | --- | --- | --- |
| 2 replies | Author | Time | Post |
| The Paranoid Style in American Politics - by Richard Hofstadter (Harper's Magazine, 1964) (Original post) | Celerity | Mar 25 | OP |
| | Bernardo de La Paz | Mar 25 | #1 |
| | Timeflyer | Mar 25 | #2 |
---
Response to Celerity (Original post)
Sat Mar 25, 2023, 06:17 AM
Bernardo de La Paz (45,673 posts)
1. Worth posting from time to time. Author of "Anti-Intellectualism in American Life": a key issue
Thanks for posting.
"Anti-Intellectualism in American Life": a key issue today in this increasingly technological and complex world. When human footprint on the neck of the planet is this heavy, stupid people in large numbers are dangerous as are stupid people in highest positions.
Not sure at all what to do.
Analysis

In considering the historic tension between access to education and excellence in education, Hofstadter argued that both anti-intellectualism and utilitarianism were consequences, in part, of the democratization of knowledge. Moreover, he saw these themes as historically embedded in America's national fabric, resulting from its colonial European and evangelical Protestant heritage. He contended that evangelical American Protestantism's anti-intellectual tradition valued the spirit over intellectual rigor.[5]

Definition

Hofstadter described anti-intellectualism as "resentment of the life of the mind, and those who are considered to represent it; and a disposition to constantly minimize the value of that life."[6]

Also, he described the term as a view that "intellectuals...are pretentious, conceited... and snobbish; and very likely immoral, dangerous, and subversive ... The plain sense of the common man is an altogether adequate substitute for, if not actually much superior to, formal knowledge and expertise."[7]
Conservative websites for the conned and the Qonned are "plain sense" on meth, dressed up with the fraudulent analysis of "conservative thinkers", replete with glaring logical and factual errors and cherry picked references to credentialed quacks and crackpots.
---
Response to Celerity (Original post)
Sat Mar 25, 2023, 09:12 AM
Timeflyer (1,365 posts)
2. Yes, great post. Hofstadter is quoted in "On Fascism: 12 lessons from American history,"
by M. MacWilliams, 2020, in context of Trump's inauguration speech about American carnage.