Sat May 14, 2022, 08:30 AM
appalachiablue (36,159 posts)
Calif. Coastal Fire Shows Even the Rich Are Not Safe From Earth Breakdown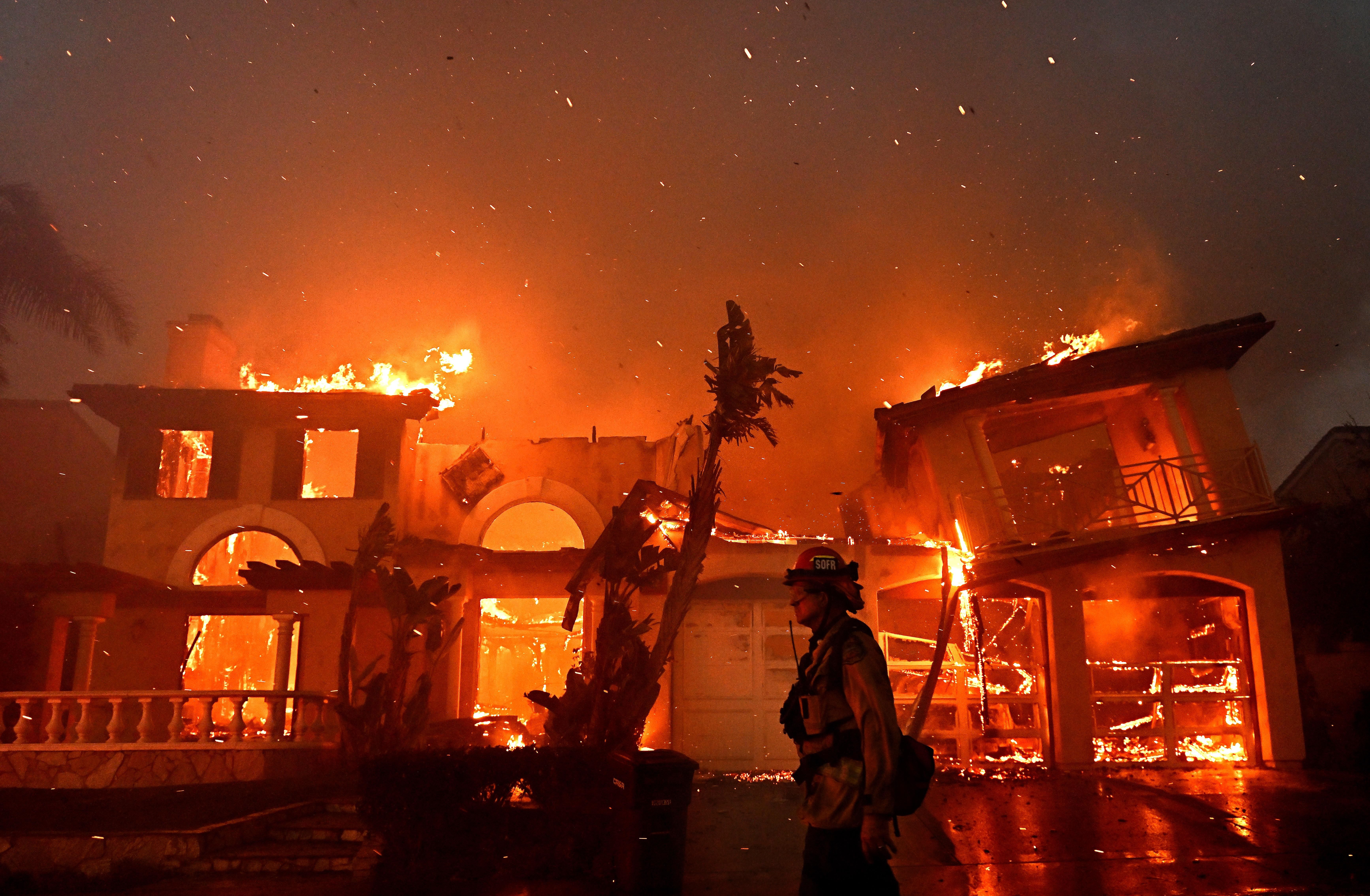 - 'Coastal Fire Shows Even the Rich 'Are Not Safe From Earth Breakdown.' Common Dreams, May 12, 2022. - "The only way out," said one climate scientist, is to "fight side by side and to strip power away from the rich corporatists who are leading us deeper into catastrophe, even as their own homes burn." -
As a fast-moving brush fire near Laguna Beach, California destroyed well over a dozen homes on Thursday—including five multimillion-dollar mansions—a prominent environmental researcher and advocate warned that the wealthy are not immune from the disastrous effects of the climate emergency, even as the fossil fuel-driven crisis harms the poor disproportionately. "No matter how rich you are, you are not safe from Earth breakdown," tweeted Los Angeles-based climate scientist Peter Kalmus, a member of Scientist Rebellion.
Emphasizing that it is still May—months before the wildfire season typically reaches its peak—Kalmus said that "the only way out" of Southern California's historic drought is to "fight side by side and to strip power away from the rich corporatists who are leading us deeper into catastrophe, even as their own homes burn." Drought conditions—which dry out local flora, thus providing extra fuel—and heavy winds have intensified the Coastal Fire, as the ongoing blaze that began on Wednesday afternoon is named.
A brush fire of this sort "used to be relatively minor," CNN reported, citing Orange County Fire Chief Brian Fennessy. But "not anymore." According to Fennessy, "The fuel beds in this county, throughout Southern California, throughout the West, are so dry that a fire like this is going to be more commonplace." Despite their best efforts, firefighters weren't able to immediately contain the blaze, which has grown to 200 acres and forced the evacuation of nearly 1,000 homes.
"We're seeing spread in ways that we haven't before," said Fennessy. "Five years ago, 10 years ago, a fire like that might have grown to an acre, couple acres" before it was under control. But now, he added, "fire is spreading in this very dry vegetation and taking off." Although wildfires in California have historically peaked in the late summer and fall, Orange County Fire Authority Assistant Chief of Field Operations TJ McGovern told CNN that this is already the area's fourth blaze this year...
- More,
https://www.commondreams.org/news/2022/05/12/coastal-fire-shows-even-rich-are-not-safe-earth-breakdown
5 replies, 589 views
Replies to this discussion thread
| | | | |
| --- | --- | --- | --- |
| 5 replies | Author | Time | Post |
| Calif. Coastal Fire Shows Even the Rich Are Not Safe From Earth Breakdown (Original post) | appalachiablue | May 14 | OP |
| | niyad | May 14 | #1 |
| | appalachiablue | May 14 | #2 |
| | niyad | May 14 | #5 |
| | CentralMass | May 14 | #3 |
| | niyad | May 14 | #4 |
---
Response to appalachiablue (Original post)
Sat May 14, 2022, 09:15 AM
niyad (87,010 posts)
1. We lost eight homes here on Thursday in one of the THREE fires in our area, with
another just up the pass..
---
Response to niyad (Reply #1)
Sat May 14, 2022, 09:24 AM
appalachiablue (36,159 posts)
2. Whoa, when will the dire cc problem be addressed. And if
news like this doesn't move people what will. The obstinance of the ff industry and the GOP is huge.
---
Response to appalachiablue (Reply #2)
Sat May 14, 2022, 10:50 AM
niyad (87,010 posts)
5. Addressed? probably never. Apart from recalcitrance, we have jaw-dropping
stupidity, as in, all the fires are caused by DEW (directed energy warfare) from China.
---
Response to niyad (Reply #1)
Sat May 14, 2022, 09:49 AM
CentralMass (12,683 posts)
3. Stay safe niyad.
---
Response to CentralMass (Reply #3)
Sat May 14, 2022, 10:48 AM
niyad (87,010 posts)
4. Thank you. Fortunately, none of the fires thhis time were near me.