Sat Jan 15, 2022, 11:31 PM
appalachiablue (36,040 posts)
A Fight Over Turning A 'Rural Crescent' In Northern Virginia Into A Hub For Data Centers: WaPo
Last edited Sun Jan 16, 2022, 12:29 AM - Edit history (2)
- Aerial photographs of communities with cul-de-sac layouts in Loudoun County, Virginia (NoVa).
https://en.wikipedia.org/wiki/Dead_end_
(street)
______
- The Washington Post, Jan. 15, 2022. - Ed.
Residents along Pageland Lane once would have scoffed at the idea of their farms and regal brick homes becoming the site of a massive data center complex, given all the years of fighting to keep their rural oasis free of Northern Virginia's relentless growth. But after a string of defeats that has left their Prince William County neighborhood filled with traffic and towering transmission lines, those residents are now hoping to sell their land so it can become a 2,100-acre hub to the world's Internet traffic.
"It's just gotten worse and worse," said Page Snyder, 71, who grew up on the farm she owns near a Civil War battle site & a sprawling retirement village whose development she & her neighbors opposed. "Basically, we've just thrown in the towel." Their effort to convince the county to change its land use policy in a portion of western Prince William, where most types of new development have been restricted, sparked a fierce backlash in the broader community- pulling even documentary filmmaker Ken Burns into a larger debate about the changing identity of the fast-growing county that, elsewhere, is struggling with crowded schools and widening pockets of poverty.
With a 10-year review of Prince William's comprehensive plan for land use underway, the $8.4 bill data center industry that is largely anchored in NoVa is central to that debate, particularly as the coronavirus pandemic fuels an increase in at-home work & online shopping that, in turn, has driven up demand for even more of the massive bldgs. whose servers make cloud computing possible. (As data centers bloom, a century-old African American enclave is threatened). Prince William- already home to 33 data centers with 8 more under construction - is competing to become the industry's next major host as tech companies seek to expand beyond nearby Loudoun Co., home to the world's largest concentration of data centers, with about 140 occupying 25 mill sq. ft.
Along those lines, the Prince William board is reviewing the "Digital Gateway" proposal brought by 156 Pageland Lane-area property owners, including local Supervisor Pete Candland (R-Gainesville), who generated outrage from slow-growth advocates he has long championed after he reversed position & included his family's home in the proposal. The Democrat-controlled board is also considering expanding the boundaries of an 8,700-acre "overlay district" zoned for data centers that the county economic development authority says is running out of available land that technology companies might favor over properties in other jurisdictions...
More,
https://www.washingtonpost.com/dc-md-va/2022/01/15/data-centers-prince-william-virginia/
_______
- Ken Burns Pens Letter Opposing Western Prince William County Data Centers On Hallowed Ground,
https://www.insidenova.com/headlines/ken-burns-pens-letter-opposing-western-prince-william-data-centers-on-hallowed-ground/article_b1b327ca-7257-11ec-896a-47ef9ef55658.html
This isn't the first time Burns has weighed in on a potential development in Prince William County. In 1994, he opposed Disney's plan for a theme park near Haymarket saying it would "distract visitors from the real places of history."..
https://en.wikipedia.org/wiki/Prince_William_County,_Virginia
_____
- Bipartisan opposition to Pageland data center plan emerges at Heritage Hunt meeting, InsideNoVa, 1/10/22,
https://www.insidenova.com/headlines/bipartisan-opposition-to-pageland-data-center-plan-emerges-at-heritage-hunt-meeting/article_ef5cac12-5eb7-11ec-a897-932e11fd871b.html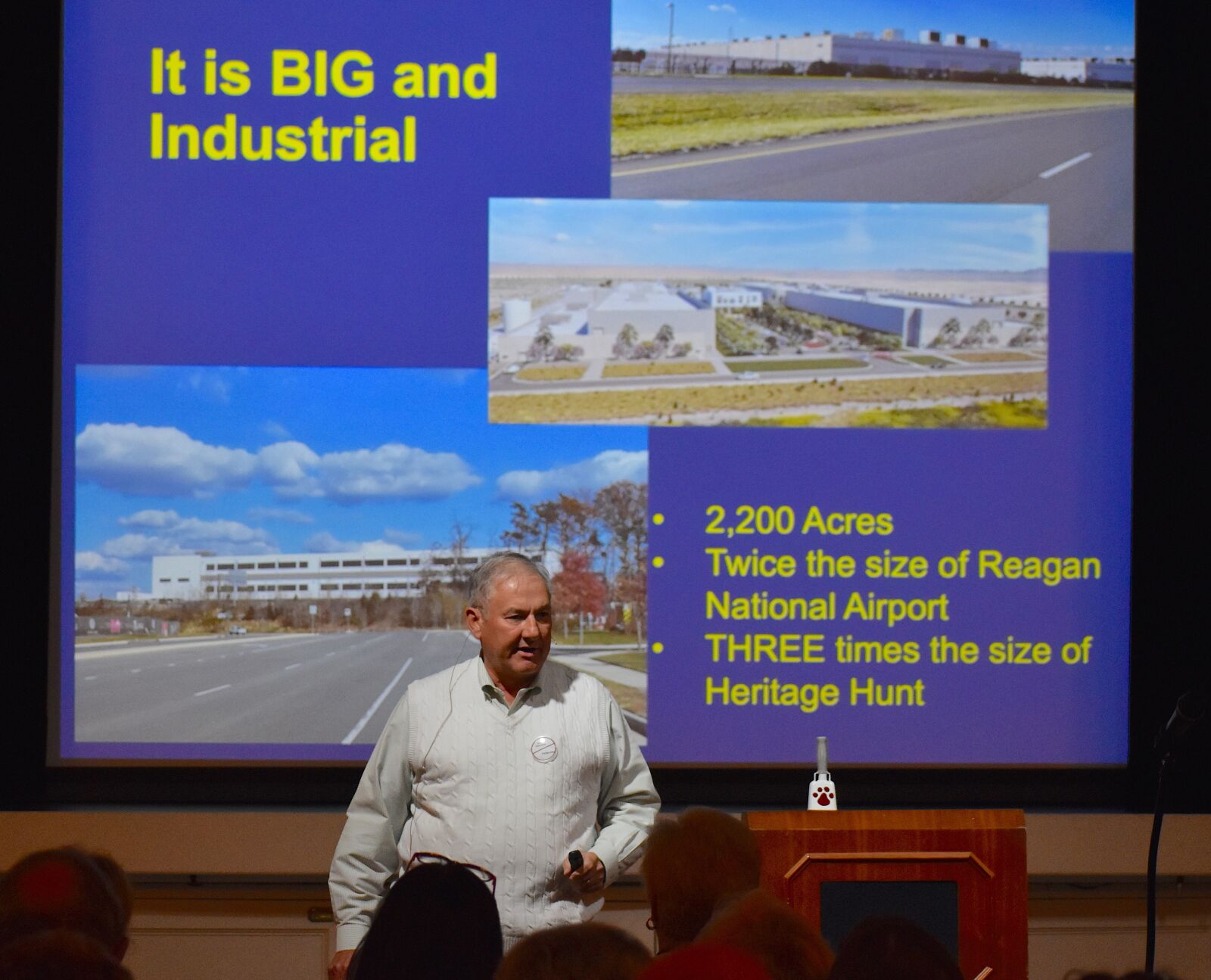 - John Lyver, chair of the new Heritage Hunt data center working group, discusses the proposed PW Digital Gateway at a town hall meeting Wednesday, Dec. 15.
_____
- Sprawl in Virginia: Prince William Co., Arlington Co., more..
http://www.virginiaplaces.org/landuseplan/sprawl.html
http://www.virginiaplaces.org/landuseplan/ruralcrescent.html
- The old Prince William County, Va. Courthouse (c. 1897) in March, 2007.
https://en.wikipedia.org/wiki/Prince_William_County,_Virginia
2 replies, 1207 views
Replies to this discussion thread
| | | | |
| --- | --- | --- | --- |
| 2 replies | Author | Time | Post |
| A Fight Over Turning A 'Rural Crescent' In Northern Virginia Into A Hub For Data Centers: WaPo (Original post) | appalachiablue | Jan 2022 | OP |
| | pfitz59 | Jan 2022 | #1 |
| | appalachiablue | Jan 2022 | #2 |
---
Response to appalachiablue (Original post)
Mon Jan 17, 2022, 12:23 PM
pfitz59 (8,804 posts)
1. Suburbs are a kind of gulag
Sterile tracts of dead land. No farms. No cows. No wildlife. No wilderness. No hopes. no dreams. No adventures. Children growing up in those enclaves have empty hearts.
---
Response to pfitz59 (Reply #1)
Mon Jan 17, 2022, 08:08 PM
appalachiablue (36,040 posts)
2. Some valid points I agree. As kids we were lucky
to grow up in a more modern 1960s house and neighborhood with wonderful untouched woodlands behind. Lots of rocks, wildflowers, birds, critters- an abundance of nature which is so impt. and healthy, esp. for kids.

I know people who live in the kind of suburbs pictured. In some major cities you have to move out if you aren't ultrawealthy, came to the area 10-20 years ago during cost and population increases, and if you want space for a family. And they're happy and enjoy where they are.

I was around in 1994 when there was much opposition to the Disney 'Amer. History' themepark planned to move into the Haymarket/NoVa area that was defeated, as noted above. It proposed a faux Civil War site, an Immigration Center and more that I forgot. It would have killed visitation to sites to the DC region- NPS Battlefields like Manassas, Va. and Antietam (Md.), the Smithsonian museums, national monuments, more.