Wed Oct 20, 2021, 05:21 PM
appalachiablue (33,897 posts)
*Tonite Oct. 20, 8 pm ET: Bernie Hosts *What's in the Damn Bill* Online Panel Discuss. Dems. Package
Last edited Wed Oct 20, 2021, 07:26 PM - Edit history (3)
> NOW, *WATCH*
https://www.twitch.tv/bernie_sanders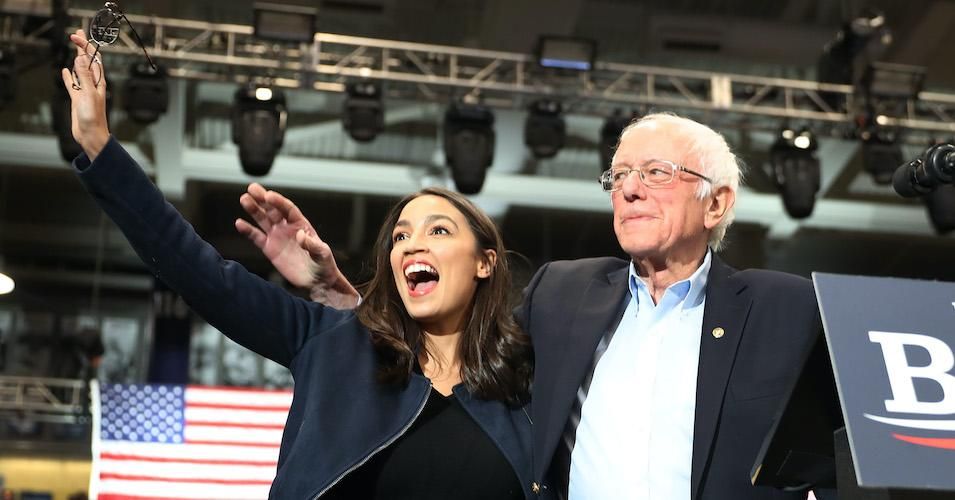 - Sanders to Host "What's in the Damn Bill" Online Panel Discussion About Democrats' Package.- The Senate Budget Committee chair will be joined by other progressive lawmakers and leaders at 8:00 pm Wednesday. Common Dreams Staff, Oct. 20, 21.
As a couple of right-wing Democrats continue to block President Joe Biden's Build Back Better agenda despite the party's full control of Congress, progressive lawmakers are planning to come together Wednesday evening to discuss key policy proposals for the budget reconciliation package at a livestreamed event hosted by Sen. Bernie Sanders.
Sanders (I-Vt.), who chairs the Senate Budget Committee, will be joined by the Rev. Dr. William Barber II of Repairers of the Breach and the Poor People's Campaign, Mary Kay Henry of the Service Employees International Union (SEIU), Alex Lawson of Social Security Works, Rep. Alexandria Ocasio-Cortez (D-N.Y.), and Varshini Prakash of the Sunrise Movement.
> The event—entitled "What's in the Damn Bill: A Panel Discussion with Progressive Leaders on the Reconciliation Bill"—will be livestreamed at live.berniesanders.com and on Sanders' social media pages at 8:00 pm ET.
https://live.berniesanders.com/
While Rep. Pramila Jayapal (D-Wash.), chair of the Congressional Progressive Caucus, said Tuesday that "we feel progress is being made toward an agreement that will make transformational investments" in major priorities—specifically the care economy, climate action, housing, healthcare, and a path to citizenship for immigrants—Democrats continue to express frustration with Manchin and Sinema's obstruction of Biden and their party's policy goals...
https://www.commondreams.org/news/2021/10/20/sanders-host-whats-damn-bill-online-panel-discussion-about-democrats-package
5 replies, 1022 views
Replies to this discussion thread
| | | | |
| --- | --- | --- | --- |
| 5 replies | Author | Time | Post |
| *Tonite Oct. 20, 8 pm ET: Bernie Hosts *What's in the Damn Bill* Online Panel Discuss. Dems. Package (Original post) | appalachiablue | Oct 20 | OP |
| | drray23 | Oct 20 | #1 |
| | appalachiablue | Oct 20 | #2 |
| | appalachiablue | Oct 20 | #3 |
| | BeckyDem | Oct 21 | #4 |
| | appalachiablue | Oct 21 | #5 |
---
Response to appalachiablue (Original post)
Wed Oct 20, 2021, 05:29 PM
drray23 (6,118 posts)
1. l hope that can be on Fox, CNN and other major networks
Those that needs convincing are not going to go to live.berniesanders.com .

I am grateful that Senator Sanders is trying to carry that message however. I hope it will be picked up by the networks and reach a wide audience.

The Whitehouse should also launch a major information campaign on this. Its key to winning the next election.



---
Response to drray23 (Reply #1)
Wed Oct 20, 2021, 05:32 PM
appalachiablue (33,897 posts)
2. Same, more coverage circulating tomorrow better come thru.
"Why Don't More Americans Know What's in the 'Build Back Better' bill?: FSTV, Oct. 20, 2021,
Sonali Kolhatkar speaks with Helaine Olen, a columnist at The Washington Post, author of "Pound Foolish: Exposing the Dark Side of the Personal Finance Industry" and co-author of "The Index Card: Why Personal Finance Doesn't Have to Be Complicated." Her work has appeared in Slate, the Nation, the New York Times, the Atlantic and many other publications. Her latest Washington Post column is entitled, "Debate over which Democratic proposals to invest in shortchanges our needs"
Senator Bernie Sanders on Friday published an op-ed in defense of the Build Back Better bill, citing his colleague Joe Manchin by name as one of the main sources of opposition to legislative provisions that are very popular. His office also released a statement pointing out that many Americans know the price of the bill but not what's in it. He called out journalists, saying, "the mainstream media has done an exceptionally poor job in covering what actually is in the legislation."
Helaine Olen, a columnist for the Washington Post remedied this in her latest column published on Monday...
More, VIDEO,
https://freespeech.org/stories/why-dont-more-americans-know-whats-in-the-build-back-better-bill/
_________
- 'Opinion: Debate over which Democratic proposals to invest in shortchanges our needs,' Helaine Olen, Wash. Post, Oct. 18, 2021.
A major criticism of Democrats' "Build Back Better" agenda — until recently expected to cost $3.5 trillion but now likely to be much smaller — is that it is too generous. The economy is recovering. Unemployment is declining (if slowly). Americans don't need this much of a helping hand, critics argue. It's not just Republicans who are calling for Democrats to think less ambitiously. Sen. Joe Manchin III (D-W.Va.) says many proposals under consideration — such as making permanent the child tax credit — should be targeted to those living in poverty and should come with work or schooling requirements. Other naysayers, such as Sen. Kyrsten Sinema (D-Ariz.), appear to think the price tag is simply too large.
But there's another way of considering the agenda. We (the public, journalists and some lawmakers) have focused more on the cost of the package than its contents — even though our society is all but starved of supports that other first-world nations take for granted. "We are talking about the bedrock," says Will Ragland, a senior director at the Center for American Progress Action Fund. "It's super-frustrating to me to see us just characterizing this as a catchall social spending bill when it's an investment in infrastructure and it's an investment in families."
Ragland analyzed some benefits and costs of not going forward with a full $3.5 trillion package, rounding up research on the gains a robust Build Back Better package would likely fuel. They include investments in child care, preschool and funds for universal pre-K that would benefit tens of millions of children and their families. Some other highlights: · Making permanent the child tax credit implemented this year — which is already reducing child poverty by 40 percent — would benefit more than 65 million children.
Planned child-care assistance would save the typical two-child family more than $14,000 annually. All of these investments in children would contribute to greater stability and prosperity, which in turn would help children achieve better lifelong health, greater educational attainment and higher incomes — factors that would help the economy decades into the future.· Allowing the Centers for Medicare and Medicaid Services to negotiate prescription drug prices would, as the Congressional Budget Office has noted, save the federal government more than $450 billion over the next decade — and likely free up seniors' funds for other spending. Cutting this government spending would also help offset other investments.
· The $400 billion targeted for home health-care services for the elderly and disabled would address the three-year backlog of more than 800,000 Americans on state Medicaid waiting lists...
https://www.washingtonpost.com/opinions/2021/10/18/debate-over-which-democratic-proposals-invest-shortchanges-our-needs/
---
Response to appalachiablue (Original post)
Wed Oct 20, 2021, 07:24 PM
appalachiablue (33,897 posts)
3. NOW, *WATCH*
---
Response to appalachiablue (Original post)
Thu Oct 21, 2021, 07:57 AM
BeckyDem (6,448 posts)
4. All the participants were wonderful contributors yet it was Barber who always gets to me.
He is smart and his heart is huge. I hope Biden will meet with those very citizens Barber spoke of.
Hope springs eternal.
---
Response to BeckyDem (Reply #4)
Thu Oct 21, 2021, 09:45 AM
appalachiablue (33,897 posts)
5. Rev. Barber was really great, as always. All terrific
advocates- Alex Lawson at SS Works really knows his stuff, AOC sharp and passionate, and Bernie to focus on critical needs, aims and how we lag behind other advanced nations.