Sat May 15, 2021, 06:20 AM
appalachiablue (31,355 posts)
Inside One Network Cashing In On Covid-19 Vaccine Disinformation, The Bollingers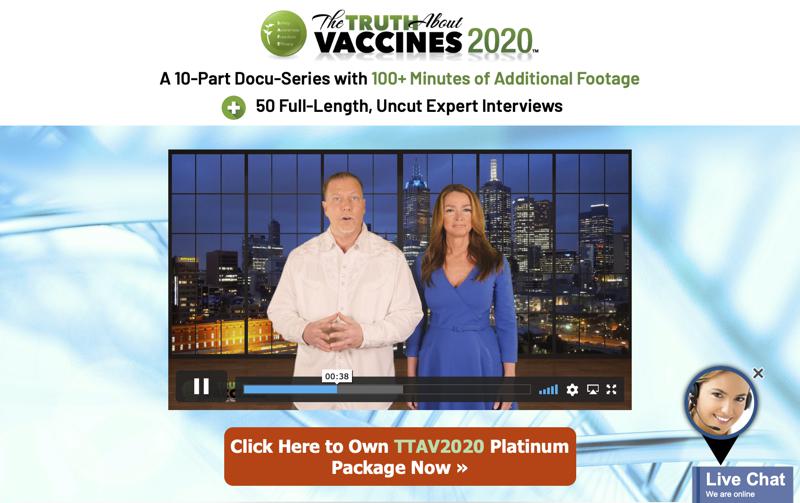 - (May, 2021). Website image of the Bollingers advertising their video series, "The Truth About Vaccines 2020." They're part of an ecosystem of for-profit cos., nonprofit groups, YouTube channels & other social media accts. that stoke fear & distrust of COVID-19 vaccines, resorting to what medical experts say is often misleading & false information.
____________
- 'Inside One Network Cashing In On Vaccine Disinformation,' The Associated Press, By Michelle R. Smith & Jonathan Reiss, May 13, 2021. - Edited.
The couple in the website videos could be hawking any number of products. "You're going to love owning the platinum package," Charlene Bollinger tells viewers, as a picture of a DVD set, booklets and other products flashes on screen. Her husband, Ty, promises a "director's cut edition," and over 100 hours of additional footage. Click the orange button, his wife says, "to join in the fight for health freedom" — or more specifically, to pay $199 to $499 for the Bollingers' video series, "The Truth About Vaccines 2020." The Bollingers are part of an ecosystem of for-profit companies, nonprofit groups, YouTube channels and other social media accounts that stoke fear and distrust of COVID-19 vaccines, resorting to what medical experts say is often misleading and false information.
An investigation by The Associated Press has found that the couple work closely with others prominent in the anti-vaccine movement — including Robert F. Kennedy Jr. and his Children's Health Defense — to drive sales through affiliate marketing relationships. According to the Bollingers, there is big money involved. They have said that they have sold tens of millions of dollars of products through various ventures and paid out $12 million to affiliates. Tens of thousands of people ponied up cash for an earlier version of their vaccine video series, they said.
"This is a disinformation industry," said Dorit Reiss, a professor at the Univ. of Ca. Hastings College of the Law, who specializes in vaccine policy. Reiss said that unlike other multi-level marketing businesses, in which products are sold through low-level sub-sellers, the anti-vaccination industry is sustained by grassroots activists. "They have many, many passionate believers that serve as sales people of the misinformation on the ground," she said. "For the top, it's a product. For the people below, they passionately believe it. They're very sincere. And it comes across." The Bollingers and others were already in the business of selling vaccine disinformation before the coronavirus began its inexorable march across the globe. But the pandemic presented the couple and others a huge opportunity to expand their reach.
The Bollingers aligned themselves with right-wing supporters of former President Donald Trump — establishing a Super PAC to push what they call "medical freedom," participating in the insurrection at the U.S. Capitol and promoting lies like the assertion that the election was stolen from Trump. On the afternoon of Jan. 6, the Bollingers held a rally a few blocks from the Capitol. As emergency vehicles responded to the invasion and ransacking of the building, Charlene celebrated from the stage. She called it an "amazing day" and led a prayer for the people she called "patriots." Ty Bollinger stood at the doors of the Capitol, waiting to get in.. The couple's social media accounts have been identified as among the top vaccine misinformation super spreaders by noted organizations and they have more than 1 million followers on Facebook...
More,
https://apnews.com/article/anti-vaccine-bollinger-coronavirus-disinformation-a7b8e1f33990670563b4c469b462c9bf
4 replies, 1899 views
Replies to this discussion thread
| | | | |
| --- | --- | --- | --- |
| 4 replies | Author | Time | Post |
| Inside One Network Cashing In On Covid-19 Vaccine Disinformation, The Bollingers (Original post) | appalachiablue | May 15 | OP |
| | Buckeye_Democrat | May 15 | #1 |
| | Lonestarblue | May 15 | #2 |
| | OldBaldy1701E | May 15 | #3 |
| | mopinko | May 15 | #4 |
---
Response to appalachiablue (Original post)
Sat May 15, 2021, 06:35 AM
Buckeye_Democrat (12,190 posts)
1. Grr!
They were at the Jan. 6th insurrection too... because, of course!
---
Response to appalachiablue (Original post)
Sat May 15, 2021, 07:42 AM
Lonestarblue (4,115 posts)
2. Anther example of why we need universal healthcare.
People are being told to listen to your doctor about vaccines. But if you have no health insurance, you likely have no doctor. If you're on Facebook, you get medical disinformation there or from YouTube.

Even people with insurance have a copay, and many may resist going to a doctor to ask about vaccines, especially since many doctors were not allocated any vaccines early this year so they could not get a shot there. It has only been within the last month or so that my health clinic had vaccines available.

I don't know how we deal with our 24/7 misinformation, Republican propaganda, and conspiracies, but free speech should not extend to the selling of lies. I doubt that's what the Founders intended.
---
Response to appalachiablue (Original post)
Sat May 15, 2021, 07:44 AM
OldBaldy1701E (1,266 posts)
3. Mass media
was invented, and disinformation was invented the next day. This is nothing new for the era of mass media. The issue is what to do with those idiots who buy into it. A pile of dry wood is seldom if ever going to spontaneously combust (not saying it doesn't happen), but when you toss a match on the pile, things happen. The problem I see is that we need the occasional match, so why are we not taking care of the other side of the equation? Do we need idiots who cannot handle reality? Have we not had enough of this already? Why do we even allow them to say or do anything when they have displayed massive disconnect from reality? The 'match' can do nothing without a fuel source. Why not remove the fuel source? I am all for trying to correct our societal problems, but going after symptoms and not the causes is really making things worse. (In other words, people. People are the cause, so why not address this?)
---
Response to appalachiablue (Original post)
Sat May 15, 2021, 08:20 AM
mopinko (59,892 posts)
4. making money on this shit needs to be a crime.
sure, say anything you want.
but start publishing lies, and profiting from lies that can HURT INNOCENT PEOPLE and you need to be made broke.