Wed Mar 3, 2021, 11:00 PM
LessAspin (751 posts)
Trump, hush-money payments, and a New York City ice rink
How much money could a money-landering machine launder if a money-landering machine could launder money?
In Trump probe, Manhattan district attorney puts pressure on his longtime chief financial officer
Cyrus R. Vance Jr. (D), Manhattan's top prosecutor, has not formally accused anyone of wrongdoing, including Trump, Weisselberg or the latter's family. But the focus on Weisselberg underscores the depth and ambition of Vance's inquiry, a criminal investigation broader than any Trump's company is known to have faced before.
Vance's focus on Weisselberg has included questions related to two of his adult children, a tactic that could be an effort to increase pressure on the elder Weisselberg. One of Weisselberg's sons also works for the Trump Organization, where he manages the company's Central Park ice rinks. Another Weisselberg son works for a company that has extended loans to the Trump Organization.
Vance recently obtained millions of pages of Trump's tax and financial records. Now he appears to be focused on their human equivalent: a man who has paid Trump's bills and kept his books since the 1980s.
Weisselberg has been CFO since 2000 and has said he handles nearly all the company's financial transactions. He once described himself in a deposition as Trump's "eyes and ears . . . from an economic standpoint."
"Allen is in charge of everything," said one former Trump employee, who spoke on the condition of anonymity because of the sensitivity of the matter, as did several people familiar with the investigation. ...
... On Twitter this week, Cohen seemed to relish the idea that Weisselberg was facing new scrutiny, after putting so much scrutiny on him.
"Remember that Allen Weisselberg received (federal) immunity from the SDNY to provide information and testify against me for the @StormyDaniels payment," he wrote on Tuesday, adding the hashtag "#KarmaBoomerang."
https://www.washingtonpost.com/politics/weisselberg-investigation-vance/2021/03/03/84a9f3d6-7c25-11eb-a976-c028a4215c78_story.html
6 replies, 2176 views
Replies to this discussion thread
| | | | |
| --- | --- | --- | --- |
| 6 replies | Author | Time | Post |
| Trump, hush-money payments, and a New York City ice rink (Original post) | LessAspin | Mar 3 | OP |
| | LessAspin | Mar 4 | #1 |
| | Prof. Toru Tanaka | Mar 5 | #2 |
| | LessAspin | Mar 5 | #3 |
| | LessAspin | Mar 10 | #4 |
| | LessAspin | Mar 31 | #5 |
| | Skittles | Mar 31 | #6 |
---
Response to LessAspin (Original post)
Thu Mar 4, 2021, 01:51 AM
LessAspin (751 posts)
1. Speaks like a Mob-Boss...
---
Response to LessAspin (Reply #1)
Fri Mar 5, 2021, 01:06 AM
Prof. Toru Tanaka (283 posts)
2. mob bosses can end up getting life sentences, also....

Can we hope the same for the "former guy"? Doubtful but a comforting thought, nonetheless.

BTW, extra points for the screen name. I remember Aspin from the 1980s when I was in the military and he was on the defense committee in Congress.
---
Response to Prof. Toru Tanaka (Reply #2)
Fri Mar 5, 2021, 02:34 PM
LessAspin (751 posts)
3. Leslie Aspin Jr. (July 21, 1938 - May 21, 1995)
Last edited Fri Mar 5, 2021, 04:16 PM - Edit history (1)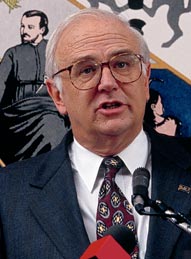 Thanks.. on his
wiki page
it says he backed Reagan sending aid to the Contras in Nicaragua. So that was bad but what I liked about him is he did not suffer fools. That's a lesson that needs to applied now more than ever.
One episode stands out that made me a Les Aspin fan. He was chairing a committee looking into something and I happened to catch it on C-Span. Les was not going to let one of their witnesses get away with spewing some nonsense.
So as someone else on the committee begins his questioning .. the witness expresses relief that Aspin was no longer grilling him. To which the Congressman was somewhat sympathetic to the witness' plight .. but quickly adds ..
"Hey, you caught him (Les Aspin) on a good day."
I loved that line.
---
Response to LessAspin (Original post)
Wed Mar 10, 2021, 09:13 PM
LessAspin (751 posts)
4. Mysterious Chicago Loan
---
Response to LessAspin (Original post)
Wed Mar 31, 2021, 04:17 PM
LessAspin (751 posts)
5. Allen Weisselberg's financial documents subpoenaed by state prosecutors
---
Response to LessAspin (Original post)
Wed Mar 31, 2021, 04:51 PM
Skittles (134,494 posts)
6. I bet Weisselberg shit bricks when Trump "won" the presidency
just another fucking con man