Thu May 3, 2012, 10:32 PM
Mira (20,259 posts)
The Hate Amendment/NC - Far more than marriage : by Chris Fitzsimon
Far more than marriage : by Chris Fitzsimon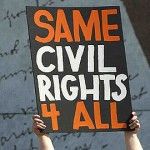 The folks determined to write discrimination into the state constitution are pulling out all the stops to mislead voters about the amendment on the ballot in the May 8th primary.
The pro-discrimination forces donít want voters to consider the damage the amendment could do to children, families, and workers, gay and straight, across North Carolina.
They want people to believe itís all about banning same-sex marriageówhich is already against the law. But itís about far more than that.
This week a handful of politically connected district attorneys and former judges appeared at a news conference to basically call amendment opponents liars who are raising concerns about the impact of the amendment on domestic violence laws.
One of the speakers was former judge, tea partier, and current Republican candidate for governor Paul Wright. Wright it turns out not only supports the marriage discrimination amendment, he favors a personhood amendment to the constitution which would define a fertilized egg as a person and claims thereís a United Nations conspiracy about local land use planning.
House Majority Leader Paul Stam, a driving force for the amendment in the General Assembly, also brushed off concerns about the amendmentís impact on domestic violence laws in a letter to the Raleigh News & Observer.
Stam simply refuses to consider the opinion of many respected legal scholars who believe otherwise, including Suzanne Reynolds at the Wake Forest University School of Law. Reynolds, as the Associated Press recently pointed out, has written a treatise on family law that is widely cited by lawyers and judges across the state.
Stamís closed mindedness is nothing new.† He and his fellow Republican legislative leaders refused to allow legal experts to testify when the amendment was making its way through the General Assembly last year.
If they are honest, supporters of the amendment have to admit thereís at least uncertainty about what the amendment will mean for domestic violence statutes and a host of other laws.† The constitution is no place for ambiguous, unclear language about basic human rights and legal protections.
snip
Republican, pro-discrimination lawmakers have offensively suggested that being gay is a choice that people make.† The Republican Party platform opposes allowing gay parents the right to adopt children or even provide foster care to troubled kids.
Thatís the real agenda here, to deny gay North Carolinians basic rights and protections far beyond marriage. Itís not a marriage amendment, not at its core.
Itís a hate amendment.† Remember that when you close the curtain on your voting booth.
source and the rest:
http://www.ncpolicywatch.com/author/site-admin/
1 replies, 1232 views
Replies to this discussion thread
| | | | |
| --- | --- | --- | --- |
| 1 replies | Author | Time | Post |
| The Hate Amendment/NC - Far more than marriage : by Chris Fitzsimon (Original post) | Mira | May 2012 | OP |
| | CRK7376 | May 2012 | #1 |
---
Response to Mira (Original post)
Fri May 4, 2012, 11:41 AM
CRK7376 (1,664 posts)
1. Yes my state
has issues and this is a really big one. So much hate and ignorance. Makes us crazy. I my reural pocket of this great state, my family and one, maybe two other families on our road oppose Amendment One. I cast may absentee ballot early last month voting against Amendment One. Our local paper has been running letters to the editor daily with rantings by those who want to pass the amendment. That's being harsh, both sides present their arguements daily. I don't know how my state will come down on this issue. I sure hope the majority of North Carolinians vote to oppose this amendment.