Thu May 3, 2012, 07:47 AM
xchrom (108,903 posts)
Drone attacks and the Brennan doctrine
http://www.guardian.co.uk/commentisfree/2012/may/02/unmanned-drones-usa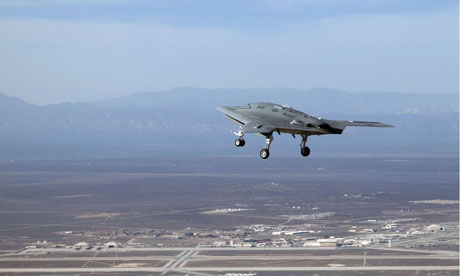 A stealth drone completes a test flight at a California air base. Photograph: KeystoneUSA-Zuma/Rex Features
In remarks on Monday, US counter-terrorism adviser John Brennan admitted for the first time that US drones have killed civilians. "It is exceedingly rare, but it has happened," he said.
With his sources in the intelligence community, Brennan no doubt has more information about the number and identity of individuals killed than do journalists and lawyers who, in the last year, have documented hundreds of what they call "civilian deaths". But the discrepancy between Brennan's view and theirs is not about the facts; it is about definitions. Brennan would call "terrorists" many of the people whom the journalists and lawyers would say are civilians.
"Terrorists", whom the Obama administration may go after with lethal force, are not just people linked to the 11 September 2001 attacks, or active members of al-Qaida. According to Brennan, most of them are already dead:
"Al-Qaida has been left with just a handful of capable leaders and operatives."
Yet there are, according to Brennan, thousands of individuals the US can lawfully target in drone strikes. Under the hugely expansive definition he described Monday, the US can kill individuals across the globe. Brennan named potential targets not just in Pakistan and Yemen, but in Somalia, Nigeria and west Africa. The Obama "war on terror" may include groups like al-Qaida in the Islamic Maghreb, which Brennan described as attempting to "destabilize regional governments", and Boko Haram, a group that "appears to be aligning itself" with al-Qaida and is "increasingly looking to attack western interests in Nigeria". Moreover, the US can kill not just leaders and operatives, but individuals who "possess unique operational skills that are being leveraged in a planned attack".
The trouble with this definition of whom the US may target is not just its breadth, but its distance from any conventional interpretation of the laws of war. The rules on who can be targeted are complex and highly contested, especially in this context. But every formulation starts from the presumption that individuals who are not members of the armed forces are entitled to protection against intentional attack. As presumptive civilians, they can only be targeted for so long as they directly participate in hostilities, or, according to the international committee of the Red Cross, as members of an organized armed group with a "continuous combatant function".
3 replies, 1211 views
Replies to this discussion thread
| | | | |
| --- | --- | --- | --- |
| 3 replies | Author | Time | Post |
| Drone attacks and the Brennan doctrine (Original post) | xchrom | May 2012 | OP |
| | ProgressiveProfessor | May 2012 | #1 |
| | xchrom | May 2012 | #2 |
| | ProgressiveProfessor | May 2012 | #3 |
---
Response to xchrom (Original post)
Thu May 3, 2012, 10:11 AM
ProgressiveProfessor (22,144 posts)
1. Disingenuous of the Guardian to use an experimental
aircraft that will never be weaponized as their graphic.

The pic is of the NUAS X-47 in Palmdale/Lancaster/Edwards AFB area in Socal.
---
Response to ProgressiveProfessor (Reply #1)
Thu May 3, 2012, 10:14 AM
xchrom (108,903 posts)
2. here ya go
---
Response to xchrom (Reply #2)
Thu May 3, 2012, 10:33 AM
ProgressiveProfessor (22,144 posts)
3. Thank you for supporting my point that there are many more correct images available