Sun Aug 9, 2020, 06:46 PM
appalachiablue (27,329 posts)
'Youth Are Stepping Up, Training & Learning To Address U.S. Election Poll Worker Shortages'
- 'Youth Are Stepping Up To Address The Poll Worker Shortage,' August 06, 2020. - Ed.:
Youth are stepping up to work the polls on Election Day, addressing the poll worker shortage that has plagued the primary election cycle. Often overlooked, poll workers are an essential component to election administration. They set up and close polling places, and are responsible for protecting ballots and voting equipment. For young organizers like Evan Malbrough, this is an organizing opportunity to get more young people engaged in civic life, as well as provide an opportunity for employment. "I officially started the Georgia Youth Poll Worker Project in order to address that issue.." said Malbrough. Recognizing the capacity issues facing metro-area counties, Malbrough stepped in to fill the void.
A recent graduate of Georgia State Univ., Malbrough reflected on his past experience in organizing a student run polling location on the Atlanta campus as part of the impetus for starting his organization. Malbrough was then tapped by the county to serve as a poll worker for the June 9 primary election. ~ "Staffing is almost the most essential aspect in our democracy, but it doesn't get as much attention," Malbrough said. "Our goal is to have 5000 young people become poll workers by November." ~ To date, the Georgia Youth Poll Worker Project has recruited over 500 young people, ages 16 and up, to work in several metro Atlanta area counties. "What we do is we build relationships with the county, and then send them a [targeted] list of who in their areas wants to be a poll worker," Malbrough said. Poll workers are being provided training and PPE, along with hazard pay in some cases.
The rapid spread of the COVID-19 pandemic saw many poll workers declining their tour of service due to potential exposure. Shortages during the primaries led to closures & consolidations of a critical mass of polling locations causing long lines & wait times for those voting in-person. In the 2018 election, nearly 60% of all poll workers were over age 60.
Nationwide organizations are investing in, encouraging, & recruiting younger people to step up and become poll workers.. Reported by The Fulcrum, young people engaging in the electoral process as poll workers could lead to increases in civic engagement. A joint effort by several national nonprofits & corporate partners, Power the Polls seeks to recruit 250,000 people to sign up to be poll workers. "All of us were really motivated by what we saw happen in the elections following the COVID-19 pandemic in GA, WI, and places like that [had] huge drops in the polling places, then huge lines & more opportunities for people gathering," said Scott Duncombe, director of Power the Polls & founder of Pizza to the Polls.
"The need became really clear as we watched what happened in elections [where] there's no intervention & the vast majority of workers, who are at risk, don't show up." Targeting 10 states along with municipal areas like Philadelphia and Milwaukee, Power the Polls is working with election officials and some corporate partners to make sure people have PPE along with other necessary equipment to safely serve. Duncombe sees Power to the Polls as a way to shift the poll worker pool to younger people who are "digital natives" and possibly more likely to be comfortable resolving technology issues as they arise at the polls. "They really are sort of ambassadors...
Read More,
https://www.dailykos.com/stories/2020/8/6/1967009/-Youth-are-stepping-up-to-address-the-poll-worker-shortage
___________________
- NPR, "Wanted: Young People To Work The Polls This November," WAMU 88.5, Aug. 5, 2020.
https://www.npr.org/2020/08/05/894331965/wanted-young-people-to-work-the-polls-this-november
Susan Weiss has been a poll worker in Bethesda, Md., for 16 years. "It's really quite an experience doing it," she says. "Setting up all the equipment, putting signs up, putting arrows on the floor, etc. The camaraderie of the group that volunteers is marvelous." But this year, with the coronavirus pandemic raging, Weiss, who's 74, decided it's just too risky to work the election in November.
"I'm a very patriotic person. I felt this is just a duty that we should have, you know? So not doing it, it makes me sad," she says. "And I feel a little selfish about it because there are people that are really putting themselves out there during this pandemic and I marvel at that, I marvel at our first responders. But should I get the virus, I'm quite concerned over my being able to survive it." Instead, her grandson, Max Weiss, is going to take her place at the polls. He's a law student at William & Mary and helped form the Alliance of Students at the Polls, which is building a national network of law students to serve as workers.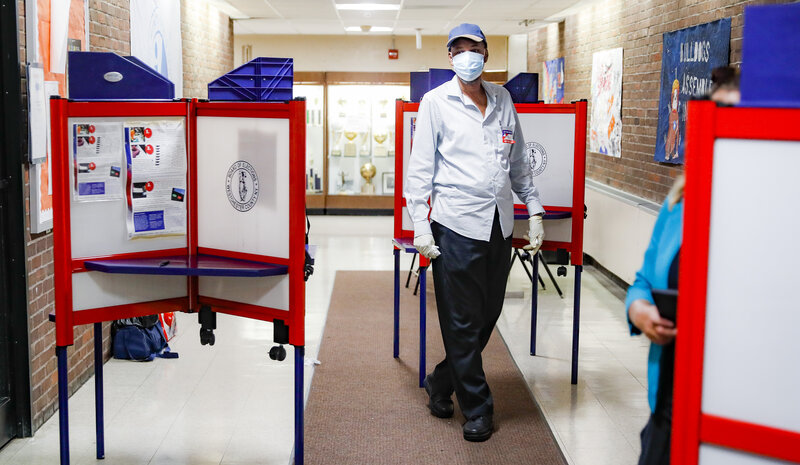 - Poll workers must take extra precautions this year to protect themselves against the coronavirus. Election experts fear a massive shortage of workers at the polls in November. (John Minchillo/AP).
5 replies, 735 views
Replies to this discussion thread
| | | | |
| --- | --- | --- | --- |
| 5 replies | Author | Time | Post |
| 'Youth Are Stepping Up, Training & Learning To Address U.S. Election Poll Worker Shortages' (Original post) | appalachiablue | Aug 9 | OP |
| | SheltieLover | Aug 9 | #1 |
| | kimbutgar | Aug 9 | #2 |
| | appalachiablue | Aug 9 | #3 |
| | brer cat | Aug 9 | #4 |
| | PoindexterOglethorpe | Aug 10 | #5 |
---
Response to appalachiablue (Original post)
Sun Aug 9, 2020, 06:48 PM
SheltieLover (9,753 posts)
1. K&R!
---
Response to appalachiablue (Original post)
Sun Aug 9, 2020, 06:53 PM
kimbutgar (13,830 posts)
2. Trevor Noah on the Daily show ends every show asking young people to become poll workers.
---
Response to kimbutgar (Reply #2)
Sun Aug 9, 2020, 06:56 PM
appalachiablue (27,329 posts)
3. Does he, that's great. It really helps. I'm loving these young bloods
---
Response to appalachiablue (Original post)
Sun Aug 9, 2020, 07:13 PM
brer cat (13,094 posts)
4. K&R
---
Response to appalachiablue (Original post)
Mon Aug 10, 2020, 12:48 AM
PoindexterOglethorpe (15,805 posts)
5. Good. Even without a pandemic young people should be working the polls.
One of the early voting sites I can go to here in Santa Fe is a nearby school. I love it because they always have some kids in the room where we vote, so they get to help out and it takes a lot of the mystery out of voting.