Fri Aug 7, 2020, 07:14 AM
appalachiablue (27,341 posts)
At The Evangelical Creation Museum, Dinosaurs Lived Alongside Humans & The World Is 6,000 Years Old
Last edited Fri Aug 7, 2020, 08:11 AM - Edit history (1)
"At the evangelical Creation Museum, dinosaurs lived alongside humans and the world is 6,000 years old." Written by The Conversation, Aug, 1, 2020. Alternet.
Summer travel in the United States has slowed but not stopped due to the coronavirus pandemic. Among those destinations that have recently reopened is, as of June 8, is the Creation Museum, a museum dedicated to promoting the Biblical story of Genesis as historic and scientific fact. More than this, the Creation Museum offers a window into the ideas and workings of the American religious right.
- Christian fundamentalists like Ken Ham, CEO of the evangelical group that owns the Creation Museum, believe dinosaurs were among the animals rescued on Noah's Ark. (Photo: Jeff Haynes, AFP Getty)
- Adam, Eve and the dinosaurs: Evangelical Christians make up approximately 25% of the U.S. population. A majority of them think the Bible should be read literally and that evolution is false. The Creation Museum, about which we wrote a book in 2016, promotes a very specific version of this belief, which holds that God made the universe in six 24-hour days about 6,000 years ago. The first four chapters of the book of Genesis tell the story of Adam and Eve, who were created on the sixth day and given two jobs: to obey God and populate the Earth. When they disobeyed God and ate fruit from the tree of knowledge, they were banished from the Garden of Eden and became mortal.
Adam and Eve did better on their second assignment, though. Eve gave birth to two sons, Cain and Abel, and, according to the Creation Museum, to a daughter who later became Cain's wife. According to Genesis, humans eventually became wicked and violent. In response, God sent a global flood that drowned everyone on the planet; the Creation Museum says the dead numbered in the billions. Only righteous Noah and his family were saved. They, along with some animals – including, according to the Creation Museum, dinosaurs – were safely housed in the ark that God commanded Noah to build.
Since opening in 2007, the Creation Museum has told this story – with an abundance of dinosaur displays and life-size dioramas of the idyllic Garden of Eden – to more than 4 million visitors.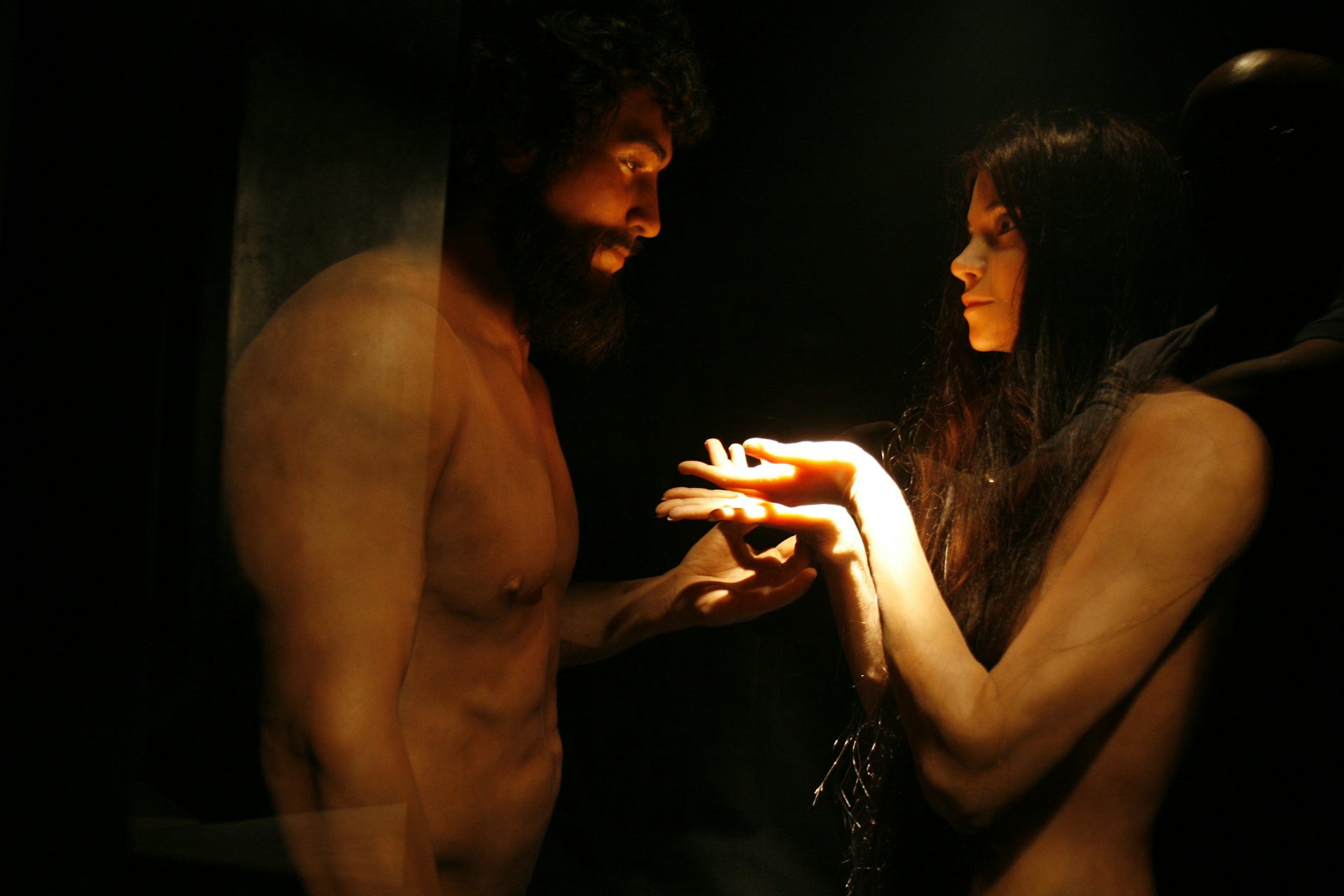 - Life-size Adam and Eve statues. For Protestant fundamentalists, Adam and Eve – seen here in statue form at the Creation Museum – were the first humans. (Michel Du Cille/The Washington Post via Getty Images).
Biblical inerrancy: Creationism is a central tenet of Protestant fundamentalism, an American evangelical movement that has its roots in the late 19th century just as Darwinian evolution was undermining the story of Genesis. Around that same time, scholars were also asking substantive questions about who actually wrote the 66 books of the Bible, noting some of its apparent inconsistencies and errors and observing that some of its stories – including that of the giant flood – seemed borrowed from other cultures. Some conservative evangelical theologians, appalled by the undermining of biblical authority, responded by creating the notion of biblical inerrancy. In this view, the Bible is without error, clearly written and factually accurate – including when it comes to history and science.
The fundamentalist movement emerged in 1919, holding to biblical inerrancy and creationism...
Read The Full Article,
https://www.alternet.org/2020/08/at-the-evangelical-creation-museum-dinosaurs-lived-alongside-humans-and-the-world-is-6000-years-old/
Bonus: Donald Trump Claims Joe Biden Is Against God, The Guardian, Aug. 7, 2020.
https://www.theguardian.com/us-news/2020/aug/07/donald-trump-claims-joe-biden-against-god
8 replies, 978 views
Replies to this discussion thread
| | | | |
| --- | --- | --- | --- |
| 8 replies | Author | Time | Post |
| At The Evangelical Creation Museum, Dinosaurs Lived Alongside Humans & The World Is 6,000 Years Old (Original post) | appalachiablue | Aug 7 | OP |
| | CaptYossarian | Aug 7 | #1 |
| | appalachiablue | Aug 7 | #2 |
| | CaptYossarian | Aug 7 | #3 |
| | Thunderbeast | Aug 7 | #5 |
| | sanatanadharma | Aug 7 | #4 |
| | 3Hotdogs | Aug 7 | #6 |
| | DavidDvorkin | Aug 7 | #7 |
| | Midnight Writer | Aug 7 | #8 |
---
Response to appalachiablue (Original post)
Fri Aug 7, 2020, 08:10 AM
CaptYossarian (5,469 posts)
1. So the Flintstones was a non-fiction show?
I guess these Bible-thumpers would get into a show where Wilma and Betty didn't work outside the home.

There would still be prayer in school in prehistoric times too.

It all makes sense now.
---
Response to CaptYossarian (Reply #1)
Fri Aug 7, 2020, 08:13 AM
appalachiablue (27,341 posts)
2. Nutty as blazes, a new 'Bible Museum' on the National Mall
---
Response to appalachiablue (Reply #2)
Fri Aug 7, 2020, 08:24 AM
CaptYossarian (5,469 posts)
3. What if the stegosaurus ate all the fig leaves?
---
Response to CaptYossarian (Reply #1)
Fri Aug 7, 2020, 10:15 AM
Thunderbeast (1,167 posts)
5. Fred and Barney smoked Winston cigarettes
on the front porch.

Never saw them in a church though... too smart to fall for THAT scam!
---
Response to appalachiablue (Original post)
Fri Aug 7, 2020, 09:43 AM
sanatanadharma (661 posts)
4. Examples of inbred Christian Theology abound in evengelical, dominionist, fundies
Some Christians follow a theology that is as inbred as Adam and Eve's grandchildren were.

There are a few loose genes rattling around in the empty skulls and trailer-park minds of mental midgets claiming to have exclusive true-knowledge of the boundless (limitless, infinite) mind of God.


---
Response to appalachiablue (Original post)
Fri Aug 7, 2020, 11:41 AM
3Hotdogs (4,905 posts)
6. --- the picture of Eve, she's a hottie.
I'd do her.
---
Response to 3Hotdogs (Reply #6)
Fri Aug 7, 2020, 02:33 PM
DavidDvorkin (17,690 posts)
7. Watch it, fella! You're talking about my great......great-grandmother!
Also, she seems to have manicured nails. Must have been hard to maintain those in such a primitive environment.
---
Response to appalachiablue (Original post)
Fri Aug 7, 2020, 03:24 PM
Midnight Writer (7,885 posts)
8. The Bible says that after Cain slew Abel, he went to live with his wife's family.
They are saying the Bible is inerrant Word of God at they same time they are disregarding it.