Sun Apr 29, 2012, 10:56 AM
xchrom (108,903 posts)
Goethe and the search for the spirit of science
http://www.guardian.co.uk/commentisfree/belief/2012/apr/28/goethe-search-spirit-of-science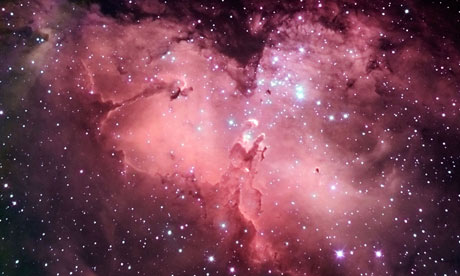 The universe ... full of wonder. Photograph: Melba Photo Agency/Alamy
Is it just me or has the dialogue between science and religion become a bit stale? I thought as much recently while taking part in a conference on the debate. We were all so well defended in our respective corners – atheists, believers, agnostics. It seemed highly unlikely that what anyone said would seriously unsettle anyone else.
The smart and articulate apologists for theism were easily able to accommodate the challenges materialist science throws at faith. The smart and articulate atheists seemed content to accept the limits of the scientific worldview and not really be challenged by the insights of theology.
Something similar troubled me when I was asked to write The Big Questions: God for the series from Quercus (and indulge me if I add, out this week). Many of the contemporary big questions in theology arise from the impact of modern science, so could I find anything new to say? Well, I did find some new names to read, and while not often cited, I think they might yet find that their time will come.
One was the great German polymath Johann Wolfgang von Goethe. His place in the history of science is secure, having discovered that human beings possess an intermaxillary bone. Animals had long been known to possess this anatomical feature of the jaw. But in Goethe's day, there was a lively science-and-religion-type dispute as to whether human beings did too. The leading anatomist Petrus Camper denied it and further argued that this demonstrated that human beings were different from animals. Eventually, though, Goethe's research won the day.
5 replies, 1268 views
Replies to this discussion thread
| | | | |
| --- | --- | --- | --- |
| 5 replies | Author | Time | Post |
| Goethe and the search for the spirit of science (Original post) | xchrom | Apr 2012 | OP |
| | saras | Apr 2012 | #1 |
| | ladjf | Apr 2012 | #2 |
| | Igel | Apr 2012 | #3 |
| | saras | Apr 2012 | #4 |
| | ladjf | Apr 2012 | #5 |
---
Response to xchrom (Original post)
Sun Apr 29, 2012, 12:09 PM
saras (6,670 posts)
1. All through my liberal-arts degree I was saturated with really stupid anti-science propaganda
The "deconstructionist left" seems to have gone so far to the left that they went around the back and have become radical right-wingers - EXCEPT for gender and ethnic minority rights. It's the most bizarre intellectual phenomenon I've ever encountered, and I've been a fan of fringe investigation my whole life.

The way the story goes is that any pseudoscience that was anti-minority, no matter how religious or class-based in origin, is attributed to the "progressives" and "liberals" of science. In this alternative history, there are no right-wingers of significance, and fascism is a complete non-issue, because, after all, all human culture is made of fascism and nothing else, and there's no way to escape it, behave differently, or examine it. So it really comes down to racist science against the entire rest of the world. And in this supposedly academic world, theories like "evolution" and "survival of the fittest" don't exist - what exists is "Darwinism", and they are TOTALLY UNINTERESTED in hearing that NO ONE else in the world uses the term except for fundamentalist Christians, because there really isn't any such thing as a Darwinist. There are no significant numbers of people anywhere, let alone a coherent school, asserting that Darwin's various ideas form a coherent whole that must be protected from pollution by foreign ideas - which is what an "ism" based around a person is in virtually every case.

To be fair, a fair number of them seem to be people who really can't use ideas with precision and accuracy independently of people and personalities, so it may be that they can't imagine using an idea and not feeling some sort of moral debt to whoever had the idea before you, whether you were influenced by them or not (of course, in their world, ideas are so rare that OF COURSE you are influenced by them, you couldn't possibly have come up with a new idea yourself, or they'd already be studying you.)

If you've ever wondered why human rights seem to be moving so slowly, and why only the wealthy are gaining, a lot of the answer is in this ideology.
---
Response to saras (Reply #1)
Sun Apr 29, 2012, 01:52 PM
ladjf (17,186 posts)
2. Perhaps you erroneously signed up to get a conservative-arts degree. I received mine at the
University of Mississippi and encountered no such problems as the ones you described. (Except from some conservative Freshmen whose arguments were no match for the professors teachings.
---
Response to ladjf (Reply #2)
Sun Apr 29, 2012, 03:25 PM
Igel (26,280 posts)
3. Then you missed the fun.
Environmentalist goofballs want to deconstruct science because it's not nature friendly. We must rethink the foundations of science from a variety of eco-friendly cultural perspectives, not the positivist/rationalist white Euro-centric Newtonian or even quantum-mechanical points of view.

Or we need to have an Afro-centric theory of gravity and mechanics. A Latino-friendly explanation of quantum mechanics and general relativity. We must explore the Vedic approaches to physiology rather than the mechanistic approach that views DNA as a kind of template that cells are built off of and that disease are caused by bacteria and viruses.

The "laws" of nature are just Western constructs of no good worth and full of perniciousness and malice towards the Other. It is as much a kind of sin to force Native American children to eat corned beef and cabbage while speaking only English as it is to force a Quechua to accept Western mathematics and physics.

Fortunately enough of them were told, after deconstructing the theory of gravity and showing it it's a West, white, Euro-centric capitalist social construct to show the proof of their convictions. Maybe they decided that walking out a 10-story window would falsify their theories rather too handily and decided to revise their theories. Or perhaps they all decided to demonstrate the strength of their convictions (and of the Earth's gravitational field). Either way, the problem's mostly solved except in the fact-free environment of some classrooms.
---
Response to Igel (Reply #3)
Sun Apr 29, 2012, 07:23 PM
saras (6,670 posts)
4. I missed the fun - exactly THAT fun - because I was trying to learn to write...
...in particular I am interested in using new perspectives on history and neurobiology to work towards a more realistic depiction of humanness than the current school of literature seems to be interested in, and between Freud and Lacan there's just not much room for neurobiology, if you know what I mean.

I think it's why no one READS literature. Personally I read a lot of non-fiction and the writing sucks. I want them to learn to write, especially when they're trying to get us to consider the consequences of things rather than telling us about them, but so much literature comes from this alternate history, alternate psychology, alternate sociology, that, for me, it's like reading science fiction about aliens. To be blunt, the real people in my real life look more like characters from romance novels and "gentle reads" than they do like the characters populating modern literature. And they look a HELL of a lot more like the people in nonfiction than they do like the people in literature.



---
Response to Igel (Reply #3)
Mon Apr 30, 2012, 12:16 PM
ladjf (17,186 posts)
5. Do you mean the topics you mentioned above were part of the curriculum's and were discussed
at length during classes? I can't imagine any upstanding University diverging into so many
directions. There would be no time to teach the basic bodies of knowledge related to the
course subjects.