Sat Jun 6, 2020, 11:55 AM
LessAspin (388 posts)
South Park and the ironic tail of bigotry..
I never really found South Park, Archie Bunker.. humorous but I get the attraction. Pretty fair piece here about the genre.
Link to tweet
...Outside of South Park, Parker and Stone's most lasting cultural contribution might be the Broadway musical The Book of Mormon, which opened in 2011 — somehow still less than 10 years ago! — to wild critical acclaim, lots of Tony Awards, and a general sense of Parker and Stone vaulting from potty-mouthed class clowns to part of the American mainstream. (They were already in that mainstream, I would argue, but having a hit show on Broadway still carries way more cultural clout than having one on Comedy Central for pointless, New York-media-centric reasons.) The Book of Mormon treats its Mormon characters lovingly. But when it comes to the Ugandans they're meant to be missionaries to, well, let's look to Helen Shaw's apt description of the problem in an excellent essay at Vulture about how The Book of Mormon already feels like it's from another time:
The sequences in Uganda are grimly unfunny, especially as black actors are forced to sell jokes about curing AIDS by sodomizing babies. The romantic interest Nabulungi (Kim Exum) is the brightest girl in the village, and she thinks that "texting" means typing on a broken typewriter. That's not a joke about poverty or disenfranchisement. That's a joke about an African woman being an idiot. In 2011, some critics called the show out for its painful racism, but not many. The assumption was that the offended parties would be Mormons.
What Shaw gets at here is something that many white Americans have gotten better at understanding in the long gap between 2011 and 2020: The media is too susceptible to prioritizing the emotions of white people and writing off people of color who have legitimate grievances with the status quo. The humanity of an imaginary white Mormon who will probably never see The Book of Mormon is easier for many white Americans to conceive of than the humanity of a black theatergoer sitting one row ahead of you and not laughing at the jokes about Ugandans. A white theatergoer might simply conclude that the person in the next row should just lighten up already! Everyone's a little bit racist sometimes!
https://www.vox.com/2020/6/6/21277256/for-now-avenue-q-everyones-little-bit-racist-south-park-george-bush-donald-trump-book-of-mormon
4 replies, 795 views
Replies to this discussion thread
| | | | |
| --- | --- | --- | --- |
| 4 replies | Author | Time | Post |
| South Park and the ironic tail of bigotry.. (Original post) | LessAspin | Jun 6 | OP |
| | Downtown Hound | Jun 6 | #1 |
| | LessAspin | Jun 7 | #2 |
| | Downtown Hound | Jun 7 | #3 |
| | dalton99a | Jun 7 | #4 |
---
Response to LessAspin (Original post)
Sat Jun 6, 2020, 12:15 PM
Downtown Hound (12,304 posts)
1. Meh, I stopped watching South Park more than 15 years ago
when Stone and Parker went all libertarian and started shitting on people who were against the Iraq War and who believed in global warming (Manbearpig). Haven't looked back. There are few political ideologies more pro-white than libertarianism, so this comes as no surprise to me.
---
Response to Downtown Hound (Reply #1)
Sun Jun 7, 2020, 12:37 PM
LessAspin (388 posts)
2. Selective libertarians...
That is pretty much exactly where I am at with them and where they lost me.
Combine that with the fact that most libertarians are anti-war so it's not even consistent with what they claim to believe. Less government and fewer foreign entanglements.
As you put it so well they crapped all over people against the Iraq War...
but had no problem with Erik Prince. In fact they embraced him.
Below is a good piece Huffington Post did 10 years ago: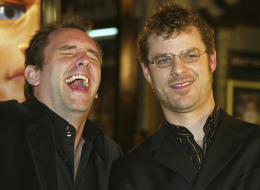 Matt Stone & Trey Parker Are Not Your Political Allies (No Matter What You Believe)
---
Response to LessAspin (Reply #2)
Sun Jun 7, 2020, 02:33 PM
Downtown Hound (12,304 posts)
3. Yeah, I just got sick of their smug, "we're so above it all" horseshit
Since I haven't watched the show in years, I hear they've gotten a little bit better, but I have no interest in finding out. There are few things that scream white privilege more than acting like anybody who cares about people around the world suffering the effects of a military invasion are F.A.G.'s as they put it. Parker and Stone can go fuck themselves. Someone should make a cartoon about two overly privileged white boys from suburbia who are totally out of touch with reality and full of themselves and name them both Trey and Matt.
---
Response to LessAspin (Reply #2)
Sun Jun 7, 2020, 03:58 PM
dalton99a (50,398 posts)
4. "I really fucking hate liberals"