Wed May 20, 2020, 11:16 AM
Zorro (11,348 posts)
Trump just said the corrupt part out loud
Last edited Wed May 20, 2020, 03:19 PM - Edit history (1)
During the impeachment of Donald J. Trump, an expert witness called by Democrats floated a theoretical scenario involving the president threatening a state hammered by a natural disaster, to illustrate the corruption of Trump's shakedown of Ukraine.
What would we think if Trump dangled federal disaster aid as leverage to force a governor to do his political bidding, asked Stanford law professor Pamela Karlin, adding: "Wouldn't you know in your gut that the president had abused his office? That he betrayed the national interest?"
Trump has now done something very close to this. And the answer to Karlin's question is: Yes, Trump is abusing his office and betraying the national interest:
Link to tweet
Trump is referring to the Michigan Secretary of State's announcement that applications for absentee ballots will be mailed to 7.7 million residents. That's to ensure that Michiganders can vote safely amid a pandemic that has brought more than 50,000 cases of coronavirus to the state and killed more than 5,000 people.
Trump's new threat is not a precise parallel to Karlin's scenario. But Trump is threatening to somehow withdraw federal aid unless Michigan drops vote by mail, a naked effort to extort Michigan into doing something that could help him politically. (Trump rage-tweeted a similar threat at Nevada.)
https://www.washingtonpost.com/opinions/2020/05/20/trump-just-said-corrupt-part-out-loud/
Looks like the asshole deleted his original tweet that put his ignorance on full display, and changed the message to reflect absentee ballot applications vs. absentee ballots.
This guy shames our country every day.
11 replies, 2844 views
Replies to this discussion thread
| | | | |
| --- | --- | --- | --- |
| 11 replies | Author | Time | Post |
| Trump just said the corrupt part out loud (Original post) | Zorro | May 20 | OP |
| | Eyeball_Kid | May 20 | #1 |
| | dragonlady | May 20 | #2 |
| | KS Toronado | May 20 | #9 |
| | genxlib | May 20 | #3 |
| | yellowdogintexas | May 20 | #4 |
| | fleur-de-lisa | May 20 | #5 |
| | Gothmog | May 20 | #6 |
| | aggiesal | May 20 | #7 |
| | tiredtoo | May 20 | #8 |
| | aggiesal | May 20 | #10 |
| | lagomorph777 | May 20 | #11 |
---
Response to Zorro (Original post)
Wed May 20, 2020, 11:49 AM
Eyeball_Kid (4,895 posts)
1. Trumpy's ass kissers think that this is GREAT!
Win at any cost. To hell with decency, the laws, or moral judgments. The ends justify the means. Go for it, Donnie! Wreck everything as long as you WIN!
---
Response to Zorro (Original post)
Wed May 20, 2020, 11:53 AM
dragonlady (3,459 posts)
2. The Wisconsin state election commission
will vote today on sending absentee ballot applications to 2.7 million voters who are not already on file as absentee. Three Democrats, three Republicans on the commission. The staff has recommended it. Waiting to see how this comes out.
---
Response to dragonlady (Reply #2)
Wed May 20, 2020, 02:19 PM
KS Toronado (718 posts)
9. Better hope their supreme court can't throw in their 2 cents worth, they love in-person voting
---
Response to Zorro (Original post)
Wed May 20, 2020, 12:20 PM
genxlib (3,235 posts)
3. If i read this correctly
The state sent out applications for absentee ballots.

But he claimed they sent out absentee ballots.

Huge difference
---
Response to Zorro (Original post)
Wed May 20, 2020, 12:21 PM
yellowdogintexas (16,713 posts)
4. Federal Court ordered Texas to allow voters to request VBM applications
using 'fear of contracting Corona Virus" as a qualifier for VBM. This would mean any voter can request an application.

Currently, a voter must be (1) Over 65 (2) Disabled (3) absent from the state for election day; you can't just ask for it.

Our early voting schedule runs for 10 days, so just being unable to vote in person on election day itself isn't enough.

Even in this heavily Republican state, our governor refused a request to send VBM applications to every registered voter without need to request it. We could have done it before our runoff in May.

Once a VBM application is returned, every ballot is mailed to that voter for the rest of the year, which I think is the real reason for waiving the requirements because every voter who returned an app could vote by mail in Nov. Texas Rs don't care if Dems vote in their own runoffs but the general election is a whole other thing


---
Response to Zorro (Original post)
Wed May 20, 2020, 12:28 PM
fleur-de-lisa (10,310 posts)
5. And he is wrong again. Shocking. Michigan sent applications, not ballots.
---
Response to Zorro (Original post)
Wed May 20, 2020, 01:03 PM
Gothmog (86,123 posts)
6. trump tried the same stunt with sanctuary cities and the courts struck it down
From the editorial cited in OP
What Trump threatened is illegal
As a threshold matter, what Trump is threatening is illegal, according to Stephen Vladeck, a law professor at the University of Texas at Austin.

"The federal government does not have the power to withhold funding from states because the president disagrees with something the states are doing," Vladeck told me. "There's no legal mechanism by which he can do that."

Theoretically, Trump might try to do this. Under the Cares Act, which recently passed Congress, states get allotted coronavirus aid money from the Treasury Department, and then subsequently certify that they used it all on coronavirus-related purposes, a spokesperson for the House Appropriations Committee tells me.

So Trump could try to instruct the Treasury Department not to dole out that money. Note that Trump actually cc'd the Treasury
Department in his tweet-threat, an act that becomes a lot more disgusting when you understand that this is how the mechanism actually does work.

Secondarily, the premise of Trump's threat is based on lies. Michigan didn't send out "absentee ballots." It sent out applications for absentee ballots. "A state can decide for itself how to allow its residents to apply to vote absentee," Vladeck points out. And the specter of voter fraud that Trump floated is itself fiction.

For all these reasons, Vladeck says, if Trump actually tried to realize the threat, it would be illegal and would be "struck down" in court.
---
Response to Zorro (Original post)
Wed May 20, 2020, 02:18 PM
aggiesal (5,012 posts)
7. What he is doing is literally illegal ...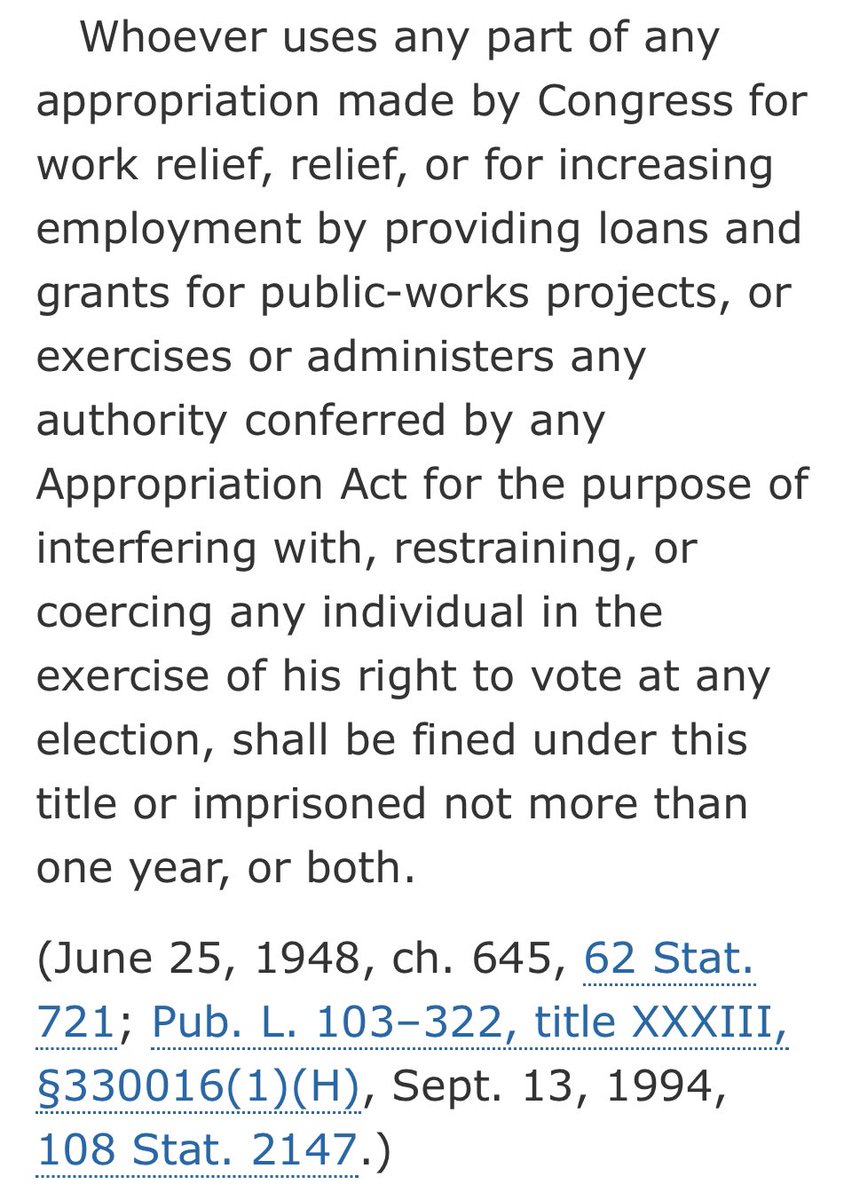 Whoever uses any part of any appropriations made by Congress for work relief, relief, or for increasing employment by providing loans and grants for public-works projects,
or exercises or administers any authority conferred by any Appropriation Act for the purpose of interfering with, restraining, or coercing an individual in the exercise of his right to vote at any election
, shall be fined under the title or imprisoned nor more than one year, or both.
(June 25, 1948, ch. 645, 62 Stat. 721; Pub. L. 103-322, title XXXIII, §330016(1)(H), Sept. 13, 1994, 108 Stat. 2147.)
---
Response to Zorro (Original post)
Wed May 20, 2020, 02:18 PM
tiredtoo (1,989 posts)
8. As a Michigan resident who has voted absentee for 15 years
His threats do not scare me. No matter what, snow sleet and all that other stuff, even if i have to walk to the polls, I will do so and vote for Biden!
---
Response to tiredtoo (Reply #8)
Wed May 20, 2020, 03:30 PM
aggiesal (5,012 posts)
10. I to, will vote for ByeDon! n/t
---
Response to Zorro (Original post)
Wed May 20, 2020, 04:05 PM
lagomorph777 (15,572 posts)
11. Trump's tactic will enrage MI voters and drive them to the polls,
even under threat of COVFEFE-19. People will risk death to get rid of that monster.