Fri May 8, 2020, 04:39 AM
Harry Walpurgisnacht (78 posts)
Slate: William Barr's DOJ Is Now Covering Up Crimes for Trump in Broad Daylight
By JEREMY STAHL
MAY 07, 2020, 7:26 PM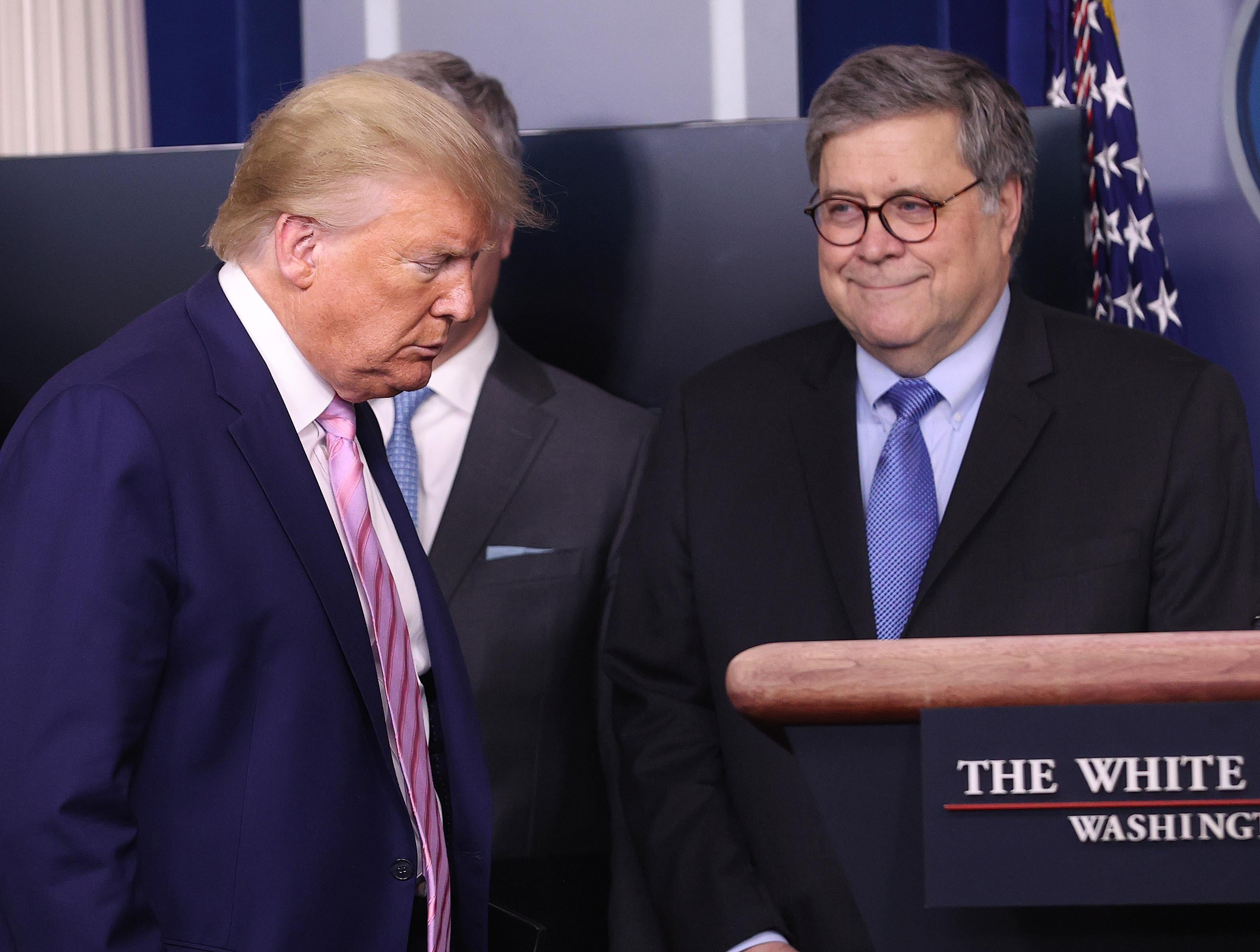 Boss and hatchet man.
Win McNamee/Getty Images
On Thursday, the U.S. Attorney for the District of Columbia, Timothy Shea, filed a motion to drop the charges against former Trump national security advisor Michael Flynn, who, in the course of the special counsel Robert Mueller's probe, pled guilty to making false statements to the FBI but later withdrew that plea. The move came hours after the lead prosecutor, Brandon Van Grack, withdrew from the case, placing it in the hands of one of Attorney General William Barr's former top advisers. President Donald Trump has pushed for years through his tweets, public statements, and personal interactions with top DOJ officials for Flynn's case to be dropped.
In the extraordinary motion, Shea argued that the FBI's investigation of Flynn was based on "frail and shifting justifications" and that the case against him was too thin to prove beyond a reasonable doubt.
The effort on behalf of the president by Barr and Shea to cover up already confessed crimes is a further step toward the complete corruption of the Department of Justice.
The department was left reeling earlier this year when, after Trump's urging, the same U.S. Attorney's office changed its sentence recommendation for another Trump associate and felon, Roger Stone, prompting the public withdrawal of all of the attorneys previously working on the case.
All that's left, really, is for the department to start prosecuting Trump's political enemies.
"The fact that DOJ has reversed itself 180 degrees to let a presidential ally off the hook—after he pled guilty—is yet another among the slinking cavalcade of humiliations Trump and Barr have inflicted on the [DOJ]," former federal prosecutor and University of Missouri School of Law professor Frank Bowman told me.
https://slate.com/news-and-politics/2020/05/barr-department-of-justice-dismiss-michael-flynn-charges.html
This is why, if we ever get rid of Trump, both he and Barr have to be
criminally prosecuted.
Failure to do so will establish a precedent that will, sooner or later, prove FATAL to the continued existence of our Republic.
6 replies, 2167 views
Replies to this discussion thread
| | | | |
| --- | --- | --- | --- |
| 6 replies | Author | Time | Post |
| Slate: William Barr's DOJ Is Now Covering Up Crimes for Trump in Broad Daylight (Original post) | Harry Walpurgisnacht | May 2020 | OP |
| | Ramsey Barner | May 2020 | #1 |
| | Trueblue Texan | May 2020 | #2 |
| | UCmeNdc | May 2020 | #3 |
| | dlk | May 2020 | #4 |
| | vlyons | May 2020 | #5 |
| | duforsure | May 2020 | #6 |
---
Response to Harry Walpurgisnacht (Original post)
Fri May 8, 2020, 06:56 AM
Ramsey Barner (347 posts)
1. Um, no: "Michael Flynn...pled guilty...but later withdrew that plea."
He moved to withdraw the plea. I don't think the court granted the motion.
---
Response to Ramsey Barner (Reply #1)
Fri May 8, 2020, 07:01 AM
Trueblue Texan (1,379 posts)
2. And didn't he withdraw the plea MONTHS later?
I think you should have a limited time, like when you buy a major appliance. Ya got 3 days to take it back. After that, you own it.
---
Response to Harry Walpurgisnacht (Original post)
Fri May 8, 2020, 07:39 AM
UCmeNdc (8,786 posts)
3. 'Much more to come!' Trump gloats about Barr unraveling Mike Flynn's guilty pleas
---
Response to Harry Walpurgisnacht (Original post)
Fri May 8, 2020, 07:46 AM
dlk (8,730 posts)
4. Yes, when Richard Nixon was not prosecuted for his crimes, a precedent was set
And all of the presidents who followed him who were given a pass not prosecuted for their crimes paved the way for Trump. The GOP has turned our government into a RICO operation and, sadly, there have been Democratic enablers along the way. The truth is we may have already crossed the Rubicon with our democracy. It will require each and everyone of us to do our part. Unfortunately, too many Americans don't care to get involved and we are paying a very high price.
---
Response to Harry Walpurgisnacht (Original post)
Fri May 8, 2020, 07:51 AM
vlyons (7,832 posts)
5. Oh it is much much worse than corrupting the DOJ
How about mass manslaughter of 70,000 Americans by criminal depraved indifference? Every state in the union has felony laws against criminal depraved indifference, based on the model law of Depraved-Heart Murder." You can read about it in the link below.
I have been posting about Trump being guilty of "criminal depraved indifference" for some time now. Frankly I rather disappointed that DUers have not picked it up and made it go viral. We need to keep alive the meme of depraved indifference on the part of Trump and all those governors rushing to open up states.
https://en.wikipedia.org/wiki/Depraved-heart_murder
---
Response to Harry Walpurgisnacht (Original post)
Fri May 8, 2020, 08:36 AM
duforsure (11,256 posts)
6. They don't realize yet
Flynn can be prosecuted again as soon as the illegitimate president is ousted, then all those Barr and trump have protected under trump justice will be fully held accountable, and especially. Barr. He will end up going to prison for doing this.