Sat Apr 4, 2020, 11:14 PM
appalachiablue (25,229 posts)
Strike For Your Life! A Dozen Strikes As Workers Try To Protect Themselves Against Coronavirus
- 'Strike for Your Life!' - There have been more than a dozen strikes in the past two weeks by workers striking to protect themselves against infection by the coronavirus. They have already won increased protection. What do they portend for the future? By Jeremy Brecher, Common Dreams, April 3, 2020.
While the coronavirus spreads, another contagion is brewing – a contagion of strikes for protection against the coronavirus.
Early Tuesday morning, March 17, Detroit bus drivers gathered at dawn at the city's two major terminals. They were worried about coronavirus. The day before, the state had closed all restaurants, leaving many drivers without access to bathrooms and with no place to wash their hands. Drivers had no gloves, disinfectant wipes, or masks. Buses were poorly cleaned. The drivers decided they weren't going to go to work without safety precautions. 90% of the buses remained in the terminals that morning. According to Glenn Tolbert, president of Amalgamated Transit Union Local 26, the drivers "had been discussing it" and "they just decided they weren't going to work." They "called us and asked us to stand by them, and that's what we do." The mayor came to talk with the drivers, and bus service was shut down for the day, due, officials said, to "the driver shortage." Tolbert apologized for inconveniencing passengers, but explained, "we didn't want to get sick and affect the public, and we didn't want the public to get sick and affect us."
By the next day the drivers had won all their demands. Bus fares were suspended for the duration of the pandemic and riders allowed to enter and exit by the rear door so they wouldn't have to congregate around the driver. A seat was going to be left empty behind the driver to provide social distance. Drivers would get gloves and disinfectant wipes and masks "upon request whenever available." More cleaning staff were hired and given new instructions on sanitizing and supplied more concentrated disinfectant. If no toilets were available port-a-potties would be provided.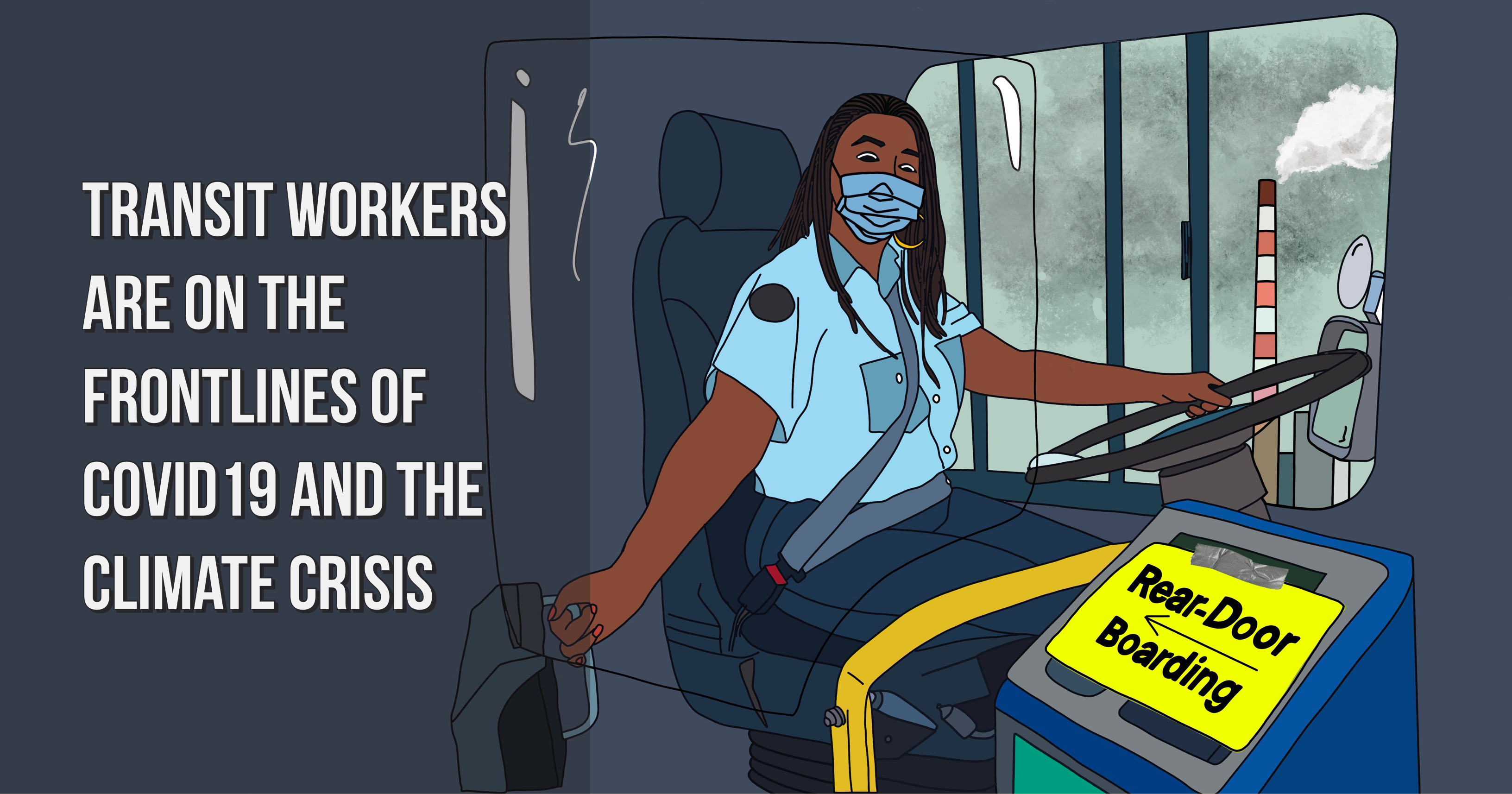 In an op ed in the New York Times, former Times labor reporter Steven Greenhouse described similar strikes that have broken out within the last two weeks. They include:
More than half the workers at the Bath Iron Works in Bath Maine stayed home demanding that their employer clean up the plant.
In Warren, Michigan, Fiat Chrysler workers struck to demand hot water for washing.
In Birmingham, Alabama, bus drivers struck for protection from infected passengers.
Pittsburg sanitation workers struck for protective equipment and hazard pay.
Two hundred Kroger warehouse workers walked out when a worker came down with coronavirus – and to protest a 97-hour workweek.
In Kathleen, Georgia, 50 workers at a Perdue poultry processing plant struck – one strike leader said, "We're up here risking our life for chicken."
Cooks and cashiers at McDonald's in San Jose, California, CSA walked out to protest lack of hand soap, gloves, masks, or hand sanitizers.
Twenty McDonald's workers in Cicero, Illinois walked out to demand the sick pay they were entitled to under state law.
Just since Greenhouse's article there have been further coronavirus walkouts by Staten Island Amazon warehouse workers, Whole Foods workers, and Instacart workers nationwide. Greenhouse writes, "As often happens when workers finally flex their collective muscles, their actions have gotten results." Birmingham had passengers enter by the rear doors, and limited passengers to 19 per bus to provide social distancing. San Jose McDonald's supplied gloves and soap.
Other variants of the coronavirus strike have begun to appear as well:
In Durham and Raleigh, North Carolina, nearly a hundred restaurant and retail workers from McDonalds's, Family Dollar, Food Lion, Walmart, and a Shell gas station held a one-day "digital strike." Unable to demonstrate in the streets because of a county stay-at-home order, they gathered from their homes via a Zoom call and shared their stories and grievances. Workers told how they had to mix their own homemade sanitizer and how customers brought them masks but their manager forbade them to wear the masks lest they alarm customers. The strikers were members of NC Raise Up, a chapter of the national Fight for $15 and a Union movement. They won support from a city council member, a local doctor, and local justice organizations...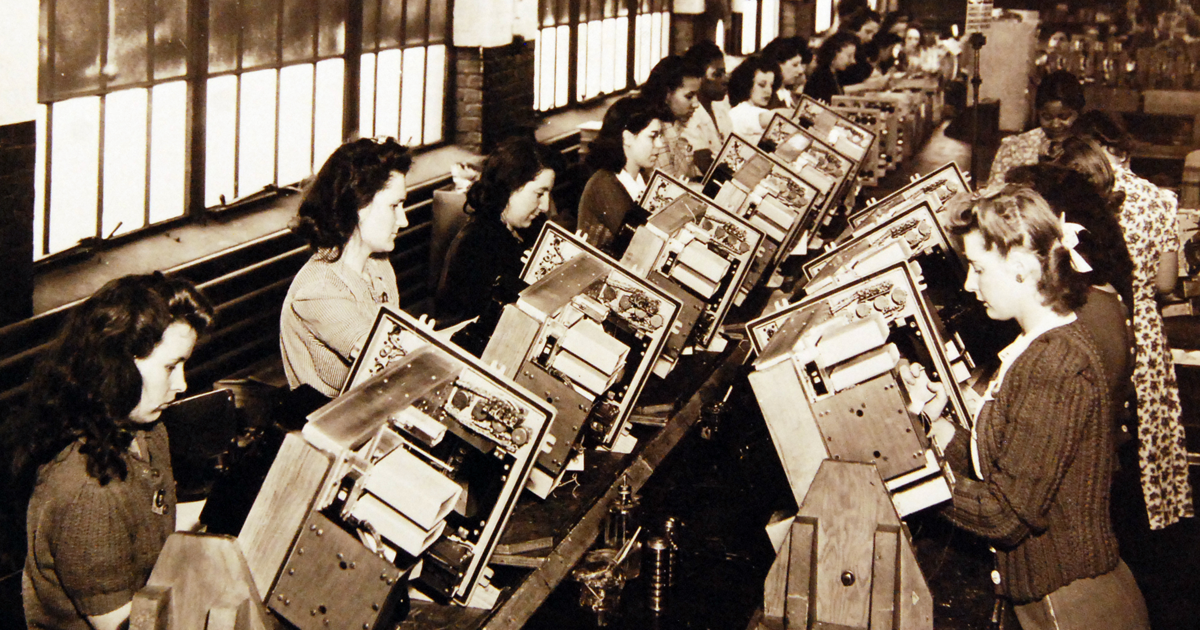 - Photo: Radar being manufactured for the U.S. Navy in a General Electric factory, June 13, 1943. Shown: Assembling radar equipment. The women were previously builders of radio equipment for civilian use. Official U.S. Navy Photograph, now in the collections of the National Archives.
More,
https://www.commondreams.org/views/2020/04/03/strike-your-life
0 replies, 590 views