Sat Apr 4, 2020, 10:00 PM
appalachiablue (25,229 posts)
UK: NHS Health Care Workers Wear Bin Bags As Protection, Coronavirus Equipment Shortages
- 'Coronavirus: The NHS workers wearing bin bags as protection,'- BBC News, April 5, 2020.
As the death toll from coronavirus continues to climb, hospitals across the UK are working flat out to create more intensive care beds for those who are critically ill. Speaking to the BBC, one intensive care doctor describes the crippling reality of a lack of support and equipment faced by some health-care workers in England. Several healthcare workers in England have told the BBC of a lack of equipment in their hospitals. Warned against speaking to the media, they were unwilling to talk publicly. However, one intensive care doctor from the Midlands wanted to go on record. The BBC agreed to change her name in order to protect her identity.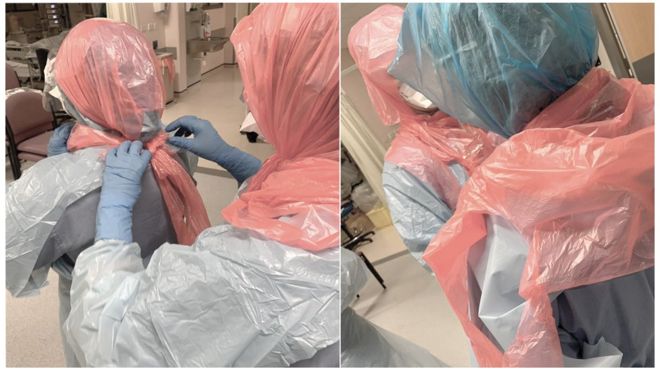 - Dr. Roberts helps her colleagues by securing bin bags on their heads.
Dr Roberts describes a hospital on the brink. Intensive care is already full of coronavirus (Covid-19) patients. All operations deemed non-urgent, even the cancer clinics, have been cancelled. There is a lack of staff, a lack of critical care beds, a shortage of basic antibiotics and ventilators. All this, combined with the looming uncertainty of what will be the expected peak, estimated to hit the UK around 14-15 April, means hospital staff are already feeling the strain. However, nothing Dr Roberts describes is quite as alarming as the fact that these medical professionals, who continue to care for critically ill patients for 13 hours every day, are having to resort to fashioning personal protective equipment (PPE) out of clinical waste bags, plastic aprons and borrowed skiing goggles.
While the public attempts to keep to a social distance of two metres, many NHS staff are being asked to examine patients suspected of coronavirus at a distance of 20cm - without the proper protection. With potentially fatal implications, Dr Roberts says several departments within her hospital are now so fearful of what's coming next, they have begun to hoard PPE for themselves. "It's about being pragmatic. The nurses on ITU (Intensive Treatment Unit) need it now. They are doing procedures which risk aerosol spread of the virus. But they've been told to wear normal theatre hats, which have holes in them and don't provide any protection. "It's wrong. And that's why we're having to put bin bags and aprons on our heads."
The government has acknowledged distribution problems, but says a national supply team, supported by the armed forces, is now "working around the clock" to deliver equipment. NHS England also said more than one million respiratory face masks were delivered on 1 April, but with no mention of much-needed head protection and long-sleeved gowns. Dr Roberts says her hospital has not received anything from the government, and what they do have is causing concern. "The respiratory protection face masks we're using at the moment, they've all been relabelled with new best-before end dates. Yesterday I found one with three stickers on. The first said, expiry 2009. The second sticker, expiry 2013. And the third sticker on the very top said 2021."...
More,
https://www.bbc.com/news/health-52145140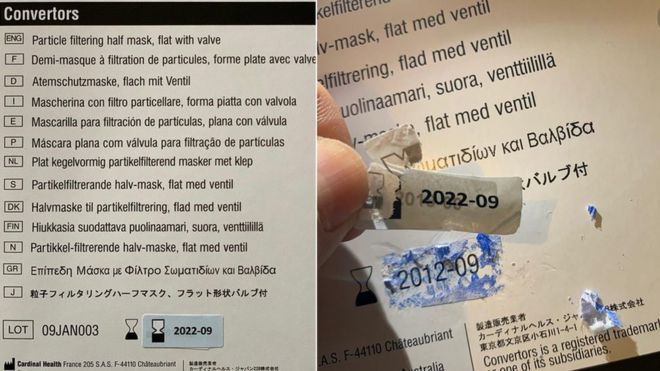 - Dr. Roberts pulls expiry date stickers from face mask packaging.
6 replies, 582 views
Replies to this discussion thread
| | | | |
| --- | --- | --- | --- |
| 6 replies | Author | Time | Post |
| UK: NHS Health Care Workers Wear Bin Bags As Protection, Coronavirus Equipment Shortages (Original post) | appalachiablue | Apr 4 | OP |
| | tblue37 | Apr 4 | #1 |
| | appalachiablue | Apr 4 | #2 |
| | tblue37 | Apr 4 | #3 |
| | appalachiablue | Apr 4 | #5 |
| | exboyfil | Apr 4 | #4 |
| | appalachiablue | Apr 4 | #6 |
---
Response to appalachiablue (Original post)
Sat Apr 4, 2020, 10:04 PM
tblue37 (39,390 posts)
1. Like the New York nurses forced to use large black garbage bags. nt
---
Response to tblue37 (Reply #1)
Sat Apr 4, 2020, 10:07 PM
appalachiablue (25,229 posts)
2. Hadn't seen that, a real crisis epidemic we have
---
Response to appalachiablue (Reply #2)
Sat Apr 4, 2020, 10:09 PM
tblue37 (39,390 posts)
3. Picture:
---
Response to tblue37 (Reply #3)
Sat Apr 4, 2020, 10:18 PM
appalachiablue (25,229 posts)
5. Unreal, good on these brave nurses, champions
---
Response to appalachiablue (Original post)
Sat Apr 4, 2020, 10:17 PM
exboyfil (12,943 posts)
4. It might not be right but I told my nurse daughter
that if she felt she was in danger to just go ahead and quit if that is what she wants to do. She lives at home and has no student loans. She had pneumonia last year so I am concerned about her. I am also concerned about my wife and myself and our exposure.

I would expect the consequences for a NHS nurse would be much greater since they are all state employees.
---
Response to exboyfil (Reply #4)
Sat Apr 4, 2020, 10:20 PM
appalachiablue (25,229 posts)
6. I understand, stay well & healthy