Wed Feb 26, 2020, 06:18 PM
underpants (148,639 posts)
Reddit's Profane, Greedy Traders Are Shaking Up the Stock Market
https://www.bloomberg.com/news/articles/2020-02-26/reddit-s-profane-greedy-traders-are-shaking-up-the-stock-market
Chatter on message boards is reshaping the options market and sparking wild rallies.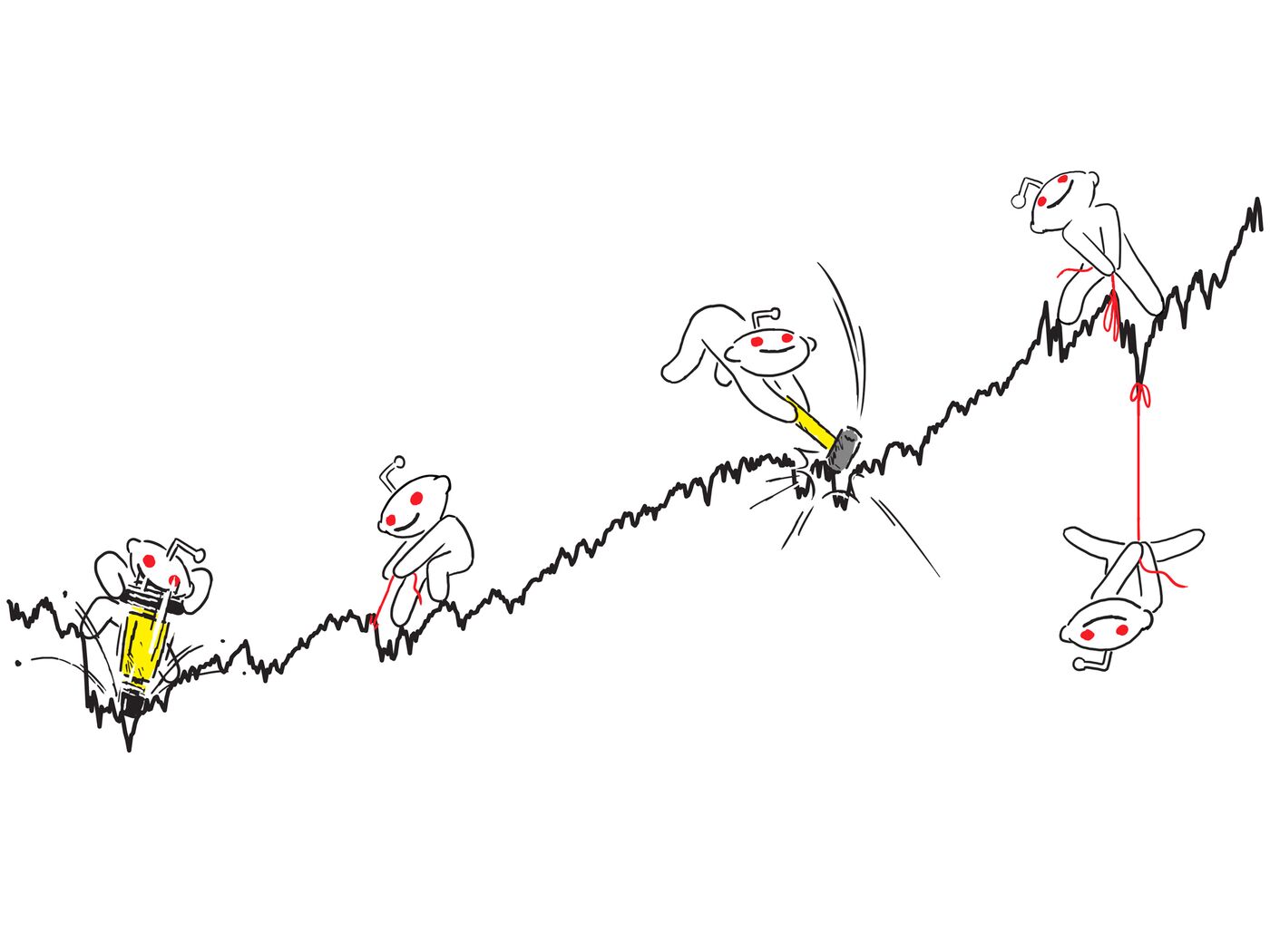 In a dingy corner of the internet is a message board, soaked in profanity, bro-speak, and greed, where posters with handles such as OverthrowYourMasters and yolo_tron campaign for their favorite stocks, putting up screenshots from their online brokerage accounts of their moonshot victories—or showing off their massive losses like badges of honor. Some of them think they've found the key to fast wins on the stock market. Wall Street doubts they're right, but it's getting nervous about what it sees there.
History hasn't been kind to people claiming to have a magic hand. The latest sell-off, driven by a new wave of coronavirus fears, shows how quickly markets can turn on you. But even veteran traders have trouble dismissing a 900,000-user Reddit forum called r/wallstreetbets, or r/WSB for short, whose tips and tactics have shown an uncanny ability to push prices, at least for the short term. Hitherto sleepy companies such as Virgin Galactic Holdings Inc. and Plug Power Inc. went crazy shortly after being mentioned there. The board may have added a little froth to Tesla Inc.'s $90 billion rally.
Twenty years later, one thing that's changed is the nomenclature. It's frequently both juvenile and objectionable. For Reddit's band of self-styled "autists"—a term of endearment, relatively speaking, that crudely leans into stereotypes surrounding extremely online people—the chief prize is "tendies" (chicken tenders, the treat an overgrown man-child receives for being a "Good Boy"). Figuratively speaking, tendies are the financial rewards that follow from a successful bold wager. Bears are usually referred to in homophobic terms.
As the swashbuckling day trader's imprint on the market becomes more pronounced, moderators are getting stricter in their policing of the board—or "sub," for subreddit. One user, who'd been a member for three years without posting, laid out the bull case for Lumber Liquidators Inc. and promised another pick the following morning. Call volumes in the company jumped to 71 times the previous one-month average, with shares rising 18.6%. This user was promptly banned from r/WSB upon providing the next tip, with a moderator claiming that the poster "tried to use the platform for personal gain." Members were warned that any interactions with the user on Reddit or discussion of the user's latest recommendation would also get them kicked out. "This sub is a travesty," wrote user Deftech1, complaining about the influx of those looking for—or pushing—get-rich-quick schemes. "Can we just go back to losing inordinate amounts of money?"
2 replies, 949 views
Replies to this discussion thread
| | | | |
| --- | --- | --- | --- |
| 2 replies | Author | Time | Post |
| Reddit's Profane, Greedy Traders Are Shaking Up the Stock Market (Original post) | underpants | Feb 26 | OP |
| | msongs | Feb 26 | #1 |
| | Wellstone ruled | Feb 26 | #2 |
---
Response to underpants (Original post)
Wed Feb 26, 2020, 06:24 PM
msongs (54,485 posts)
1. a penny per transaction fee would shut these people down nt
---
Response to underpants (Original post)
Wed Feb 26, 2020, 06:48 PM
Wellstone ruled (29,983 posts)
2. Interesting,
Options and Day Traders. CNBC has been known as the DayTrader Messenger as well as promoting Options Monster.com. Hmmm.

Shades of the Dot-Bomb days of the early nineties .