Sun Feb 16, 2020, 09:18 PM
Judi Lynn (138,004 posts)
Fashion executive accused in rape lawsuit reportedly hosted Prince Andrew at Bahamas estate
Peter Nygard is accused of luring women to the property
Photos from 20 years ago show the royals visiting the site
Oliver Milman
@olliemilman
Sat 15 Feb 2020 13.50 ESTLast modified on Sat 15 Feb 2020 13.52 EST
A millionaire fashion executive accused of raping 10 women and girls at his Bahamas mansion reportedly hosted Prince Andrew and his family at the property in 2000.
A class action lawsuit lodged in New York City claims that Peter Nygard lured "young, impressionable, and often impoverished children and women" to his Bahamas property with cash payments and promises of modeling opportunities, only to then "assault, rape, and sodomize them".
Nygard, 78, has hosted celebrities and politicians at the property, near the Bahamian capital of Nassau. Photos credited to Nygard's website appear to show such visitors included Prince Andrew, accompanied by his ex-wife Sarah Ferguson and their two daughters, 20 years ago.
One photo shows Nygard talking with a shorts-wearing Andrew as the two stroll together. In another picture Nygard is posing with Sarah and her daughters, Princesses Eugenie and Beatrice.
More:
https://www.theguardian.com/us-news/2020/feb/15/fashion-executive-accused-in-lawsuit-reportedly-hosted-prince-andrew-at-bahamas-estate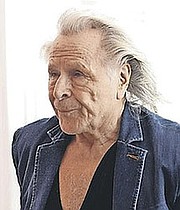 Peter Nygard 2 replies, 824 views
Replies to this discussion thread
| | | | |
| --- | --- | --- | --- |
| 2 replies | Author | Time | Post |
| Fashion executive accused in rape lawsuit reportedly hosted Prince Andrew at Bahamas estate (Original post) | Judi Lynn | Feb 16 | OP |
| | NanceGreggs | Feb 16 | #1 |
| | Judi Lynn | Feb 16 | #2 |
---
Response to Judi Lynn (Original post)
Sun Feb 16, 2020, 10:41 PM
NanceGreggs (25,389 posts)
1. I met Peter Nygard about 20 years ago.
He was being cross-examined in connection with a lawsuit (he had stiffed a major supplier), and I was the court reporter.

The young female lawyer started the exam with the usual questions, i.e. "Can you state your full name for the record?" "What is your current address?" "What is your present occupation?"

Then she asked, "And you are how old, sir?" That question set off a firestorm between Nygard, the examining lawyer and his own counsel. The arguing went on for several minutes, as he adamantly refused to divulge his age.

When we broke for lunch, the examining lawyer said to me, "I already know his age. I only asked the question because I'd been told how much it pisses him off when anyone talks about his age – and I wanted to see his head explode."

He was insufferably arrogant and obviously saw himself as a 'great catch'. What he looked like was one of those old men who hang out at nightclubs trying to pick up women half their age – totally oblivious to the fact that they look like someone's dad had shown up to look for his kid.

---
Response to NanceGreggs (Reply #1)
Sun Feb 16, 2020, 11:20 PM
Judi Lynn (138,004 posts)
2. Wonderful hearing about the woman who cross-examined him. Outstanding treatment.
Hope there are many more who don't defer to him, too.
What an @$$.