Wed Jan 29, 2020, 03:04 AM
Judi Lynn (137,272 posts)
Pastor's fight against KKK becomes movie that may aid battle
By JEFFREY COLLINS
42 minutes ago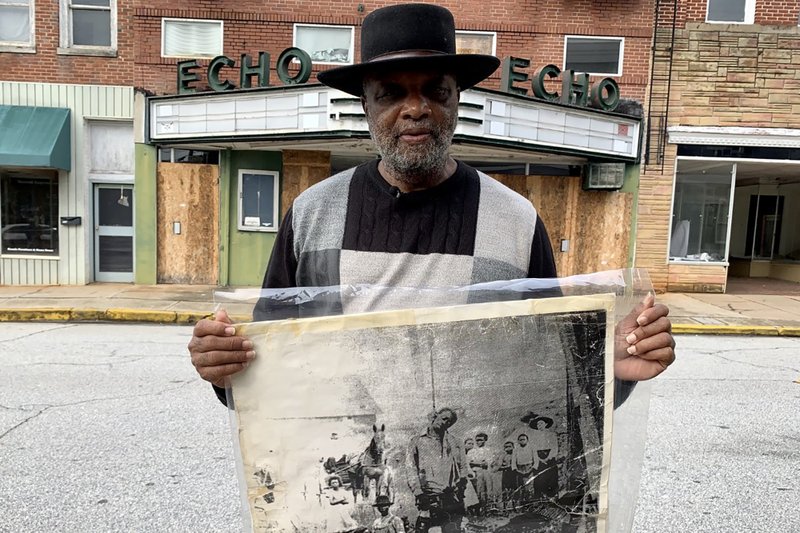 LAURENS, S.C. (AP) — Not many years ago in a small, rural South Carolina town stood The Redneck Shop — a racist emporium and Ku Klux Klan museum housed in an old theater, where white supremacist neo-Nazis gave heil-Hitler salutes and flaunted swastikas and Rebel flags.
That building, once the property of the Klan, now belongs to a black preacher and committed foe of racism who fought the group for more than 20 years. The Rev. David Kennedy plans to transform it into a shrine of reconciliation.
How Kennedy, whose great-great-uncle was lynched in the community, got ownership of the old Echo Theater building from an ex-Klansman — a man who once contemplated murdering Kennedy — is the subject of a movie that could end up raising funds for that transformation.
"It symbolizes right now in the shape it's in — hatred," Kennedy said. "But we hope we can turn it into a building of love."
A decade ago, the white supremacist store in Laurens was a place where one of the few shirts sold without an overt racial slur said, "If I had known this was going to happen I would have picked my own cotton." The World Famous Ku Klux Klan Museum with its racist meeting place was in the back.
More:
https://apnews.com/6070e0d47a9b510d173ce33b867dee9c
1 replies, 619 views
Replies to this discussion thread
| | | | |
| --- | --- | --- | --- |
| 1 replies | Author | Time | Post |
| Pastor's fight against KKK becomes movie that may aid battle (Original post) | Judi Lynn | Jan 29 | OP |
| | CaptYossarian | Jan 29 | #1 |
---
Response to Judi Lynn (Original post)
Wed Jan 29, 2020, 10:55 AM
CaptYossarian (2,407 posts)
1. Good for him. His heart and brain are in the right place.
What really pisses me off about people--even ones here in WI--is when they talk about the Confederate flag and all the Civil War stuff around a century and a half ago--as part of their heritage. One's heritage implies a yearning to go back to this time and place where you're jealous of the people from that era who experienced everything that you want to.

Racial slurs have filled the air in this country like torrential rain since America was discovered. But in 2009 and ever since then, there's been more overt signs (sometimes actual signs) this new Confederacy we're seeing was on the rise. The Teabillies often had the message "I want my country back". I suspected this was referring to how it was when these devout churchgoers could buy and sell human beings and use them for very cheap labor. It was also the backward swinging of the political pendulum because we had a newly elected president with pigmentation. In other words, backlash.

Then came a tsunami of police shootings and choking of unarmed black men. A couple more dragged behind (what else?) pickup trucks made the headlines too. It would seem now that the racists/anti-Semites/homo- and transphobes have a new leader and the freedom to do what they want to their non-white and other minority neighbors. But this leader isn't just some ordinary Grand Dragon. He lives in the White House and 63 million "Americans" voted for him to lead this nation.

How do we get the people I've described to evolve with us? Many learned to hate from their parents, media people, and even religious figures. It's easier to learn something than to unlearn something. These Teabillies need de-programming, but they won't come willingly.