Sun Jan 26, 2020, 04:16 PM
appalachiablue (23,536 posts)
Super Humans: 4 People With Extraordinary Abilities Reveal How Their Superpower Shaped Their Lives
- 'Meet the super humans.' The Observer. Health. Imagine being able to remember everything or feeling no pain. Four people with extraordinary abilities reveal how their superpower has shaped their lives. The Guardian, Jan. 26, 2020.
'I've never felt physical pain': Jo Cameron, 72, Whitebridge, Scotland. I can understand why it took so long for anyone to notice. It makes sense that the quiet, happy person in the corner gets ignored. It was only when I was in hospital for an operation on my arthritic hand – aged 65 – that the fact I can't feel pain finally came to light.
I'd only recently had a long-overdue hip replacement. "This will hurt more than the last one, you'll need more painkillers," the hospital anaesthetist had told me. I offered to bet any money it wouldn't when I looked up at him with a smile. He came to see me after the procedure and I wiggled my hand in his face, proudly. "No painkillers," I said, grinning, "and no pain either."
Down in London, I went for tests at University College Hospital. In the experiments, my husband was used as the standard – they even took a biopsy from his leg. The researchers found an abundance of a substance called anandamide in my body – so much that I never experience anxiety, fear or pain. Instead, my genes make me happy and forgetful – finally, an explanation for why it feels like every other week I lose the keys to my car.
Before then I'd just assumed I was clumsy, although when I thought about it properly, lots of things began to make sense in retrospect. This explained why I often get undressed and see bruises that I've no recollection of acquiring; why during childbirth, after some serious pushing I felt nothing more than a considerable stretch. It's why the only way I know if I've burned myself while cooking is when the aroma of meat reaches my nostrils. I'm a vegan, so what I'm smelling is actually my own scorched flesh...
Read More,
https://www.theguardian.com/society/2020/jan/26/meet-the-super-humans-four-people-describe-their-extraordinary-powers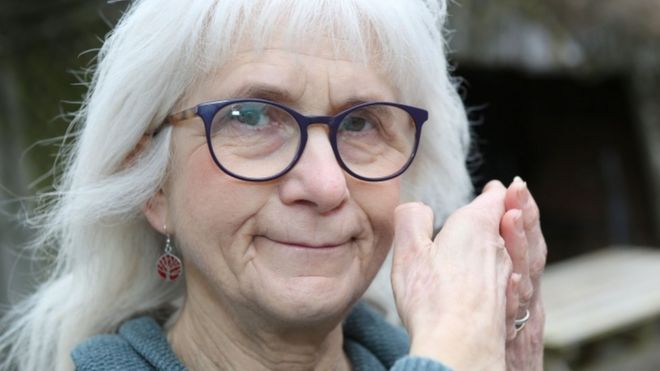 - Jo Cameron of Scotland never feels any pain, anxiety or fear.
9 replies, 1283 views
Replies to this discussion thread
| | | | |
| --- | --- | --- | --- |
| 9 replies | Author | Time | Post |
| Super Humans: 4 People With Extraordinary Abilities Reveal How Their Superpower Shaped Their Lives (Original post) | appalachiablue | Jan 26 | OP |
| | LakeArenal | Jan 26 | #1 |
| | samnsara | Jan 26 | #2 |
| | appalachiablue | Jan 26 | #7 |
| | jberryhill | Jan 26 | #3 |
| | Lucky Luciano | Jan 26 | #4 |
| | appalachiablue | Jan 26 | #6 |
| | Liberalhammer | Jan 26 | #5 |
| | appalachiablue | Jan 27 | #8 |
| | appalachiablue | Jan 27 | #9 |
---
Response to appalachiablue (Original post)
Sun Jan 26, 2020, 04:18 PM
LakeArenal (9,762 posts)
1. Kinda weird and wonderful.
---
Response to appalachiablue (Original post)
Sun Jan 26, 2020, 04:47 PM
samnsara (10,512 posts)
2. ..Ive read about people with this..its not super anything, a lot have lost limbs etc..
..because they didnt know they were injured. Pain has a purpose. So does fear! Also you REALLY want to remember EVERYTHING stupid you did or bad stuff you have seen, heard or read about?
i sure as hell dont
---
Response to samnsara (Reply #2)
Sun Jan 26, 2020, 06:33 PM
appalachiablue (23,536 posts)
7. See #6. In a BBC article last March Jo Cameron states that she knows
fear is important. I agree about who wants to be burdened and stressed from remembering everything. This Guardian piece is all about the 'positives' which is interesting, but light on the downsides.
---
Response to appalachiablue (Original post)
Sun Jan 26, 2020, 04:56 PM
jberryhill (60,448 posts)
3. I'd be afraid not to be able to fear
---
Response to jberryhill (Reply #3)
Sun Jan 26, 2020, 05:02 PM
Lucky Luciano (9,454 posts)
4. ...and the world just imploded from your paradox.
---
Response to jberryhill (Reply #3)
Sun Jan 26, 2020, 05:40 PM
appalachiablue (23,536 posts)
6. Jo Cameron realizes the importance of 'fear' as she stated in
a BBC interview last March; this article didn't include much. She also seems to be a very sensible lady with a good family around-- Jo's definitely not like the reckless type who would take the mortgage/payroll money and gamble it away.
And there are many people so crippled by fear and anxiety that they can't live normal lives.
In terms of this article it's the 'super power' angle that's so in vogue in our super computer era.
I've known people who have a range of pain levels, in the same family. There are types who feel, smell, remember everything and others who have a normal sensory ranges. Neurology.
https://www.bbc.com/news/uk-scotland-highlands-islands-47719718
---
Response to appalachiablue (Original post)
Sun Jan 26, 2020, 05:32 PM
Liberalhammer (576 posts)
5. We discussed super powers today.
I decided mine would be able to make any restuarant to have an all you can eat buffet when I want it. Granted we would still pay for it, but imagine the possibilities?
---
Response to appalachiablue (Original post)
Mon Jan 27, 2020, 03:24 AM
appalachiablue (23,536 posts)
8. Wolfgang Amadeus Mozart, Musical Genius & Child Prodigy
- From the movie 'Amadeus,' Best Picture 1984. Wolfgang Amadeus Mozart (b. January 27, 1756, Salzburg, archbishopric of Salzburg [Austria]—d. December 5, 1791, Vienna), Austrian composer, widely recognized as one of the greatest composers in the history of Western music.
With Haydn and Beethoven he brought to its height the achievement of the Viennese Classical school. Unlike any other composer in musical history, he wrote in all the musical genres of his day and excelled in every one.
His taste, his command of form, and his range of expression have made him seem the most universal of all composers; yet, it may also be said that his music was written to accommodate the specific tastes of particular audiences.
https://www.britannica.com/biography/Wolfgang-Amadeus-Mozart
*MORE,
https://www.democraticunderground.com/103424687
- Mozart in 1770, age 14.
---
Response to appalachiablue (Original post)
Mon Jan 27, 2020, 10:51 AM
appalachiablue (23,536 posts)
9. Turkish March; Happy Birthday Wolfgang! Jan. 27