Mon Jan 13, 2020, 05:43 PM
appalachiablue (23,151 posts)
Shoes On The Danube: Memorial To Hungarian Jews Shot Into The River By Arrow Cross Nazis, 1944-45
- 'Shoes On The Danube Promenade,'- Vad Yashem, 2020.
On the banks of the Danube River in Budapest, not far from the Hungarian Parliament building, sit sixty pairs of old-fashioned shoes, the type people wore in the 1940s. There are women's shoes, there are men's shoes and there are children's shoes. They sit at the edge of the water, scattered and abandoned, as though their owners had just stepped out of them and left them there.
If you look more closely, you see that the shoes are rusted, made of iron and set into the concrete of the embankment. They are a memorial and a monument to the Hungarian Jews who, in the winter of 1944-1945, were shot on the banks of the Danube River by the members of the Arrow Cross Party. Known as "The Shoes on the Danube Promenade", the memorial was conceptualized by film director Can Togay, and was created by Togay together with the sculptor Gyula Pauer. It was installed on the Pest bank of the Danube River in Budapest in 2005. At three separate places on the memorial, cast iron signs read in Hungarian, English and Hebrew: "To the memory of victims shot into the Danube by Arrow Cross militiamen in 1944-45."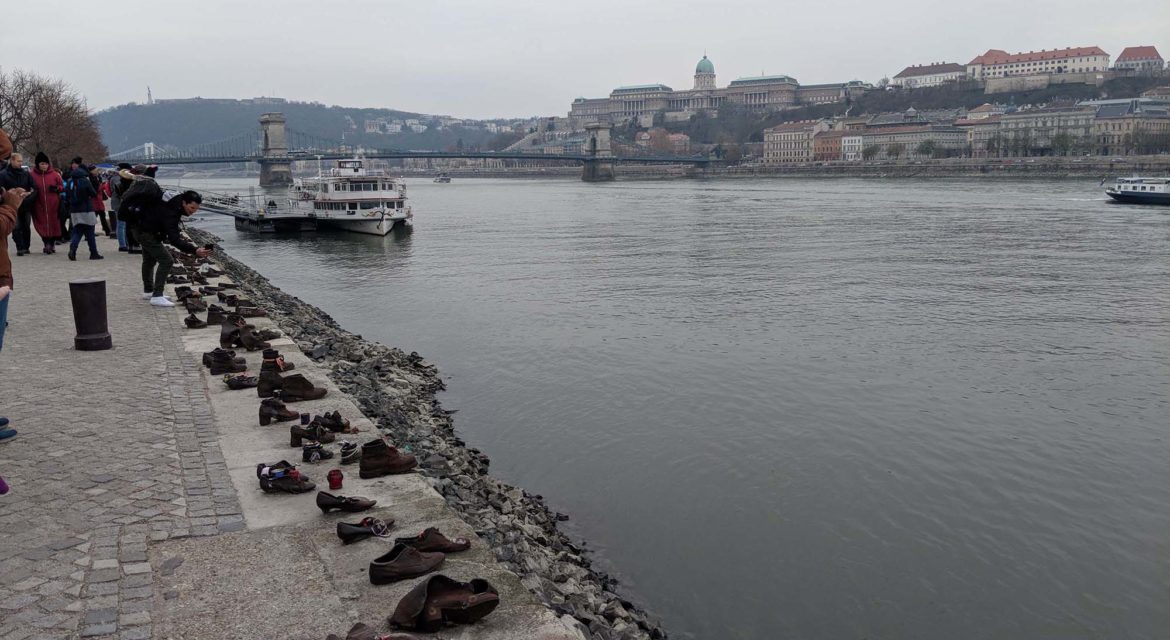 During that autumn and winter, after the Germans had toppled the government of Miklos Horthy bringing Ferenc Szálasi and his fascist, violently antisemitic Arrow Cross Party to power, the Arrow Cross introduced a reign of terror in Budapest. The Arrow Cross militiamen ran amok in the streets of Budapest, beating, plundering, and killing Jews publicly. Thousands of Jews were murdered all over the city. Shooting the Jews into the Danube was convenient because the river carried the bodies away. Often, the Arrow Cross murderers would force their terrified Jewish victims to remove their shoes before shooting them into the Danube. Shoes, after all, were a valuable commodity during World War II. The killers could use them, or trade them on the black market. This, then, is the historical reality behind the monument.
Sometimes, though, the victims' shoes were so worn-out and useless, that the militiamen killed the Jews with their shoes still on. And sometimes, the Arrow Cross pulled the shoestrings out of children's shoes, and used them to tie the helpless Jewish victims' hands together before they were shot. Sometimes they used rope instead. The killers faced their victims without mercy; the victims faced the killers without blindfolds. In some cases the Arrow Cross men tied together the hands of two or three Jews – adults or children. Then they would shoot only one of the people who were tied together. When they did their work properly and positioned their victims at the edge of the water, all three would fall into the Danube, the dead body pulling the still-living victims with it.
1 All the bodies, tied together by shoelaces or rope or fate, would either sink or float away down the river. If the militiamen noticed that Jews were still alive, they used them for target practice. However, most of the Jews – especially the children – died immediately because the water was freezing cold.2 During the days of horror in the winter of 1944-1945, the Danube was known as "the Jewish Cemetery."3...
More,
https://www.yadvashem.org/articles/general/shoes-on-the-danube-promenade.html
Wiki, Shoes On The Danube,
https://en.wikipedia.org/wiki/Shoes_on_the_Danube_Bank
-.. Approximately 70,000 Budapest Jews who managed to avoid deportation were forced into a ghetto. At the same time, some 30,000 Jews who possessed letters of protection from neutral countries were given places in "safe houses." Thousands of others were robbed, executed and thrown into the Danube. The Arrow Cross activists were on a murderous rage until the last minute, but the ghetto was saved like none other in Europe. Hungarian Nazis/Arrow Cross Party,
https://www.jewishvirtuallibrary.org/hungarian-nazis-arrow-cross-party
https://en.wikipedia.org/wiki/Arrow_Cross_Party
- Raoul Gustaf Wallenberg (4 August 1912 – disappeared 17 January 1945) was a Swedish architect, businessman, diplomat, and humanitarian. He is remembered for saving tens of thousands of Jews in Nazi-occupied Hungary during the Holocaust from German Nazis and Hungarian Fascists during the later stages of World War II. While serving as Sweden's special envoy in Budapest between July and December 1944, Wallenberg issued protective passports and sheltered Jews in buildings designated as Swedish territory. Raoul Wallenberg,
https://en.wikipedia.org/wiki/Raoul_Wallenberg
- Raoul Wallenberg, 1944 passport photo, Swedish diplomat who aided Jews in Hungary during WWII.
- Wiki, Hungary in WWII. Approximately 300,000 Hungarian soldiers and more than 600,000 civilians died during World War II, including among them more than 400,000 Jews and 28,000 Roma. Many cities were damaged, most notably the capital Budapest. Most Jews in Hungary were protected from deportation to German extermination camps for the first few years of the war, although they had for a longer period been subjected to a series of anti-Jewish laws which imposed limits on Jewish participation in Hungary's public and economic life. From the start of the German occupation of Hungary in 1944, Jews and Roma were deported to the Auschwitz concentration camp. By the end of the war, the death toll was between 450,000 and 606,000 Hungarian Jews and an estimated 28,000 Hungarian Roma. Hungary's borders were returned to their pre-1937 lines after its surrender..
https://en.wikipedia.org/wiki/Hungary_in_World_War_II
- Hungarian leader Miklos Horthy and Adolph Hitler in 1938.
8 replies, 868 views
Replies to this discussion thread
| | | | |
| --- | --- | --- | --- |
| 8 replies | Author | Time | Post |
| Shoes On The Danube: Memorial To Hungarian Jews Shot Into The River By Arrow Cross Nazis, 1944-45 (Original post) | appalachiablue | Jan 13 | OP |
| | Karadeniz | Jan 13 | #1 |
| | BigmanPigman | Jan 13 | #2 |
| | Skittles | Jan 13 | #3 |
| | BigmanPigman | Jan 13 | #4 |
| | Judi Lynn | Jan 13 | #5 |
| | appalachiablue | Jan 14 | #6 |
| | Loki | Jan 14 | #7 |
| | appalachiablue | Jan 14 | #8 |
---
Response to appalachiablue (Original post)
Mon Jan 13, 2020, 07:41 PM
Karadeniz (5,279 posts)
1. I think it's great that this reminder is in full view where people will see and hopefully reflect on
How bad things can get. Thank goodness the neo Nazis haven't found a way of ruining this memorial.
---
Response to appalachiablue (Original post)
Mon Jan 13, 2020, 07:45 PM
BigmanPigman (31,841 posts)
2. I just finished watching the film Kapo about Jewish prisoners
in WW2 at a work camp in Poland. My eyes still have tears in them. Even when you know it is not real and is a film it isn't comforting since you know it was a lot worse in reality. I saw the film while in France 15 years ago during the anniversary of liberating Auschwitz. Europe suffered greatly and there were memorials all over the place.
---
Response to BigmanPigman (Reply #2)
Mon Jan 13, 2020, 08:14 PM
Skittles (125,668 posts)
3. it's so hard
anytime I'm watching anything like that my is screaming WHY, WHY

I cannot understand the sheer scope of the inhumanity, it is very hard to register.
---
Response to Skittles (Reply #3)
Mon Jan 13, 2020, 08:26 PM
BigmanPigman (31,841 posts)
4. The film boiled down to who maintained their dignity and who
became animals. The line is sometimes unclear especially when you are in certain situations. Some of the prisoners did horrific things just to survive, even hurting each other in various ways. Too horrific to imagine.
---
Response to appalachiablue (Original post)
Mon Jan 13, 2020, 09:57 PM
Judi Lynn (136,783 posts)
5. Thank you for sharing this information with people who'd never heard or wish to be reminded.
I'm sorry to say I never heard of these events until seeing your post tonight.

This information is so monstrous everyone should know, it should never be forgotten.

The process necessary to get people this sick is unbelievably powerful. People have been so unbearably weak they could be bent to do anything, clearly. What a shame the world didn't seem to learn the lesson yet.

Thank you, appalachiablue.
---
Response to Judi Lynn (Reply #5)
Tue Jan 14, 2020, 03:54 PM
appalachiablue (23,151 posts)
6. It's clear that we should have done a better job of educating
people about these major events of the mid 20th c. Last year, newspaper surveys showed how few adults, esp. young adults in the US, Canada and Europe know about the history of the Holocaust and World War II. Many couldn't give the name of one concentration camp. It's concerning to me as history and culture lover. One step to address the ignorance is to make more motion pictures on the subject for mass media using the many subjects available.
Anti- Semitic hatred and violence against Jews and far right extremism are on the rise with disturbing echoes of the 1920s and 1930s. And the turn against liberal, western democracies towards authoritarianism is very dangerous and clearly taking place in areas like Europe and So. America as you know.
The article below covers the delay in opening the new Holocaust Museum in Budapest, Hungary over issues of responsibility, namely the intent to lessen or ignore its role in the disaster. As a museum educator I wish that I could have worked in this field, but I always had an interest in the period and studied it, and also met people whose parents survived the Holocaust and others who served in World War II like mine. All these and more were influential.
- "Hungary's New Holocaust Museum Isn't Open Yet, But It's Already Causing Concern," NPR, Feb. 8, 2019.
https://www.npr.org/2019/02/08/690647054/hungarys-new-holocaust-museum-isn-t-open-yet-but-it-s-already-causing-worry
.."A new study by researchers from Yale University, Grinnell College and the European Union for Progressive Judaism shows Holocaust revisionism is rampant in Central and Eastern Europe, with Hungary one of the worst offenders. "Hungary has gained the dubious distinction of rewriting history to rehabilitate war criminals and diminish its own guilt," the report says, noting the country "suffers from grave deficiencies in its Holocaust education, memory, and commemoration."
Marcell Kenesei, a Hungarian Jewish educator, sees evidence of this revisionism just by walking the streets of Budapest."...
---
Response to appalachiablue (Original post)
Tue Jan 14, 2020, 10:40 PM
Loki (3,809 posts)
7. I saw these.
Last year my husband and I took a river cruise in Europe and our last stop on the Danube was Budapest. When we returned to the bus after visiting this monument along the river, one of the travelers mentioned that her grandfather's shoes were there. She had made the journey back to see the memorial. It had such an effect on everyone. It was haunting.
---
Response to Loki (Reply #7)
Tue Jan 14, 2020, 11:18 PM
appalachiablue (23,151 posts)
8. It's such a moving artwork and memorial. Glad you were able
to see it and meet others on that emotional journey. The farthest west I ever travelled was Salzburg, Austria.