Mon Nov 18, 2019, 08:12 PM
Eugene (46,872 posts)
The Hill vows to review John Solomon's Ukraine pieces
Source:
Politico
The Hill vows to review Solomon's Ukraine pieces
The columnist's attacks on a U.S. ambassador, which were hailed by Trump, have come under congressional scrutiny.
By MICHAEL CALDERONE
11/18/2019 10:53 AM EST
The Hill is reviewing reporting by John Solomon, a former columnist at the publication whose writings on Ukraine have come under heavy scrutiny during the impeachment inquiry.
"Because of our dedication to accurate, non-partisan reporting and standards, we are reviewing, updating, annotating, and when appropriate, correcting any opinion pieces referenced during the ongoing congressional inquiry," editor-in-chief Bob Cusack informed staff Monday in a memo obtained by POLITICO.
Former U.S. ambassador Marie Yovanovitch on Friday denied claims published by Solomon earlier this year in The Hill, including the allegation that she gave Ukraine's then-top prosecutor a list of who not to prosecute. Solomon's pieces in The Hill were amplified through his dozens of appearances on Fox News and promoted by President Donald Trump and his allies on Twitter.
Solomon, a former reporter at The Associated Press and The Washington Post, has emerged as a key player in the Ukraine scandal, with testimony continuing this week about Trump and his allies put pressure on the country to open politically motivated investigations as military aid was withheld.
-snip-
Read more:
https://www.politico.com/news/2019/11/18/the-hill-review-john-solomon-ukraine-pieces-071345
______________________________________________________________________
Earlier:
How a conservative columnist helped push a flawed Ukraine narrative
(Washington Post)
2 replies, 771 views
Replies to this discussion thread
| | | | |
| --- | --- | --- | --- |
| 2 replies | Author | Time | Post |
| The Hill vows to review John Solomon's Ukraine pieces (Original post) | Eugene | Nov 18 | OP |
| | Wellstone ruled | Nov 18 | #1 |
| | dalton99a | Nov 19 | #2 |
---
Response to Eugene (Original post)
Mon Nov 18, 2019, 08:43 PM
Wellstone ruled (27,512 posts)
1. Clean up in the Editors Asile.
---
Response to Eugene (Original post)
Tue Nov 19, 2019, 09:05 AM
dalton99a (42,882 posts)
2. The Hill has as much journalistic integrity as the National Enquirer
https://www.cnn.com/2019/11/18/media/jimmy-finkelstein-the-hill-ukraine/index.html
Jimmy Finkelstein, the owner of The Hill, has flown under the radar. But he's played a key role in the Ukraine scandal
By Oliver Darcy and Brian Stelter, CNN Business
Updated 7:24 PM ET, Mon November 18, 2019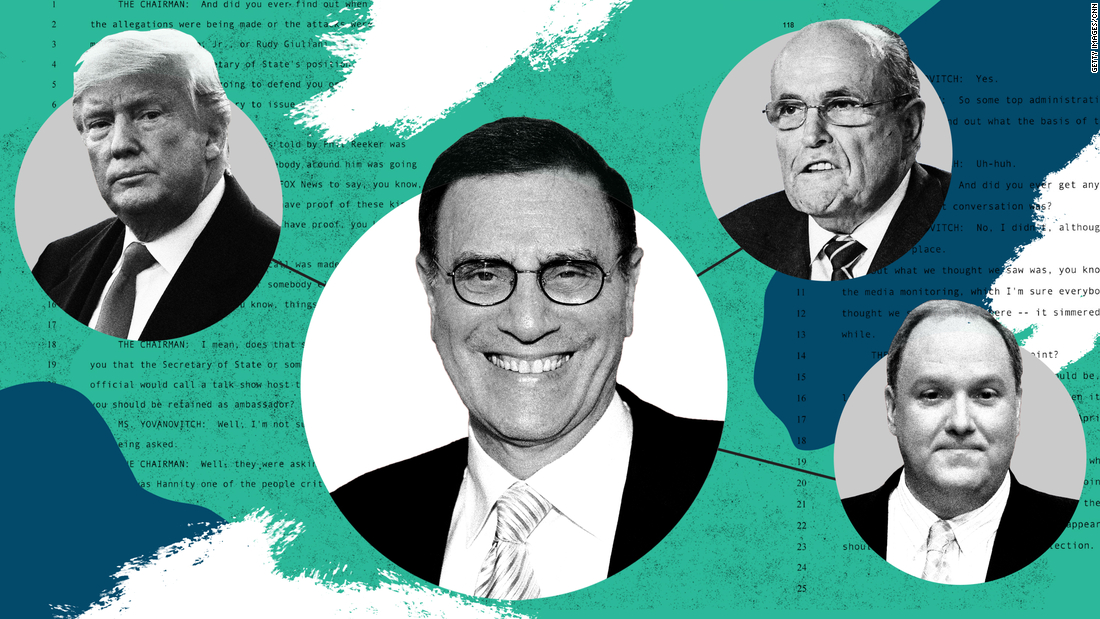 "Tell Jimmy I said hello"

Finkelstein has been friends with Trump for decades. In fact, according to a former employee at The Hill, he "boasts that he's a close friend" of the President. "Getting a phone call from Trump would fill him with joy," the former employee told CNN Business.

Trump himself has also privately acknowledged his relationship with Finkelstein. During an Oval Office interview with The Hill, according to a person with direct knowledge of the incident, Trump asked one of the outlet's staffers to send along his greetings to Finkelstein. "Tell Jimmy I said hello," Trump told the staffer.

Finkelstein's wife, Pamela Gross, who worked at CNN but left in 2017, is close with Melania Trump. Gross threw a baby shower for Melania Trump, according to a person familiar with the event.

Finkelstein and Gross are also both close with Giuliani, who currently serves as Trump's personal attorney. Finkelstein often hosts social gatherings at his Hamptons home and, according to a person familiar with the matter, Giuliani and his girlfriend spent multiple weekends at the residence this past summer.

The former New York City mayor has also turned up at events for The Hill in recent years. He attended the launch party for The Hill TV, and was a VIP guest at the outlet's 2019 White House Correspondents Association Dinner party, according to people familiar with the matter.

A former employee at The Hill recalled that Giuliani was a regular guest on The Hill TV. "Whenever we couldn't book a guest, John [Solomon] would call Jimmy [Finkelstein], Jimmy would call Rudy, and Rudy would come in or Skype," the person explained.

So when Giuliani attempted to dig up political dirt on Democratic presidential candidate and former Vice President Joe Biden, a natural place for him to disseminate the information was The Hill. And the natural person at The Hill to go to was Solomon, who had been personally hired by Finkelstein.