Wed Oct 9, 2019, 11:37 PM
appalachiablue (21,567 posts)
Rising Inequality Is Literally Killing Us; Life Expectancy, Shorter Lifespans: Studies
Inequality Is Literally Killing Us. Again and again, studies show that the richer wealthy Americans become, the shorter the rest of us live. By Sam Pizzigati, Common Dreams, Oct. 9, 2019.
What do the folks at the U.S. Census Bureau do between the census they run every 10 years? All sorts of annual surveys, on everything from housing costs to retail sales. The most depressing of these — at least this century — may be the sampling that looks at the incomes average Americans are earning.
The latest Census Bureau income stats, released in mid-September, show that most Americans are running on a treadmill, getting nowhere fast.
The nation's median households pocketed 2.3 percent fewer real dollars in 2018 than they earned in 2000.
America's most affluent households have no such problem. Real incomes for the nation's top 5 percent of earners have increased 13 percent since 2000, to an average $416,520. The new Census numbers don't tell us how much our top 1 percent is pulling down. But IRS tax return data shows that top 1 percenters are now pulling down over 20 percent of all household income — essentially triple their share from a half-century ago.
Should we care about any of this? Is increasing income at the top having an impact on ordinary Americans? You could say so, suggests a just-released Government Accountability Office study. Rising inequality, this federal study makes clear, is killing us. Literally. In other words, the poorest of the Americans the GAO studied had just a 50-50 chance of living into 2014. The most affluent had a three-in-four chance.
The disturbing new GAO research tracks how life has played out for Americans who happened to be between the ages of 51 and 61 in 1992. That cohort's wealthiest 20 percent turned out to do fairly well. Over three-quarters of them — 75.5 percent — went on to find themselves still alive and kicking in 2014, the most recent year with full stats available.
- GAO, Retirement Security: Income and Wealth Disparities Continue through Old Age, GAO-19-587: Released: Sep 9, 2019.
https://www.gao.gov/products/GAO-19-587
- The more unequal a society becomes, the less healthy the society.
At the other end of the economic spectrum, it's a different story. Among Americans in the poorest 20 percent of this age group, under half — 47.6 percent — were still waking up every morning in 2014. In other words, the poorest of the Americans the GAO studied had just a 50-50 chance of living into 2014. The most affluent had a three-in-four chance.
"The inequality of life expectancy," as economist Gabriel Zucman puts it, "is exploding in the U.S." The new GAO numbers ought to surprise no one. Over recent decades, a steady stream of studies have shown consistent links between rising inequality and shorter lifespans.
The trends we see in the United States reflect similar dynamics worldwide, wherever income and wealth are concentrating. The more unequal a society becomes, the less healthy the society. On the other hand, the nations with the narrowest gaps between rich and poor turn out to have the longest lifespans. And the people living shorter lives don't just include poorer people.
Middle-income people in deeply unequal societies live shorter lives than middle-income people in more equal societies.
What can explain how inequality makes this deadly impact? We don't know for sure. But many epidemiologists — scientists who study the health of populations — point to the greater levels of stress in deeply unequal societies. That stress wears down our immune systems and leaves us more vulnerable to a wide variety of medical maladies. We have, of course, no pill we can take to eliminate inequality. But we can fight for public policies that more equally distribute America's income and wealth. Other nations have figured out how to better share the wealth. Why can't we?
https://www.commondreams.org/views/2019/10/09/inequality-literally-killing-us
- inequality.org website,
https://inequality.org/
- Portland, Oregon, Unique CEO Tax, 2019,
https://www.oregonlive.com/business/2019/02/portland-expects-up-to-35-million-from-unique-ceo-tax.html
6 replies, 573 views
Replies to this discussion thread
| | | | |
| --- | --- | --- | --- |
| 6 replies | Author | Time | Post |
| Rising Inequality Is Literally Killing Us; Life Expectancy, Shorter Lifespans: Studies (Original post) | appalachiablue | Oct 9 | OP |
| | PoindexterOglethorpe | Oct 9 | #1 |
| | appalachiablue | Thursday | #2 |
| | PoindexterOglethorpe | Thursday | #3 |
| | I_UndergroundPanther | Thursday | #5 |
| | ck4829 | Thursday | #4 |
| | Uncle Joe | Saturday | #6 |
---
Response to appalachiablue (Original post)
Wed Oct 9, 2019, 11:57 PM
PoindexterOglethorpe (11,080 posts)
1. The book
Generations by William Strauss and Neil Howe actually predicts this.

I've been recommending this book for years here, and I think only once has anyone said they've read it.

Sigh.
---
Response to PoindexterOglethorpe (Reply #1)
Thu Oct 10, 2019, 12:23 AM
appalachiablue (21,567 posts)
2. For the last six years I've heard about Strauss & Howe and
THE FOURTH TURNING although I haven't read their books. Interesting theories about US cycles of history, patterns and generations. Their works have been discussed by Thom Hartmann and Steve Bannon has also been influenced by their theories, so I read.
NYT, Review: Heroes of The Fourth Turning, stage play on conservative Christians, Oct. 7, 19
https://www.nytimes.com/2019/10/07/theater/heroes-of-the-fourth-turning-review.html
-(WIKI) The Strauss–Howe generational theory, also known as the Fourth Turning theory or simply the Fourth Turning, which was created by authors William Strauss and Neil Howe, describes a theorized recurring generation cycle in American history.
According to the theory, historical events are associated with recurring generational personas (archetypes). Each generational persona unleashes a new era (called a turning) in which a new social, political, and economic climate exists. Turnings tend to last around 20–22 years. They are part of a larger cyclical "saeculum" (a long human life, which usually spans between 80 and 90 years, although some saecula have lasted longer).
The theory states that after every saeculum, a crisis recurs in American history, which is followed by a recovery (high). During this recovery, institutions and communitarian values are strong. Ultimately, succeeding generational archetypes attack and weaken institutions in the name of autonomy and individualism, which ultimately creates a tumultuous political environment that ripens conditions for another crisis.
*Strauss and Howe laid the groundwork for their theory in their 1991 book Generations, which discusses the history of the United States as a series of generational biographies going back to 1584.
> In their 1997 book The Fourth Turning, the authors expanded the theory to focus on a fourfold cycle of generational types and recurring mood eras in American history. They have since expanded on the concept in a variety of publications. It was developed to describe the history of the United States, including the Thirteen Colonies and their British antecedents, and this is where the most detailed research has been done. However, the authors have also examined generational trends elsewhere in the world and described similar cycles in several developed countries...
https://en.wikipedia.org/wiki/Strauss%E2%80%93Howe_generational_theory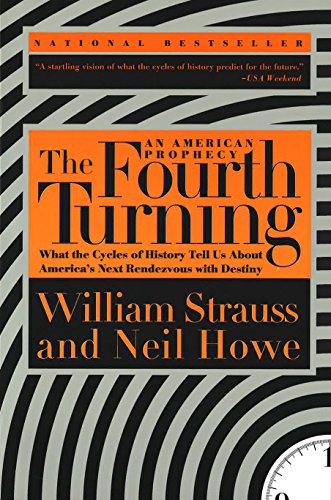 ---
Response to appalachiablue (Original post)
Thu Oct 10, 2019, 02:45 AM
PoindexterOglethorpe (11,080 posts)
3. I have also read
The Fourth Turning which was totally misinterpreted by some one of the conservative idiots.

The also wrote 13th Gen and Millennials Rising which I also highly recommend.

They are, so far as I can tell, the first and only to have a coherent theory of generations, generational change and influence. No one else has done anything like this, so far as I can tell. For me, it's a lot like I've discovered a religion or spiritual explanation of all things. It's all I can do not to grab people and proselytize. What they write makes huge sense, and helps me understand an awful lot.

Not everyone in any specific generation or cohort is the same. Obviously. One thing about their generational theory is the years they ascribe to specific recent generations, which does not perfectly match with the common wisdom. They have Boomers as being born from 1943 to 1960, while the usual years given are 1946 to 1964 which matches the post WWII rise in births. Strauss and Howe make a very strong point that any generation's earliest cohort must be old enough to recall some foundational event. For the Boomers, it would be the end of WWII. Someone born in 1943 has a chance of recalling that. Likewise, their end of the Boomers beginning of Gen X (which they originally called Thirteeners, as that was the thirteenth generation since the beginning of this country) are just old enough to recall the assassination of JFK.

You might quibble, or go with a somewhat different (conventional in the media) selection of years.

I find their arguments to be compelling.

Unfortunately, Strauss died in 2007, which put an end to their books. Too bad. I wish they were both still theorizing and writing.

I will say this. Even though Generations came out over a quarter of a century ago, in 1991, nothing they say in that book has been disproven.

Read it. Read everything they wrote. You won't regret it. And you'll gain a lot of insight into what's going on today.

I do wish someone else would pick up their torch and go forward with it.

Oh, and while I'm not going to take the time to track down exactly where they said it in which book, I recall vividly that they say that Gen X will be the first generation since the founding of this country to do less well than their parents. And they said that more than twenty-five years ago.

Sometimes I feel as if I'm the only person in this country who has ever read their books.
---
Response to PoindexterOglethorpe (Reply #3)
Thu Oct 10, 2019, 08:09 PM
I_UndergroundPanther (166 posts)
5. Now I really want to read generations and Fourth turning.
Sounds fascinating. I'll make some posts about what I learn and my opinions. Gotta wait to save up for both books. SSI does not give me much to work with. But both of the books are on my must read list.
---
Response to appalachiablue (Original post)
Thu Oct 10, 2019, 08:04 PM
ck4829 (26,248 posts)
4. K&R
---
Response to appalachiablue (Original post)
Sat Oct 12, 2019, 12:16 PM
Uncle Joe (47,240 posts)
6. Kicked and recommended.
Thanks for the thread appalachiablue.