Wed Aug 14, 2019, 11:26 AM
appalachiablue (31,280 posts)
"Give Me Your Tired, Your Poor," Poem on the Statue of Liberty By Emma Lazarus
(ABC News, Aug, 14, 19). "Give me your tired, your poor, your huddled masses yearning to breathe free."
These iconic words from "The New Colossus" — the 1883 poem written by American Emma Lazarus are etched in bronze and mounted on the Statue of Liberty's pedestal — and have again been catapulted into a heated political debate on immigration. The Trump administration announced a "public charge" rule on Monday that could drastically limit legal immigration by denying green cards for those who qualify for food stamps, Medicaid, housing vouchers and various forms of public assistance.
Some reporters invoked "The New Colossus" when asking acting Director of the Citizenship and Immigration Services office Ken Cuccinelli about the new rule. In defending the policy on Tuesday, Cuccinelli suggested to NPR that those lines should be rewritten to say "give me your tired and your poor who can stand on their own two feet and who will not become a public charge." (MORE: 5 things you should know about Trump's latest legal immigration crackdown)
According to Alan Kraut, a professor of history at American University, language restricting immigration for those likely to become a public charge appeared in U.S. legislation as early as 1891, and throughout its history, the United States has courted immigrants but simultaneously "repelled them and was very not welcoming to [them] when they arrived." Since then, the Statue of Liberty has evoked passionate feelings as a symbol of freedom and immigration — and America's push and pull with it.
- Early symbolism: The Statue of Liberty was the idea of Edouard Laboulaye, a French abolitionist and jurist, who wanted to gift the United States something to symbolize freedom after the Civil War to also serve as a reminder of France and America's friendship, according to the National Parks Service.
When Edouard Laboulaye, the French abolitionist, came up with the idea of the Statue as a gift from the French people to Americans, his intent was to celebrate the end of slavery in the United States," Maria Cristina Garcia, a professor of American studies and history at Cornell University, told ABC News via email. "One early draft of the statue had Lady Liberty holding broken shackles in her hand. The shackles are now located at her feet, and are barely visible unless you are very high up (by helicopter, for example), which is one reason why Americans have forgotten this history."
The statue was designed by Frédéric Auguste Bartholdi, who, according to Kraut, was inspired by ancient symbols, including Libertas, the Roman goddess of liberty...
- Emma Lazarus and The New Colossus: Lazarus was a young poet and social activist living in New York City of Portuguese Sephardic Jewish descent who could trace her roots back to the first Jews who came to North America, according to the National Park Service. Three years before the Statue of Liberty was dedicated in Bedloe's Island in the New York harbor, Lazarus was asked to write a poem as part of an arts festival to help raise money for the statue's pedestal. The poem's title, "The New Colossus," was inspired by "The Colossus of Rhodes" — the ancient statue of the Greek sun-god Helios on the island of Rhodes...
"The poem, like the shackles, is not immediately visible," Garcia, who is also a member of the History Advisory Committee of the Statue of Liberty-Ellis Island, said. "The fact that we are conscious of these powerful and deeply moving words today is because of the generations of artists, editorialists, and politicians, who have continually reminded us of their power."
- Lady Liberty and the New York Harbor: The location of the Statue of Liberty in the New York harbor — a major receiving port for immigrants in the 19th century — was a defining factor in the statue's symbolic "transformation," Kraut said...
More,
http://www.msn.com/en-us/news/us/give-me-your-tired-your-poor-the-story-behind-the-poem-on-the-statue-of-liberty/ar-AAFLa6z?ocid=HPCOMMDHP15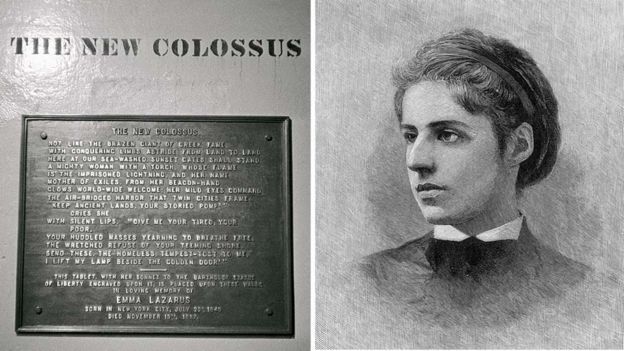 Bronze plaque with the New Colossous poem on the Statue of Liberty; Emma Lazarus
3 replies, 1601 views
Replies to this discussion thread
| | | | |
| --- | --- | --- | --- |
| 3 replies | Author | Time | Post |
| "Give Me Your Tired, Your Poor," Poem on the Statue of Liberty By Emma Lazarus (Original post) | appalachiablue | Aug 2019 | OP |
| | appalachiablue | Aug 2019 | #1 |
| | ExciteBike66 | Aug 2019 | #2 |
| | appalachiablue | Aug 2019 | #3 |
---
Response to appalachiablue (Original post)
Wed Aug 14, 2019, 11:37 AM
appalachiablue (31,280 posts)
1. 'THE IMMIGRANT' Silent movie with Charlie Chaplin 1917
*(9:30 min. mark, Charlie 'kicks immigration officer,' view of NY Harbor & Statue of Liberty) 24 min. total.
During the 1880s through the early 1920s, there was "a peak period of immigration to the United States," according to Kraut, where 23 and half million immigrants seeking religious and political liberty and economic opportunity traveled to the United States. (ABC News).
- (Wiki) The Immigrant is a 1917 American silent romantic comedy short. The film stars Charlie Chaplin's Tramp character as an immigrant coming to the United States who is accused of theft on the voyage across the Atlantic Ocean, and falls in love with a beautiful young woman along the way. It also stars Edna Purviance and Eric Campbell. The movie was written and directed by Chaplin.
According to Kevin Brownlow and David Gill's documentary series Unknown Chaplin, the first scenes to be written and filmed take place in what became the movie's second half, in which the penniless Tramp finds a coin and goes for a meal in a restaurant, not realising that the coin has fallen out of his pocket. It was not until later that Chaplin decided the reason the Tramp was penniless was that he had just arrived on a boat from Europe, and used this notion as the basis for the first half. Purviance reportedly was required to eat so many plates of beans during the many takes to complete the restaurant sequence (in character as another immigrant who falls in love with Charlie) that she became physically ill.
The scene in which Chaplin's character kicks an immigration officer was cited later as evidence of his anti-Americanism when he was forced to leave the United States in 1952. In 1998, The Immigrant was selected for preservation in the United States National Film Registry by the Library of Congress as being "culturally, historically, or aesthetically significant".[1]…
https://en.wikipedia.org/wiki/The_Immigrant_
(1917_film)
---
Response to appalachiablue (Original post)
Wed Aug 14, 2019, 11:38 AM
ExciteBike66 (1,923 posts)
2. From her beacon-hand Glows world-wide welcome
"World-wide welcome", not "Europe-wide welcome"


Not like the brazen giant of Greek fame,
With conquering limbs astride from land to land;
Here at our sea-washed, sunset gates shall stand
A mighty woman with a torch, whose flame
Is the imprisoned lightning, and her name
Mother of Exiles. From her beacon-hand
Glows world-wide welcome; her mild eyes command
The air-bridged harbor that twin cities frame.
"Keep, ancient lands, your storied pomp!" cries she
With silent lips. "Give me your tired, your poor,
Your huddled masses yearning to breathe free,
The wretched refuse of your teeming shore.
Send these, the homeless, tempest-tost to me,
I lift my lamp beside the golden door!"

---
Response to ExciteBike66 (Reply #2)
Wed Aug 14, 2019, 11:44 AM
appalachiablue (31,280 posts)
3. Very important, Thanks. I added an image of the full poem.