Thu Jul 18, 2019, 05:02 PM
appalachiablue (20,983 posts)
Brain-Damaging Pesticide Kept In Fruits & Vegetables By U.S. EPA
"Trump's EPA Keeps Brain-damaging Pesticide in Fruits and Vegetables." Chlorpyrifos is linked to learning disabilities in children and is unsafe to farmworkers. Earthjustice, Common Dreams, July 19, 2019.
WASHINGTON - Today, the U.S. Environmental Protection Agency (EPA) announced the brain-damaging pesticide chlorpyrifos can still be used on food, although mainstream science says this pesticide is unsafe for children and farmworkers. This decision meets the deadline ordered by the 9th Circuit Court of Appeals for the EPA to make a final decision on a petition to ban chlorpyrifos on food.
"By allowing chlorpyrifos to stay in our fruits and vegetables, Trump's EPA is breaking the law and neglecting the overwhelming scientific evidence that this pesticide harms children's brains," said Patti Goldman, Earthjustice attorney. "It is a tragedy that this administration sides with corporations instead of children's health. But this is only a setback. Lawmakers in states like Hawai'i and New York are now showing the rest of the country that banning this dreadful pesticide is not only possible, but inevitable."
> Chlorpyrifos is an organophosphate (OP), a class of chemicals that includes sarin nerve gas. First developed by the Nazis for chemical warfare, OPs were later repurposed for agricultural uses. Chlorpyrifos and other OP pesticides are used on strawberries, apples, citrus, broccoli, corn, and more. In fact, chlorpyrifos is one of the most frequently used pesticides in the United States.
Studies show that exposures to chlorpyrifos and other OP pesticides in infants and children are associated with lower birth weight, reduced IQ, loss of working memory, attention disorders, and even autism. "Every day we go without a ban, children and farmworkers are eating, drinking and breathing a pesticide linked to intellectual and learning disabilities and poisonings," said the 12 plaintiff organizations challenging the 2017 decision. "We will continue to fight until chlorpyrifos is banned and children and farmworkers are safe from this dangerous chemical."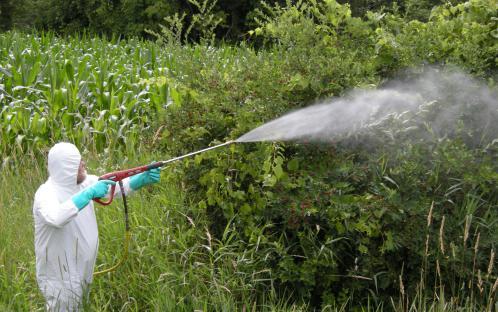 While the Trump administration neglects the science and children's health, states are taking action. Last year Hawai'i passed a law banning chlorpyrifos and this year, New York legislators overwhelmingly approved a bill doing the same in that state. The New York bill awaits Governor Andrew Cuomo's signature.
Chlorpyrifos and the other OP pesticides were banned from almost all home use nearly two decades ago, as they are toxic to children. EPA was on course to ban chlorpyrifos from all food crops, but weeks after former EPA boss Scott Pruitt met with the head of the largest manufacturer of chlorpyrifos, Dow Chemical - Now Corteva Agriscience -, Pruitt falsely claimed in 2017 the science is "unresolved" and decided EPA would study the issue until 2022...
[Earthjustice is a non-profit public interest law firm dedicated to protecting the magnificent places, natural resources, and wildlife of this earth, and to defending the right of all people to a healthy environment..
More,
https://www.commondreams.org/newswire/2019/07/18/trumps-epa-keeps-brain-damaging-pesticide-fruits-and-vegetables
NYT, 'E.P.A. Won't Ban Chlorpyrifos, Pesticide Tied to Children's Health Problems,' July 18, 2019.
https://www.nytimes.com/2019/07/18/climate/epa-chlorpyrifos-pesticide-ban.html
5 replies, 1066 views
Replies to this discussion thread
| | | | |
| --- | --- | --- | --- |
| 5 replies | Author | Time | Post |
| Brain-Damaging Pesticide Kept In Fruits & Vegetables By U.S. EPA (Original post) | appalachiablue | Jul 18 | OP |
| | MR. ELECTABLE | Jul 18 | #1 |
| | appalachiablue | Jul 19 | #3 |
| | YOHABLO | Jul 19 | #2 |
| | EleanorR | Jul 20 | #4 |
| | appalachiablue | Jul 20 | #5 |
---
Response to appalachiablue (Original post)
Thu Jul 18, 2019, 10:28 PM
MR. ELECTABLE (188 posts)
1. Also banned in CA in May 2019
---
Response to MR. ELECTABLE (Reply #1)
Fri Jul 19, 2019, 10:21 AM
appalachiablue (20,983 posts)
3. Thanks for this news
---
Response to appalachiablue (Original post)
Fri Jul 19, 2019, 02:04 AM
YOHABLO (6,180 posts)
2. Sitting here eating my chlorpyrifos ladened broccoli while reading this. Thanks.
I'll go broke buying organic vegetables or die I suppose.
---
Response to appalachiablue (Original post)
Sat Jul 20, 2019, 08:19 PM
EleanorR (853 posts)
4. One Million in Dow cash went to trump's inauguration
---
Response to EleanorR (Reply #4)
Sat Jul 20, 2019, 08:56 PM
appalachiablue (20,983 posts)
5. Awful, thanks for the info.