Tue Jun 25, 2019, 03:55 PM
appalachiablue (20,708 posts)
Billionaires Letter to 2020 Candidates: Tax Us More, A Moral, Ethical & Economic Responsibility
Last edited Tue Jun 25, 2019, 04:28 PM - Edit history (1)
Billionaires to 2020 Presidential Hopefuls: 'America Has a Moral, Ethical, and Economic Responsibility to Tax Our Wealth More.' In an open letter, 18 individuals from 11 families detailed the sweeping benefits of imposing a wealth tax on the richest Americans. Common Dreams, June 25, 2019.
- In an open letter to 2020 presidential candidates of all parties Monday, a group of billionaires active in progressive organizations called for implementing a wealth tax on the richest Americans and outlined the wide range of political, social, and economic benefits of doing so. Published by the New York Times, the letter (pdf) reads in part:
"We are writing to call on all candidates for president, whether they are Republicans or Democrats, support a moderate wealth tax on the fortunes of the richest 1/10 of the richest 1 percent of Americans—on us. The next dollar of new tax revenue should come from the most financially fortunate, not from middle-income and lower-income Americans. America has a moral, ethical, and economic responsibility to tax our wealth more. A wealth tax could help address the climate crisis, improve the economy, improve health outcomes, fairly create opportunity, and strengthen our democratic freedoms. Instituting a wealth tax is in the interest of our republic."
It goes on to highlight polling which shows broad support for a wealth tax, the "vital needs" that revenue generated could help fulfill, and that some of the more than two dozen candidates for the White House already have expressed support for such a measure.
- A proposal from Sen. Elizabeth Warren (D-Mass.), for example, "would provide millions of families with a better shot at the American dream by taxing only 75,000 of the wealthiest families in the country" by imposing "a tax of 2 cents on the dollar on assets after a $50 million exemption and an additional tax of 1 cent on the dollar on assets over $1 billion."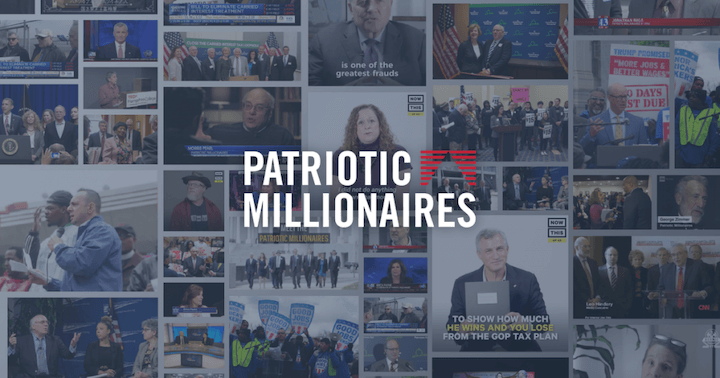 The letter is signed by 18 named individuals from 11 incredibly wealthy families including:
Robert S. Bowditch Jr., founder of real estate development firm MB Associates, and his wife, Louise Bowditch; filmmaker Abigail Disney; philanthropist George Soros and his son Alexander Soros; Arnold S. Hiatt, chairman of the Stride Rite Charitable Foundation; Regan Pritzker, president of the Libra Foundation; and Liesel Pritzker Simmons and Ian Simmons, co-founders of the impact investment organization Blue Haven Initiative.
"We thought it would be a good idea," Ian Simmons explained to the Times. "Liesel and I decided to reach out to some other folks to see if they thought it was a good idea, too."
Others signatories to the letter are:
entrepreneur Nick Hanauer; Justin Rosenstein, co-founder of the company Asana; Stephen M. Silberstein, co-founder of the software company Innovative Interfaces; Molly Munger and her husband Stephen English, co-founders of the civil rights group Advancement Project; philanthropist Agnes Gund and her daughter Catherine Gund; and Facebook co-founder Chris Hughes and his husband, Sean Eldridge, founder of the progressive group Stand Up America.
Hughes told the Times that "one thing that we collectively want to see is further research and more activism on policy design."
The letter came as Americans for Tax Fairness Action Fund on Monday launched a website detailing the tax proposals of each Democratic presidential candidate. "It's surprising that this early in the 2020 race tax policy is emerging as a key issue and a defining one for Democrats," the group's executive director, Frank Clemente, said in a statement. "The utter failure of the Trump-GOP tax cuts to live up to the promises of more jobs and higher wages has given the candidates an opening to propose major tax increases as part of their campaign platforms. Virtually all candidates are saying they want to repeal or significantly roll back the Trump-GOP tax cuts."
https://www.commondreams.org/news/2019/06/24/billionaires-2020-presidential-hopefuls-america-has-moral-ethical-and-economic
CNBC, Billionaires To Trump And Other 2020 Candidates, 'Please Tax Us,' June 23, 2019.
https://www.cnbc.com/2019/06/24/billionaires-to-trump-and-other-2020-candidates-please-tax-us.html
Patriotic Millionaires Website:
https://patrioticmillionaires.org/
5 replies, 639 views
Replies to this discussion thread
| | | | |
| --- | --- | --- | --- |
| 5 replies | Author | Time | Post |
| Billionaires Letter to 2020 Candidates: Tax Us More, A Moral, Ethical & Economic Responsibility (Original post) | appalachiablue | Jun 25 | OP |
| | Duppers | Jun 26 | #1 |
| | appalachiablue | Jun 26 | #2 |
| | Duppers | Jun 26 | #3 |
| | appalachiablue | Jun 26 | #4 |
| | JudyM | Jun 27 | #5 |
---
Response to appalachiablue (Original post)
Wed Jun 26, 2019, 05:08 PM
Duppers (16,101 posts)
1. Idea...
They can donate to Dem candidates.
---
Response to Duppers (Reply #1)
Wed Jun 26, 2019, 05:36 PM
appalachiablue (20,708 posts)
2. That, plus they should have helped with another clean media News venue,
accessible in all formats and inexpensive, starting 10+ years ago! To try to counter the decades damage of Hate Radio, and the Fox Fear Machine. Even with MSNBC, PBS and many online print outlets it's difficult to find truthful news about what all is going on in this crazy world.

Credit to Al Gore for trying with 'Current TV,' and Air America radio also gave it a shot. But their lack of success doesn't mean the end of trying as some think. It's late in the game, but better late than never. Doubt I'll live to see it though.
---
Response to appalachiablue (Reply #2)
Wed Jun 26, 2019, 06:57 PM
Duppers (16,101 posts)
3. Exactly! This is SO NEEDED.
Thank you.

I just heard tRump tell yet another contradicting blatant lie about the father/daughter dying while trying to cross the Rio Grande, on ABC "News." "It's the Dems' fault!"
There was not one word of commentary about his lie.


---
Response to Duppers (Reply #3)
Wed Jun 26, 2019, 07:21 PM
appalachiablue (20,708 posts)
4. Exactly, and thousands of these 'mistruths' have been
absorbed by followers. So corrupt and dangerous having a 24/7 GOP Propaganda Machine.

Tom Steyer funds state races and I wish he'd help with this need too.
---
Response to appalachiablue (Original post)
Thu Jun 27, 2019, 09:14 AM
JudyM (12,794 posts)
5. K&R.