Wed Jun 19, 2019, 09:18 AM
Fla Dem (11,439 posts)
He writes Trump's tweets and has been with Trump's campaign since day one
He writes Trumpís tweets and has been with Trump's campaign since day one
Nate Chute 7 hrs ago
This article originally appeared on Poughkeepsie Journal: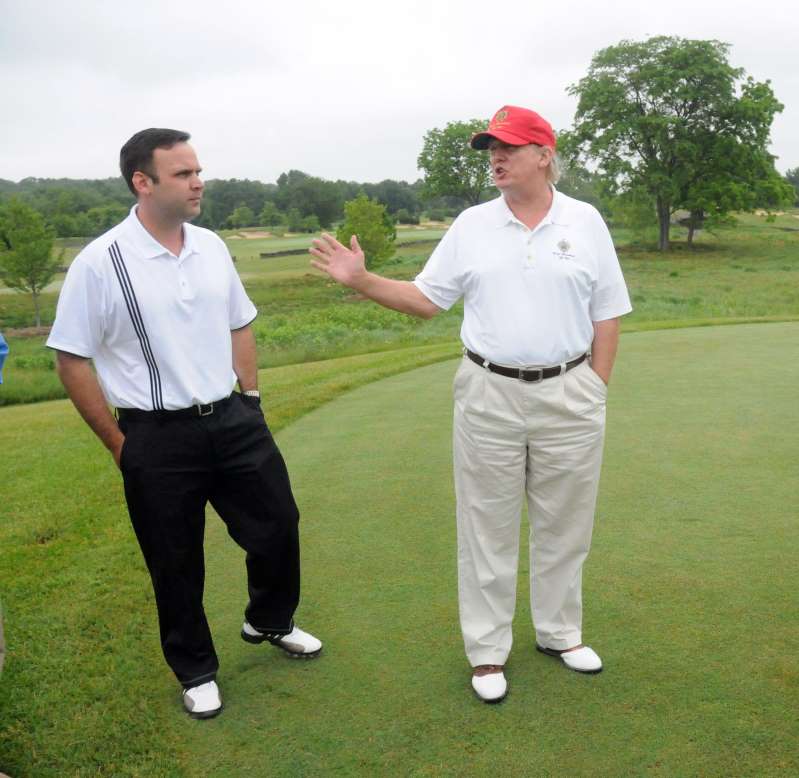 Since taking office in 2017, President Donald Trump has seen a staff turnover rate higher than the previous five administrations, according to the Brookings Institute.
Adding to the list of those who have come and gone will soon be White House Press Secretary Sarah Huckabee Sanders. Trump recently announced she would be leaving her position at the end of the June to return to her home state of Arkansas.
Huckabee Sanders worked as part of Trump's administration since the first day of his presidency. Her departure leaves only a handful of staff who can claim they there were there since the start of his administration.
They include:
Stephen Miller:
White House Senior Advisor
Kellyanne Conway:
Counselor to the President
Stephanie Grisham:
Press Secretary, Communications Director for the First Lady
Dan Scavino Jr.
: White House Director of Social Media, Assistant to the President
A member of the final four, Scavino was part of Trump's campaign team on June 16, 2015, the day president announced his plans to pursue the office.
Golf course origins
Before this, he played a key role in the purchase of purchase of Trump National Golf Club, Hudson Valley, back when it was named Branton Woods Golf Course. Scavino, at the time, was an executive vice president running the Trump golf operation out of Trump National Golf Course, Westchester, after meeting the now-president while a teenager working as his caddie. He convinced his boss to take a ride with him north to see Branton Woods.
More>>>>>>>>>>
https://www.msn.com/en-us/news/politics/he-writes-trumps-tweets-and-has-been-with-trumps-campaign-since-day-one/ar-AAD6eqb?li=BBnbcA1&ocid=U452DHP
6 replies, 1131 views
Replies to this discussion thread
| | | | |
| --- | --- | --- | --- |
| 6 replies | Author | Time | Post |
| He writes Trump's tweets and has been with Trump's campaign since day one (Original post) | Fla Dem | Jun 19 | OP |
| | Fla Dem | Jun 19 | #1 |
| | Tech | Jun 19 | #2 |
| | Lars39 | Jun 19 | #3 |
| | FakeNoose | Jun 19 | #4 |
| | brush | Jun 19 | #5 |
| | Blue Owl | Jun 19 | #6 |
---
Response to Fla Dem (Original post)
Wed Jun 19, 2019, 09:25 AM
Fla Dem (11,439 posts)
1. I knew some of them were too articulate to be written by Turd Trump.
---
Response to Fla Dem (Original post)
Wed Jun 19, 2019, 10:11 AM
Tech (525 posts)
2. So he is the one who can't spell?
---
Response to Fla Dem (Original post)
Wed Jun 19, 2019, 10:43 AM
Lars39 (21,817 posts)
3. Is this now giving Trump plausible deniability
as far as those damned tweets go?
---
Response to Fla Dem (Original post)
Wed Jun 19, 2019, 10:56 AM
FakeNoose (11,305 posts)
4. This article is about Dan Scavino who originates many of Chump's tweets
I read Cliff Sim's book a few months ago, "Team of Vipers" where he describes the process of writing tweets for Chump. Sims and Scavino both worked on Chump's 2016 campaign and followed him to the White House.
So Sims says in his book that they would frequently come up with an idea for a tweet and then rewrite it to make it sound like Chump wrote it. Sometimes even with misspelled words, but more for the phrases and words that Chump normally uses. In other words, they'll take a regular declarative sentence and "Chump it up," then tweet it.
It explains why some days show a huge range of subjects, while next to nothing is posted on other days.
---
Response to Fla Dem (Original post)
Wed Jun 19, 2019, 11:01 AM
brush (23,604 posts)
5. He doesn't even do his own tweets? Sp what does trump do all day....
besides watch FOX, eat hamdberders , say there's "no collusion, cheat at gol, diss alliesf and rail against Hillary?

Oh, and lie.

That's about all his presidency consists of. Can't wait to get this orange debacle out.
---
Response to Fla Dem (Original post)
Wed Jun 19, 2019, 11:48 AM
Blue Owl (17,518 posts)
6. Dan Scavino Jr., Turd Polisher