Wed Jun 19, 2019, 01:25 AM
appalachiablue (20,732 posts)
California Slaughter, The State-Sanctioned Genocide of Native Americans
"California Slaughter: The State-Sanctioned Genocide of Native Americans," By Alexander Nazaryan, Newsweek, 08/17/16. EXCERPTS:
The tally is relentlessly grim: a whole settlement wiped out in Trinity County "excepting a few children"; an Indian girl raped and left to die somewhere near Mendocino; as many as 50 killed at Goose Lake; and, two months later, as many as 257 murdered at Grouse Creek, scores of them women and children. There were the four white ranchers who tracked down a band of Yana to a cave, butchering 30. "In the cave with the meat were some Indian children," reported a chronicle published later. One of the whites "could not bear to kill these children with his 56-calibre Spencer rifle. 'It tore them up so bad.' So he did it with his 38-calibre Smith and Wesson revolver."
There have been books written about the systematic slaughter of California Indians, but none as gruesomely thorough as Benjamin Madley's An American Genocide, from which the above accounts come. He estimates that between 9,000 and 16,000 Indians, though probably many more, were killed by vigilantes, state militiamen and federal soldiers between 1846 and 1873, in what he calls an "organized destruction" of the state's largely peaceful indigenous peoples.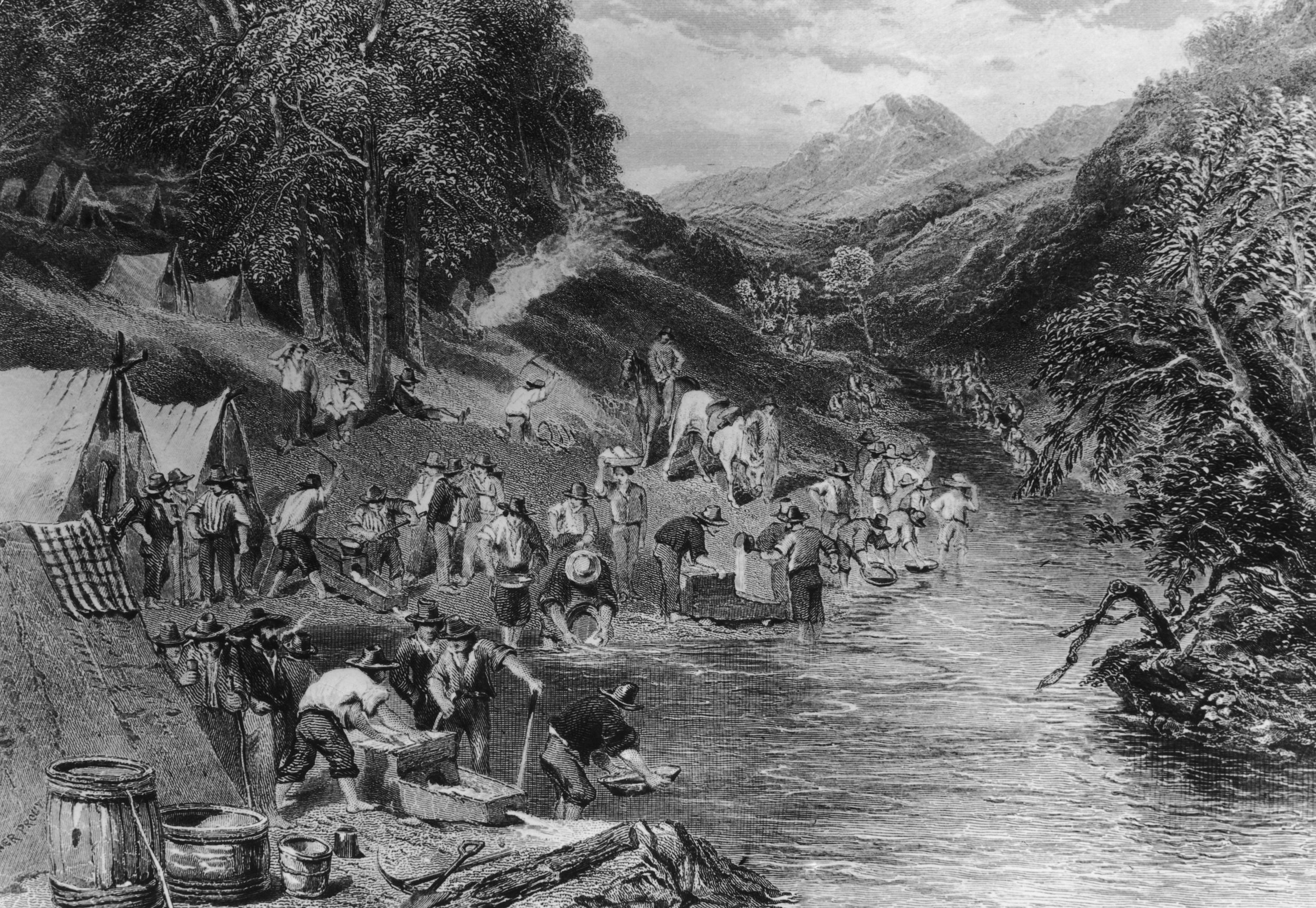 - Prospectors pan for gold during the California Gold Rush in this illustration circa 1850. Violence against Native Americans reached its peak during the Gold Rush.
His book shows that the intent to rid California of its indigenous inhabitants was openly and repeatedly voiced, and that the means to achieve these ends were unambiguously brutal: mass deportations, slavery, massacres. He argues that what happened to California Indians was, according to the most widely accepted definition of genocide, not all that different from what happened to Jews, Armenians or Rwandans. The debate over genocide in Native American history often turns to California, where the Native American population fell dramatically, from about 150,000 to 30,000, in the middle decades of the 19th century.
Madley found the murderers acted under the sanction of state and federal government. Feelings of racial superiority were deployed to justify the killing; greed supplied the sense of urgency. California's statehood, in 1850, came two years after the discovery of gold. This was also the decade when the slaughter reached its apogee. Three hundred thousand came seeking gold. It happened that many of the goldfields in Northern California lay in the ancestral lands of tribes like the Karuk, the Wintu and the Miwok—all of which remain in California, diminished survivors of an unwholesome past.
It was a widely held belief in 19th-century California that all of the Indians had to be exterminated. Reported the Daily Alta California, "Whites are becoming impressed with the belief that it will be absolutely necessary to exterminate the savages before they can labor much longer in the mines with security." "The killing of Indians is a daily occurrence," reported California's head of Indian affairs. "If some means be not speedily devised, by which the unauthorized expeditions that are constantly out in search of them can be restrained, they will soon be exterminated."
In California and elsewhere in the U. S. reservations were established in the mid-19th century, and the conditions there were so brutal, Adolf Hitler is said to have used them in part as a blueprint for his Final Solution. On the Round Valley Reservation, Native Americans were getting only between 160 and 390 calories a day from federal officials, as part of what Madley calls "institutionalized starvation conditions." Eighty years later, the daily ration for prisoners at Auschwitz was 1,300 calories."...
Read More,
https://www.newsweek.com/2016/08/26/california-native-americans-genocide-490824.html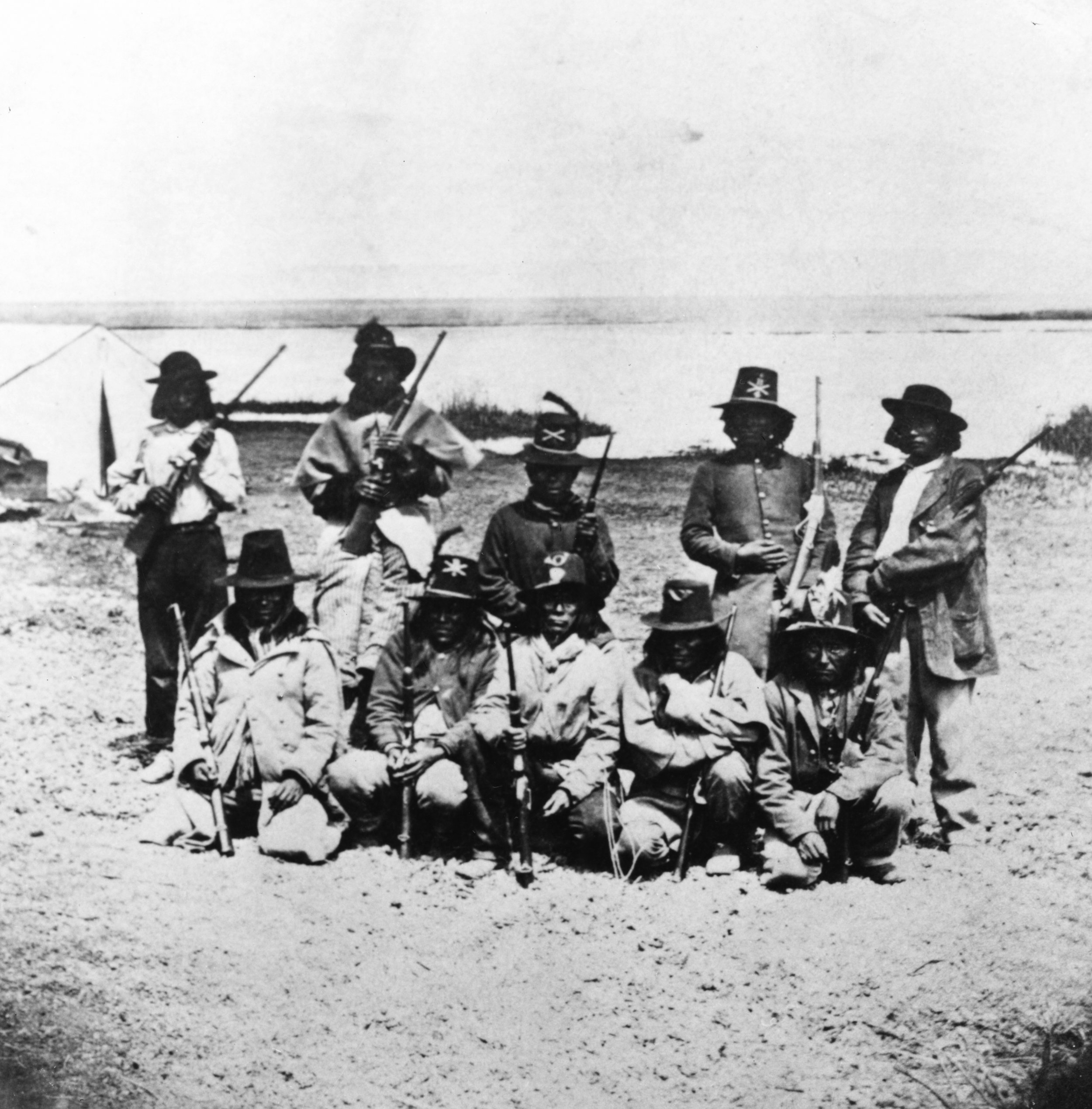 - A group of soldiers pose with their guns during the Modoc Indian War in 1873. What happened to California Native Americans in the mid-19th century was not all that different from what happened to Jews, Armenians or Rwandans, says Benjamin Madley, author of 'An American Genocide."
1 replies, 615 views
Replies to this discussion thread
| | | | |
| --- | --- | --- | --- |
| 1 replies | Author | Time | Post |
| California Slaughter, The State-Sanctioned Genocide of Native Americans (Original post) | appalachiablue | Jun 19 | OP |
| | appalachiablue | Jun 19 | #1 |
---
Response to appalachiablue (Original post)
Wed Jun 19, 2019, 01:40 AM
appalachiablue (20,732 posts)
1. Brutality and cruelty,
"The Gold Rush and the years that followed may have marked the bloodiest period of white-Indian relations, but there was plenty of cruelty before—and after. The Mexicans ceded control of California to the United States in 1846, which is why Madley begins An American Genocide in that year. He ends it in 1873, with the Modoc War, which concluded with four Modoc leaders hanged and beheaded, their heads sent to the Army Medical Museum in Washington. After that, organized mass killings became less frequent."