Wed May 22, 2019, 11:54 PM
Judi Lynn (132,197 posts)
Border Vigilante Was Accused of Running Child-Cancer Charity Scam
United Constitutional Patriots livestreams grabbing migrants at the border. Its spokesman has a shady past.
Nick R. Martin
05.22.19 5:29 AM ET
For the past few months, Jim Benvie has played the role of a wannabe cop in the New Mexico borderlands.
He wears a badge with the words "Fugitive Recovery Agent." He refers to Border Patrol agents as his "backup." He claims to be protecting America from a "criminal invasion" at the nation's southwestern border.
All the while, he's been facing a criminal charge of his own in another state.
Benvie is the appointed spokesman for a group of Trump-loving border vigilantes previously known as the United Constitutional Patriots, which recently renamed itself Guardian Patriots. The group earned widespread notoriety last month because of videos Benvie livestreamed to Facebook, showing his armed crew harassing and apprehending migrants.
The vigilante group was kicked off PayPal and GoFundMe as a result, but it is still attempting to raise money for its efforts in other ways. Now, court documents reviewed by The Daily Beast raise serious questions about Benvie's background in fundraising.
More:
https://www.thedailybeast.com/border-vigilante-jim-benvie-was-accused-of-running-child-cancer-charity-scam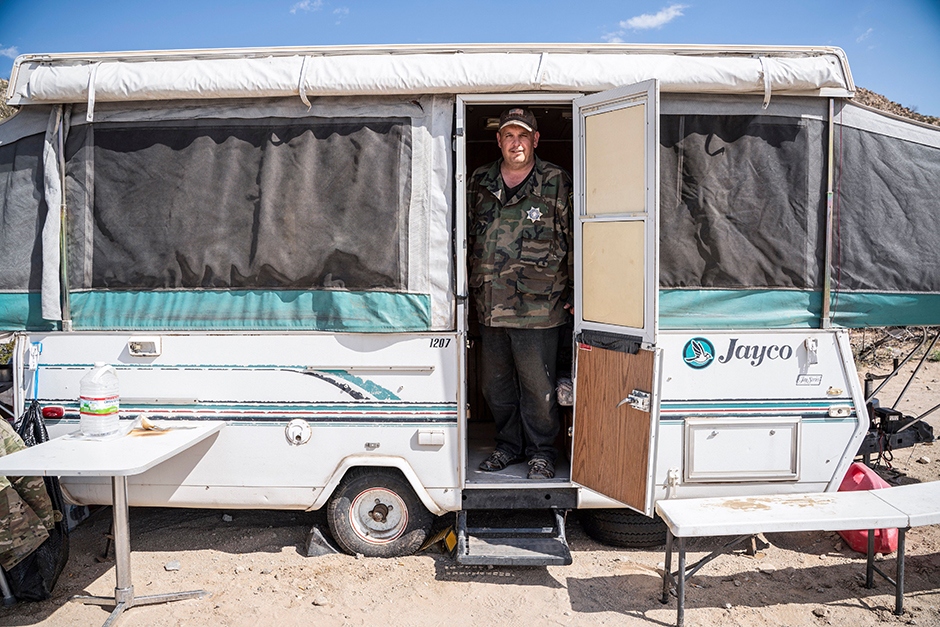 Jim Benvie
Getty
Jim Benvie pictured in March 2019.
Jim Benvie Accused of Running Child Cancer Charity Scam
By Paul Farrell
Updated May 22, 2019 at 9:32am
Jim Benvie, a spokesman with the United Constitutional Patriots, is accused of running a child cancer charity scam in a report published by the Daily Beast. The leader of the UCP has previously been identified as Larry Mitchell Hopkins.
Benvie is well known for his Facebook activity where he live streams his exploits while he patrols the U.S./Mexico border. At the time of writing, Benvie's last live stream came around four hours before the publication of the Daily Beast report.
Benvie's Facebook page is adorned with questionable claims about border security, guns and the Democratic Party. The page also offers seemingly unquestionable support for President Donald Trump and the National Rifle Association. In April 2019, Benvie was quoted by the Associated Press as saying the UCP's role was to assist the "stressed and overstrained Border Patrol."
An Oklahoma Cop Wrote in a Criminal Affidavit that Benvie 'Was Raising Money for a Child He Was Unable to Provide Any Information About
The Daily Beast report details a July 2018 incident when police were contacted in Guthrie, Oklahoma, by a man saying that he had located a stolen yellow Penske truck. The truck was parked in the parking lot of a Golden Chick restaurant. When a local police Lieutenant Mark Bruning went to the scene, he said he found Benvie inside the restaurant collecting money for a child with cancer.
More:
https://heavy.com/news/2019/05/jim-benvie/
0 replies, 591 views