Tue Mar 12, 2019, 04:05 PM
Judi Lynn (129,809 posts)
Arrests in Marielle Franco killing, Rio police in spotlight
Peter Prengaman and Anna Jean Kaiser, Associated Press Updated 11:37 am CDT, Tuesday, March 12, 2019
RIO DE JANEIRO (AP) — Brazilian police on Tuesday arrested two former police officers in the killing of Rio de Janeiro councilwoman Marielle Franco and her driver, a brazen assassination that shocked Brazilians and sparked protests in several countries.
. . .
"It was a crime against a lawmaker, a woman, exercising her democratic function and had her life taken away through in an unacceptable, criminal way," Rio de Janeiro state Gov. Wilson Witzel told reporters. "It's unacceptable to any human being, but this was even more unacceptable because Marielle was exercising parliamentary duties."
While Witzel praised police and investigators for the arrests, the case highlighted deep corruption in police forces, including connections to militias, paramilitary groups that control large swaths of the state.
The suspects were identified as Ronnie Lessa, a 48-year-old retired officer, and Elcio Vieira de Queiroz, 46, who was expelled from the force in 2015 for reasons authorities did not explain.
Lessa was arrested at his residence in the same upscale condominium complex where President Jair Bolsonaro has his home, authorities said.
More:
https://www.chron.com/news/crime/article/Brazil-police-2-men-arrested-in-killing-of-13681500.php#photo-17057959
Fascist cops
would
probably make good political assassins.
6 replies, 322 views
Replies to this discussion thread
| | | | |
| --- | --- | --- | --- |
| 6 replies | Author | Time | Post |
| Arrests in Marielle Franco killing, Rio police in spotlight (Original post) | Judi Lynn | Mar 12 | OP |
| | Judi Lynn | Mar 12 | #1 |
| | niyad | Mar 12 | #2 |
| | Judi Lynn | Wednesday | #3 |
| | Judi Lynn | Wednesday | #4 |
| | Judi Lynn | Wednesday | #5 |
| | Judi Lynn | Wednesday | #6 |
---
Response to Judi Lynn (Original post)
Tue Mar 12, 2019, 05:00 PM
Judi Lynn (129,809 posts)
1. Two Former Cops Were Arrested In Connection With The Murder Of A Brazilian Politician
The arrests come after nearly a year after the murder of Marielle Franco, a queer politician known for her support for minorities and criticism of police violence.
Tatiana Farah
Repórter do BuzzFeed News, Brasil
São Paulo
Posted on March 12, 2019, at 4:14 p.m. ET
Two retired police officers were arrested on Tuesday in connection with the high-profile murder last year of a Brazilian politician known for her criticism of police violence.
Rio de Janeiro councillor Marielle Franco was killed last March when a driver pulled up alongside her car and shot her in the head several times. Anderson Pedro Gomes, her driver, was also killed in the attack, while her press officer, Fernanda Chaves, survived the shooting. It was reported at the time that at least two people were involved in Franco's murder.
Retired Sgt. Ronnie Lessa, 48, and former police officer Élcio Vieira de Queiroz, 46, were both taken into custody early Tuesday. According to police, Lessa was allegedly the gunman in the attack while Querioz acted as the driver. Lessa is accused of using a German submachine gun, used exclusively by the police in Brazil, in the attack, while Queiroz was caught watching Franco's movements the day of the attack. The two men reportedly knew each other prior to the attack.
Police accused the two of demonstrating a high degree of sophistication in planning the attack, which reportedly involved three months of trailing Franco, using pre-paid cell phones to communicate, and having previous knowledge of Franco's movements, as well as insight into the location where the ambush would occur.
More:
https://www.buzzfeednews.com/article/tatianafarah/marielle-franco-brazil-murder-arrest-former-police
---
Response to Judi Lynn (Original post)
Tue Mar 12, 2019, 05:41 PM
niyad (66,463 posts)
2. thank you for keeping us updated on the investigation.
---
Response to niyad (Reply #2)
Wed Mar 13, 2019, 05:30 AM
Judi Lynn (129,809 posts)
3. Looks as if it is exactly like a political assassination and nothing but.
It could be very hard to get this to go deeper, if they are going to shield someone as important as a powerful leader.....

No doubt people have expected this from the very moment it happened.

What a shame for the entire country, except for those who still openly praise the military dictatorship, of course.
---
Response to Judi Lynn (Original post)
Wed Mar 13, 2019, 02:21 PM
Judi Lynn (129,809 posts)
4. Bolsonaro paramilitary ties in spotlight after photo with murder suspect
An image of Brazil's president with a suspect in Marielle Franco's death has raised questions over his family's alleged mafia ties
Tom Phillips Latin America correspondent
Wed 13 Mar 2019 13.53 EDT
Brazil's far-right president, Jair Bolsonaro, is facing growing calls to explain his family's alleged links to the heavily armed and notoriously violent paramilitary gangs that control large swaths of Rio de Janeiro.
Questions over possible connections between the Bolsonaros and Rio's so-called "militias" were swirling even before the former army captain took office in January – so much so that revellers at this year's carnival penned a song satirising the president's supposed criminal ties.
But those concerns intensified this week when a photograph emerged in which a grinning Jair Bolsonaro appears with his arm around one of the two men arrested on Tuesday for the 2018 assassination of the Rio councillor Marielle Franco.
Police also confirmed that one of Bolsonaro's sons had dated the daughter of the other murder suspect, Ronnie Lessa, and that Lessa lived in the same beachside compound where Brazil's president lived until moving to the capital following his election last year.
https://www.theguardian.com/world/2019/mar/13/jair-bolsonaro-paramilitaries-marielle-franco-suspects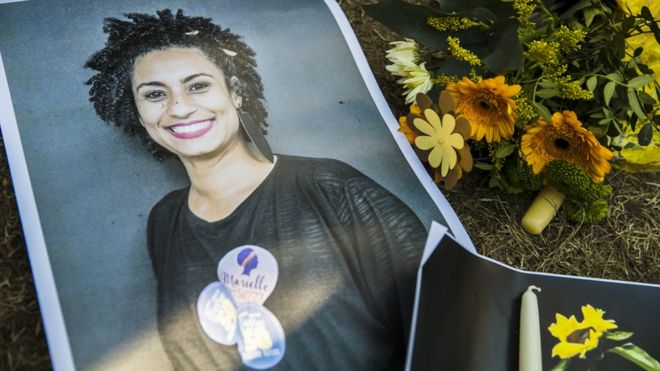 Marielle Franco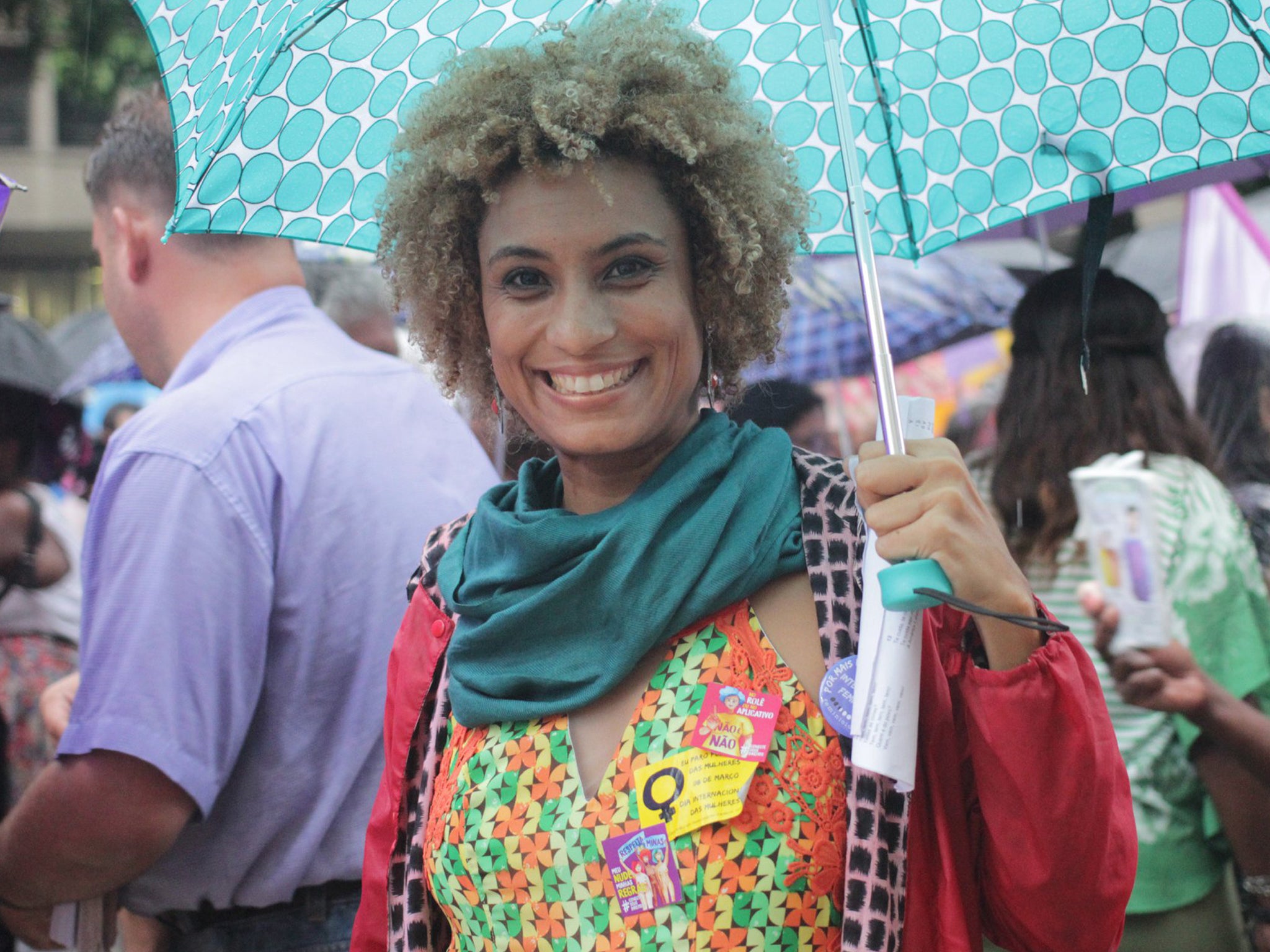 ---
Response to Judi Lynn (Original post)
Wed Mar 13, 2019, 02:30 PM
Judi Lynn (129,809 posts)
5. Brazilian paper: Picture of Bolsonaro next to suspect to kill Marielle circulates in the internet
(Google translated)
Picture of Bolsonaro next to suspect to kill Marielle circulates in the internet
Photo was posted by ex-PM Elcio Queiroz in a social networking page that was released on Tuesday morning (12), and was made last October, during the first round of elections
posted 12/03/2019 12:06 / updated on 03/03/2019 12:34 PM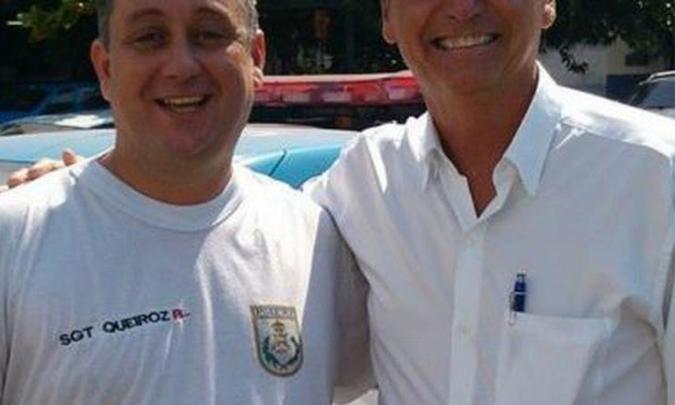 Elcio de Vieira Queiroz alongside President Jair Bolsonaro
(photo: Reproduction / WhatsApp)
A photo appears on the internet in which President Jair Bolsonaro appears alongside former PM Elcio de Vieira Queiroz, arrested on Tuesday (12) on suspicion of participating in the murder of councilwoman Marielle Franco (PSol-RJ).
Queiroz, 46, would have posted the image in which he appears side by side with Bolsonaro on October 4, on the eve of the first round of the presidential election.
Days before, on September 25, the same profile posted a recording of a show by Paulo Ricardo with the caption "Homage of Paulo Ricardo (RPM) to Captain Bolsonaro!"
More:
https://www.em.com.br/app/noticia/nacional/2019/03/12/interna_nacional,1037241/foto-de-bolsonaro-ao-lado-de-suspeito-de-matar-marielle-circula-na-int.shtml
---
Response to Judi Lynn (Original post)
Wed Mar 13, 2019, 06:47 PM
Judi Lynn (129,809 posts)
6. Folha, Brazil: Former Police Officers Arrested In Killing Councilwoman Marielle Franco
Investigators claim that one of them shot the politician and the other drove the car
Mar.13.2019 5:13PM
Lucas Vettorazzo
Ana Luiza Albuquerque
RIO DE JANEIRO
The Rio de Janeiro's police announced on Tuesday (12th) the arrest of former police officer Ronnie Lessa and Élcio Vieira de Queiroz, 46. Both are suspected of taking part in the execution of councilwoman Marielle Franco and driver Anderson Gomes, two days short of the crime's one-year anniversary. Both suspects claim they are innocent.
According to investigators, Lessa opened fire on Franco and Gomes, and Queiroz drove the car which intercepted Franco and from where Lessa shot the councilwoman.
. . .
State attorneys said that the execution was carefully planned for three months, and Franco was assassinated because of her human rights activism. The investigators found out that Lessa researched the councilwoman's routine and schedules for weeks before the crime happened. He also researched schedules of other left-wing politicians, like House representative Marcelo Freixo (PSOL), who was close to Franco.
. . .
Alexandre Motta, a friend of Lessa's, was also arrested for keeping an illegal amount of weapons in his house. Police found 117 pieces to assemble M-16 rifles and 500 pieces of ammunition, all in cardboard boxes.
More:
https://www1.folha.uol.com.br/internacional/en/brazil/2019/03/former-police-officers-arrested-in-killing-councilwoman-marielle-franco.shtml