Sun Mar 10, 2019, 05:17 AM
Judi Lynn (129,809 posts)
an America recover from Trump? A radicalized right wing suggests dangers ahead
The religious devotion of the Trump base to their secular god demonstrates that between 30 and 40 percent of Americans are unfit for participation in Democratic society. For the sake…
The religious devotion of the Trump base to their secular god demonstrates that between 30 and 40 percent of Americans are unfit for participation in Democratic society. For the sake of job preservation, the overwhelming majority of Republicans in Congress have become equally as zealous as their voters in their insistence on ignorance, delusion and racism as criteria for political judgment. Given that polite people across the political spectrum can agree that disenfranchisement is not a legal or moral option, the most relevant question of contemporary debate is, "how do we deal with these people?"The mainstream press and liberal punditry appear devoted to ducking this inquiry, even as the consequences of avoidance invite further decay of democracy, political violence and social catastrophe. Everyone from editorial page writers for the New York Times to Rachel Maddow act as if the moment Donald Trump drops back down the gold-plated manhole out of which he crawled to claim the office of Lincoln all the country's injuries and infections will magically heal. The ugly reality, and more challenging truth, is that Trump is not the actual threat, but only its most forceful manifestation.
A recent leak of the president's daily schedule reveals what anyone rational would have assumed — Trump is lazy and egocentric, devoted more to "executive time," which includes hours angrily tweeting while watching television and shooting the bull on the telephone with his sociopathic chums, than he is to governance. Several reports also demonstrate that Trump has little knowledge of history and no attention span for public policy, and even as the leader of the world's most powerful nation is obsessed with opportunities for grift. All this is worthy of celebration, and reason to breathe a heavy sigh of relief.
Imagine if Trump was a brilliant, learned leader committed to the enactment of a consistent agenda; a man who could summon considerable skill and savvy, not merely to promote himself but to fundamentally transform American law and reinvent the relationship between the federal government and its citizenry. As candidate and president, Trump has already demolished standards of civility, worsened the racial and ethnic fractures of the American public, and reduced the Republican Party to a slobbering set of sycophants. And he has done all of this by barely lifting a finger. The true danger might emerge when Trump slithers into the sunset, and his enraged and frenzied loyalists, who now control the infrastructure of one of America's two major political parties, are looking for a replacement and find the real thing.
Over the course of my lifetime, the leadership of the Republican Party has continually declined in intellectual, moral and political quality. Each successive Republican administration has inflicted greater damage on social service networks, the minimal safety net that exists for the poor, and the institutions and culture necessary to preserve civic liberalism. Republicans went from Reagan to George W. Bush, attempted to anoint Sarah Palin, and eventually landed on Trump.
More:
https://www.alternet.org/2019/03/can-america-recover-from-trump-a-radicalized-right-wing-suggests-dangers-ahead/?utm_source=push_notifications
10 replies, 1000 views
Replies to this discussion thread
| | | | |
| --- | --- | --- | --- |
| 10 replies | Author | Time | Post |
| an America recover from Trump? A radicalized right wing suggests dangers ahead (Original post) | Judi Lynn | Mar 10 | OP |
| | murielm99 | Mar 10 | #1 |
| | no_hypocrisy | Mar 10 | #2 |
| | Bernardo de La Paz | Mar 10 | #3 |
| | Duppers | Mar 10 | #4 |
| | MarianJack | Mar 10 | #5 |
| | no_hypocrisy | Mar 10 | #6 |
| | Downtown Hound | Mar 10 | #7 |
| | MarianJack | Mar 11 | #10 |
| | Judi Lynn | Mar 11 | #8 |
| | MarianJack | Mar 11 | #9 |
---
Response to Judi Lynn (Original post)
Sun Mar 10, 2019, 06:15 AM
murielm99 (22,696 posts)
1. The blood thins.....
They get stupider and more dangerous over time.

We can fix this because they are stupid. But it will take work. We can start with GOTV.
---
Response to Judi Lynn (Original post)
Sun Mar 10, 2019, 07:30 AM
no_hypocrisy (32,915 posts)
2. My fear is this is bigger than Trump and
the Republican Party has devolved to the point where it's not "coming back". We waited for Republicans to return to the tradition of Mildred Fenwick and Theodore Roosevelt after Reagan left the WH in 1988 and it didn't happen. We held our collective breaths until Shrub and Cheney left DC and Republicans only got worse.

What if Republican candidates feel compelled to adopt "Trumpism" in order to run for office indefinitely?
---
Response to no_hypocrisy (Reply #2)
Sun Mar 10, 2019, 08:16 AM
Bernardo de La Paz (27,810 posts)
3. It already is the Republicon-Trump Party. They made him, enabled him, & protect him. . . . nt
---
Response to no_hypocrisy (Reply #2)
Sun Mar 10, 2019, 08:39 AM
Duppers (15,006 posts)
4. You nailed the crux of the problem.
These people have been eternally brainwashed, I fear.
---
Response to Judi Lynn (Original post)
Sun Mar 10, 2019, 09:42 AM
MarianJack (9,511 posts)
5. I was born in 1955 during Ike's first term.
My parents voted for Stevenson in 52 & 56 knowing full well that he was going to lose. Hell, even Stevenson probably knew he was going to lose.

IMHO, Eisenhower was a good president and a GREAT man, neither of which can be said of any Republican president since. I think that Ike would be horrified at the thought of a piece of shit with legs like Donald Trump is now the standard bearer of HIS party.

RESIST!
---
Response to MarianJack (Reply #5)
Sun Mar 10, 2019, 09:45 AM
no_hypocrisy (32,915 posts)
6. The Republican Party of the Fifties stayed relatively progressive post-New Deal.
They could have leaned very right toward Robert Taft, but chose Eisenhower. (Taft made the argument that ex-Nazis shouldn't have been prosecuted because technically there was no existing law they had broken.)

Here, you have Buckley Republicans and Goldwater Republicans joining the Trump Party, leaving their conservative principles behind.
---
Response to MarianJack (Reply #5)
Sun Mar 10, 2019, 12:36 PM
Downtown Hound (11,199 posts)
7. Eisenhower was the last good republican to hold office
Although in fairness, even Nixon was a titan of statesmanship next to this cabal of thugs.
---
Response to Downtown Hound (Reply #7)
Mon Mar 11, 2019, 07:33 AM
MarianJack (9,511 posts)
10. Hell, Donald Trump almost makes me miss dubya.
---
Response to MarianJack (Reply #5)
Mon Mar 11, 2019, 05:29 AM
Judi Lynn (129,809 posts)
8. In those years the right-wing was rabid about "commies" and they claimed Democrats were pinkos.
They were even claiming Catholics were commies, as well.
Pointed at everyone.
Era of drunken nut-ball, power-mad Senator Joe McCarthy.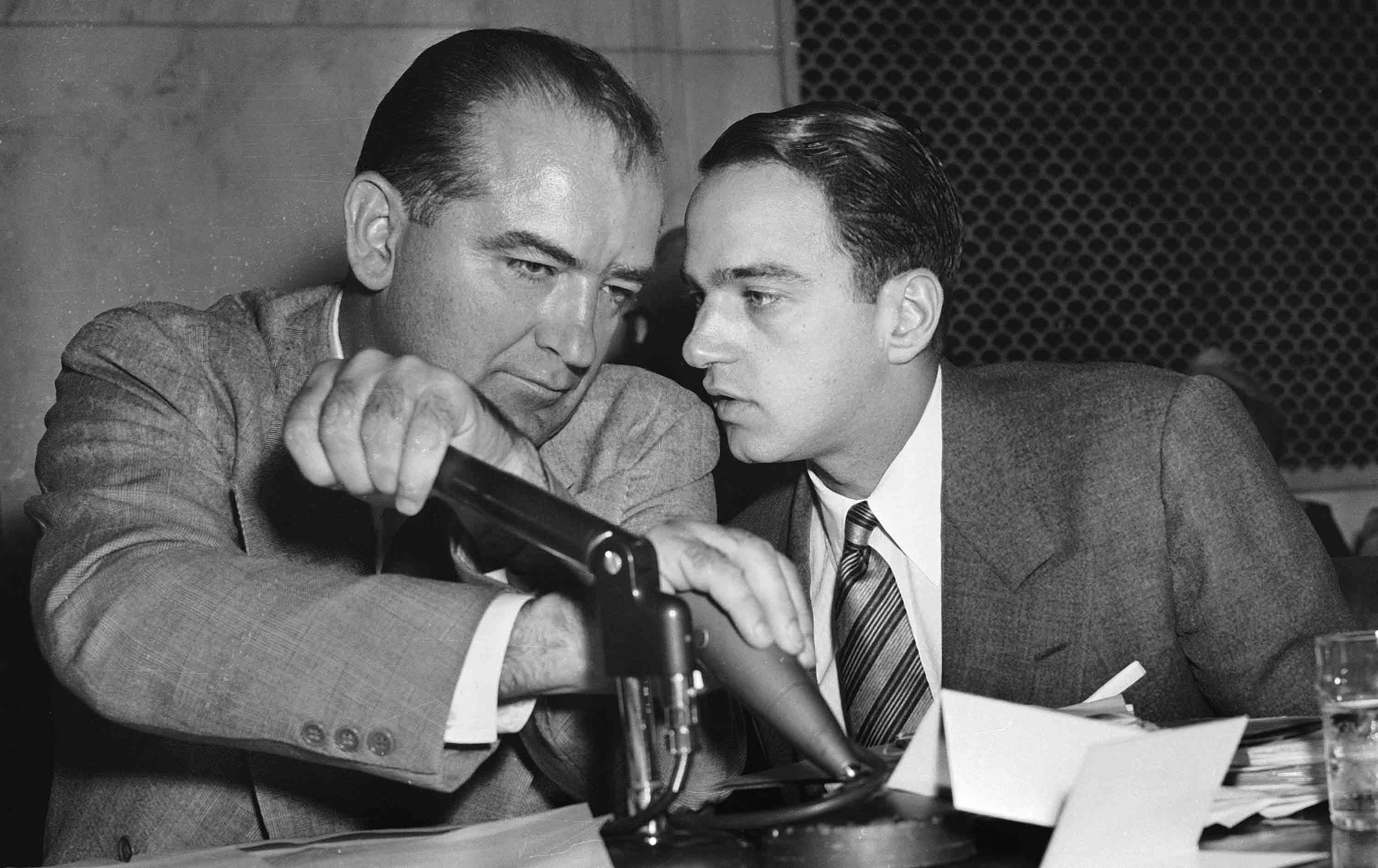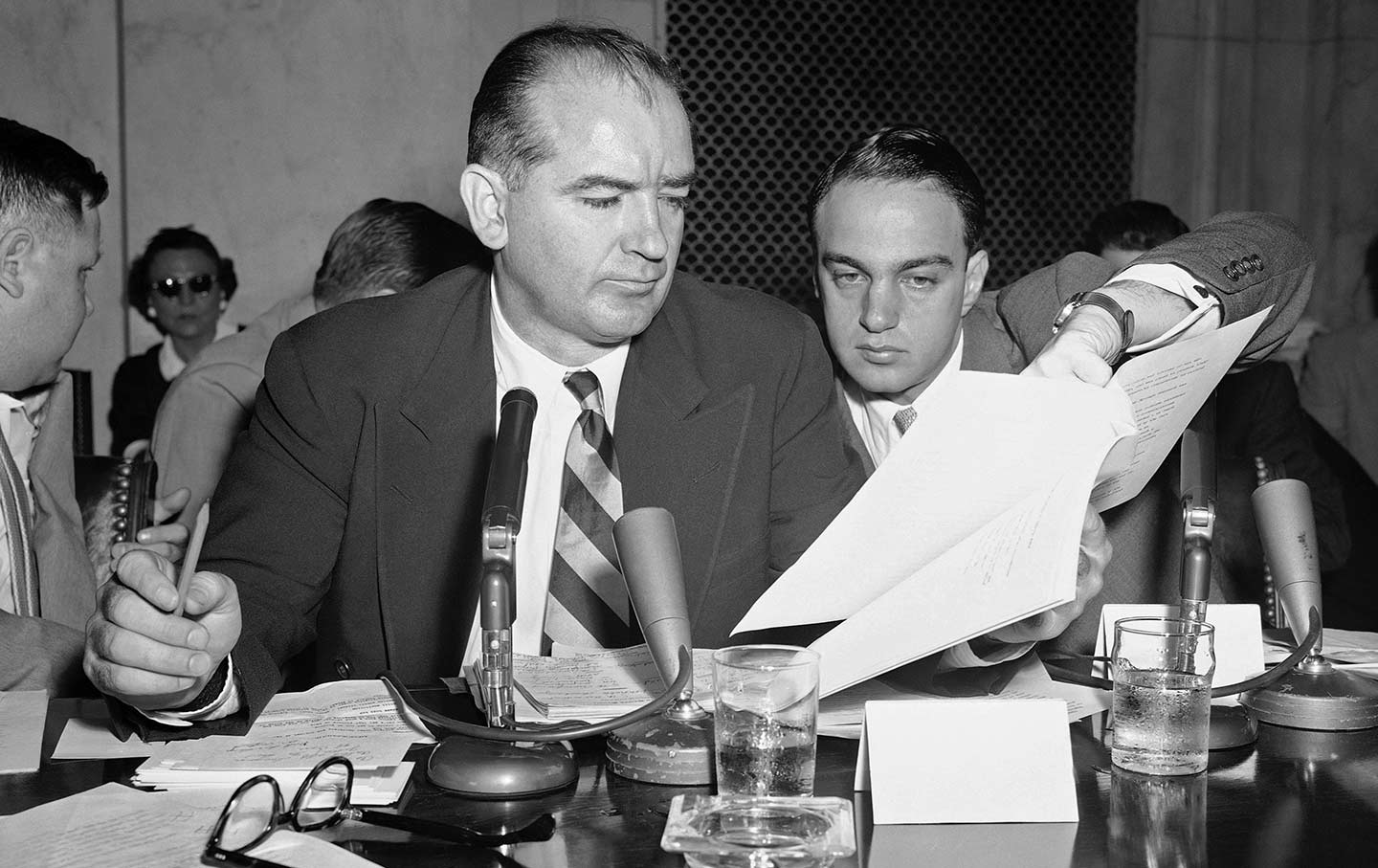 On the hunt for "commies."
---
Response to Judi Lynn (Reply #8)
Mon Mar 11, 2019, 07:32 AM
MarianJack (9,511 posts)
9. McCarthy would have to stand tip toe on his grandmother's shoulders...
...before he could kiss Ike's ass.

RESIST!