Mon Oct 29, 2018, 06:43 PM
AJT (5,240 posts)
7 replies, 2474 views
Replies to this discussion thread
| | | | |
| --- | --- | --- | --- |
| 7 replies | Author | Time | Post |
| This will be used to paint the left as violent and dangerous from now until the election. (Original post) | AJT | Oct 2018 | OP |
| | getagrip_already | Oct 2018 | #1 |
| | gtar100 | Oct 2018 | #3 |
| | Judi Lynn | Oct 2018 | #4 |
| | meluvrem | Oct 2018 | #2 |
| | Sunlei | Oct 2018 | #5 |
| | Mopar151 | Oct 2018 | #7 |
| | yellowcanine | Oct 2018 | #6 |
---
Response to AJT (Original post)
Mon Oct 29, 2018, 06:45 PM
getagrip_already (9,497 posts)
1. they probably did it themselves.... n/t
---
Response to getagrip_already (Reply #1)
Mon Oct 29, 2018, 07:59 PM
gtar100 (4,192 posts)
3. Most likely...nobody was in the office at the time. n/t
---
Response to getagrip_already (Reply #1)
Tue Oct 30, 2018, 12:45 AM
Judi Lynn (153,498 posts)
4. Reminds one of campaign worker Ashley Todd who scratched B on her face backwards
and told her a Democratic operative tried to rape her and mutilated her by scratching Obama's initial on her face.
You betcha.
This is so typical.
If they don't cheat, they can never win. That has been true for ages.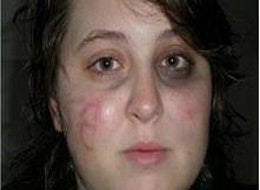 Wow! He also gave her a "shiner."
---
Response to AJT (Original post)
Mon Oct 29, 2018, 07:51 PM
meluvrem (22 posts)
2. Expected this or worst
This sounds insane but, I was thinking it45 might set up something with his boss Putte to get sympathy. I don't like thinking that way but can't help it now.
---
Response to AJT (Original post)
Tue Oct 30, 2018, 10:28 AM
Sunlei (22,651 posts)
5. police said, will catch him off surveillance cams.Funny how the R Chairman already blames a D.
Volusia County Republican chair Tony Ledbetter, told WFTV that "some sick person," which he identified as "Democrats," took their anger out on his office.

"You've got some sick person, and I'll call them out, they're Democrats. No Republican has any reason to come attack our location," Ledbetter said.


South Daytona Florida is already a crime ridden area
---
Response to Sunlei (Reply #5)
Tue Oct 30, 2018, 12:47 PM
Mopar151 (9,121 posts)
7. R or D ?
How about C for CRAZY? Or F , because FLORIDA MAN!! (world's worst superhero)
---
Response to AJT (Original post)
Tue Oct 30, 2018, 10:36 AM
yellowcanine (35,320 posts)
6. Proly a Trumper "standing his ground" against the building.
"I swear the building was going for a gun!"