Sat Sep 15, 2018, 09:00 PM
appalachiablue (30,962 posts)
Ohio's Wealthiest Republican Supporter Quits GOP After Obama Columbus Stop
"Wealthiest Republican Supporter In Ohio Quits Party," By Justin Wise, The Hill, Sept. 15, 2018. *EXCERPTS:
The wealthiest supporter of the GOP in Ohio said Thursday that he is no longer a member of the Republican Party.
"I just decided I'm no longer a Republican," L Brands CEO Leslie Wexner said during a panel discussion at a leadership summit, according to The Columbus Dispatch.
Wexner, who said he's been a Republican since college, added that he is now an independent, before saying that he "won't support this nonsense in the Republican Party" anymore.
"I haven't run an ad in the newspaper that said, 'I quit,'" he said. Wexner said he's instead been writing notes to friends who are lawmakers and telling them that he's no longer a member of the GOP.
The development came just a day after former President Obama slammed GOP lawmakers during a rally in Ohio for Democratic gubernatorial candidate Richard Cordray. "What you're seeing is Republicans in Congress who are bending over backwards to try to shield and deflect oversight of this behavior and accountability and consequences," Obama said. "This is serious. You know it is. And frankly even some of the Republicans know it is. They will say it, they just don't do anything about it. ... [They say,] 'we'll put up with crazy' in exchange for tax reform and deregulation."
Wexner called Obama's visit to Ohio this week a "great moment for the community," according to the Dispatch.
"I was struck by the genuineness of the man; his candor, humility and empathy for others," Wexner said. The billionaire CEO reportedly said in a speech last year that he was "ashamed" by Trump's response to the white supremacist rally in Charlottesville, Va., that erupted in violence and led to the death of a 32-year-old woman.
The Ohio businessman has donated hundreds of thousands of dollars to Republican candidates and groups over the years. Wexner isn't the only person to renounce their GOP affiliation this year. In August, Michael London, a former member of the Trumbull Town Council in Connecticut, announced he was leaving the party..
https://www.msn.com/en-us/news/politics/wealthiest-republican-supporter-in-ohio-quits-party/ar-BBNlUBg
"Les Wexner Renounces Republican Party Affiliation After Obama Stops In Columbus," Columbus Dispatch, 8/15/18.
http://www.dispatch.com/news/20180915/les-wexner-renounces-republican-party-affiliation-after-obama-stops-in-columbus
Les Wexner, founder, chairman and CEO of L Brands.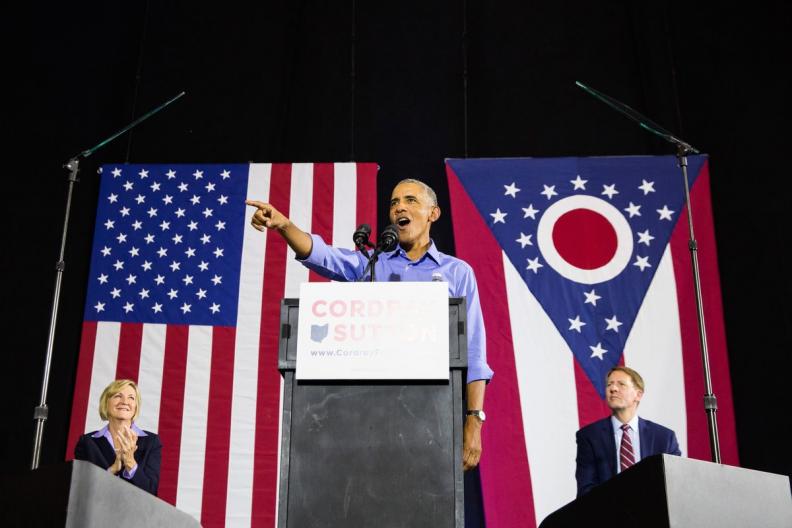 President Obama at rally in Cleveland, OH, Thurs. night, Sept. 14 for Democrat Richard Cordray (rt.), fmr. head of the Consumer Financial Protection Bureau who's running for governor.
3 replies, 1777 views
Replies to this discussion thread
| | | | |
| --- | --- | --- | --- |
| 3 replies | Author | Time | Post |
| Ohio's Wealthiest Republican Supporter Quits GOP After Obama Columbus Stop (Original post) | appalachiablue | Sep 2018 | OP |
| | brush | Sep 2018 | #1 |
| | appalachiablue | Sep 2018 | #2 |
| | samplegirl | Sep 2018 | #3 |
---
Response to appalachiablue (Original post)
Sat Sep 15, 2018, 10:06 PM
brush (35,198 posts)
1. O is still having profound effects on the country. More to come I'm sure as he keeps...
---
Response to appalachiablue (Original post)
Sun Sep 16, 2018, 02:43 AM
appalachiablue (30,962 posts)
2. This is all good.
---
Response to appalachiablue (Original post)
Sun Sep 16, 2018, 08:31 AM
samplegirl (8,254 posts)
3. Let's see Ol Wex
Put some of his money up to support Sherrod Brown or Cordray!