Sat Jun 9, 2018, 03:37 PM
underpants (139,355 posts)
"Vulture Capitalism" not once mentioned in Bloomberg's lengthy Toys R Us story
https://www.bloomberg.com/news/features/2018-06-06/toys-r-us-the-world-s-biggest-toy-store-didn-t-have-to-die
Tears 'R' Us: The World's Biggest Toy Store Didn't Have to Die
An object lesson in financial mismanagement and miscalculation from the fallen Toys "R" Us.
The early tale of Toys "R" Us brims with ambition, energy, and no small amount of ruthlessness, as creation stories often do. Charles Lazarus had gone from high school straight to the U.S. Army, where he served as a cryptographer during World War II, and as he cast about for a business venture upon his return, he identified a market that was largely unexploited: kids. "Everyone I talked to said they were going to go home, get married, have children, and live the American dream," he often recounted of those days.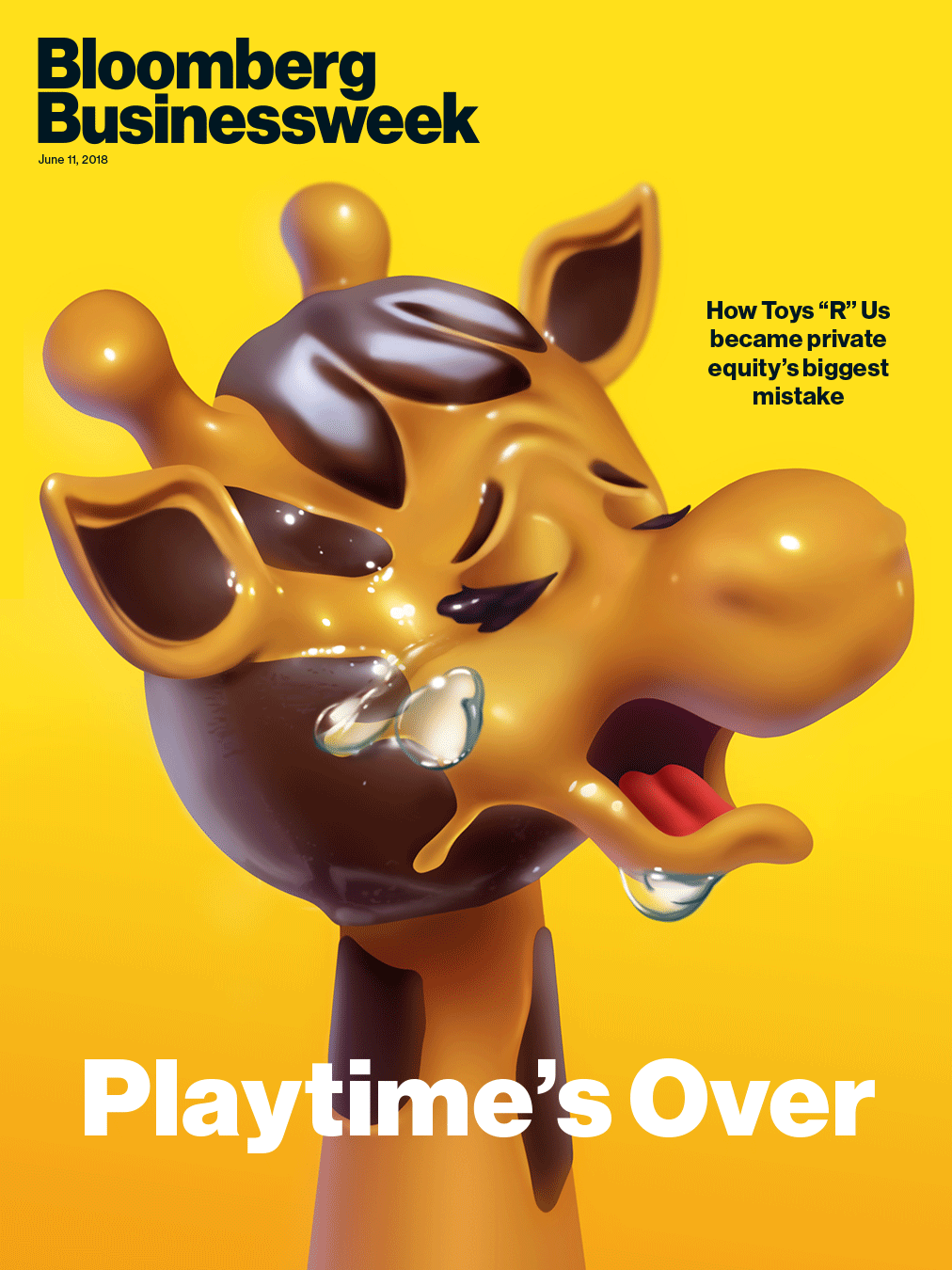 Instead, the private equity firms Bain Capital LP and KKR & Co., along with Vornado Realty Trust, took over the company in a $7.5 billion leveraged buyout in 2005. For the next 13 years the owners would watch a succession of executives try to halt the steady slide of Toys "R" Us amid a recession and retail upheaval. As the last big toy store chain, Toys "R" Us had a captive audience. Kids could reasonably be counted on to badger, drag, or otherwise persuade adults to bring them to toy stores, especially if they were fun and hands-on. Those adults would more readily acquiesce if the stores were well organized and the toys competitively priced. There could have been an alternate ending for Toys "R" Us.
The company promised all of its cash as collateral to secure a $3.1 billion operating loan from JPMorgan Chase & Co., Goldman Sachs Group, and Barclays Plc, so it could comply with its suppliers' demands and stay in business through the holidays. This particular kind of loan, debtor-in-possession financing, comes with a special guarantee in case the company closes down. The banks get first dibs on what's left.
The money gathered from the company's remains will likely pay off loans of at least $710 million. The company still owes billions more to lower-ranked creditors, including vendors that may be out hundreds of millions. "Every single step of the way, their business judgment has been wrong," Jeff Schwartz, a lawyer for Learning Resources, an educational toy company, said when he made his client's $2.3 million claim in the liquidation hearings. Bain, KKR, and Vornado, which together collected $470 million in fees and interest payments over the years, will end up losing well over a billion dollars combined. KKR and Vornado have written off their investments; all three companies declined to comment on one of their most public failures.
3 replies, 1195 views
Replies to this discussion thread
| | | | |
| --- | --- | --- | --- |
| 3 replies | Author | Time | Post |
| "Vulture Capitalism" not once mentioned in Bloomberg's lengthy Toys R Us story (Original post) | underpants | Jun 2018 | OP |
| | Westcoast52 | Jun 2018 | #1 |
| | Wellstone ruled | Jun 2018 | #2 |
| | stuffmatters | Jun 2018 | #3 |
---
Response to underpants (Original post)
Sat Jun 9, 2018, 04:08 PM
Westcoast52 (34 posts)
1. Toys R Us--Just Another Uninteresting Dump For Chinese Goods
In capitalism, someone profits from someone's mistakes. I get that. Too-big-to-fail banks like Goldman, et al, somehow throw good money after bad and make it work (deliberate losses to reduce taxes?). Even when they are dealing with crap companies like Toys R Us that lost their relevance decades ago. American retailing is just providing floor space for foreign-made goods fewer and fewer people need. Somewhere out there, Sears-Roebuck is making a last-gasp play to avoid following Mervyn's and Montgomery Ward into extinction. Fuck 'em. Dinosaurs become extinct because they cannot adapt to changing conditions. The 50s big-box, big-sprawl era ended. Malls are dying because managers with big dreams and big ideas do not understand their dreams and idea ares artificial, do not contribute to any social good, and all the floor space and parking lots cost more than they're worth. The Big Dream/Big Idea guys have been replaced by the velociraptor sociopaths who get in quick, tear off a big chunk of meat, then disappear. In this context, most economic activity is meaningless.
---
Response to underpants (Original post)
Sat Jun 9, 2018, 04:55 PM
Wellstone ruled (22,159 posts)
2. And for those whom lost their
livelihood as well as their Pensions,or stock based 401's,it is a friggin nasty reality. As someone who was able to find better than average Employment after living through on of these leveraged up nightmares,only to see the last Leverage Buy out Group not only strip the Company of all Cash value and leverage it to full book value,only to dump it into Bankruptcy Court all with in 130 days of gaining ownership.


Typical of many a leverage buyout deals. Never pay a Invoice,for any of their Vendors. Use Foot-Hill Financial as their,forward funding source,max out their lines of credit withing ninety days. Falsely Inventories pledged as collateral against forward credit lines. Could go on and on. And in the end,400 families were left with bounced Pay Checks,collection agencies at the door for Medical and Doctor bills because the Company failed to pay the required Health Insurance payments under the rules of our Union Contract.

And today,the Principles in the last Leverage disaster are billionaires with one of the Largest Food Service companies in the Central United States,all built on one LBO and a well time Bankruptcy.





---
Response to underpants (Original post)
Sun Jun 10, 2018, 06:09 PM
stuffmatters (1,990 posts)
3. Strip assets( lie employee health, pension funds, Pump(inflate value) Dump(bankrupt:The Bain Model
At minimum there should be a firewall protecting those employees' retirement funds, built from years of their contributions,from these corporate squid.