Thu Aug 31, 2017, 11:21 AM
Judi Lynn (153,603 posts)
Mexicos pachucos keep zoot suits, defiance alive
BY AGENCE FRANCE PRESSE · AUGUST 31ST, 2017 (10 HOURS AGO)
Decked out in baggy suits, their watch chains swinging to the mambo as feathers bop atop their wide-brimmed hats, Mexico's "pachucos" are keeping alive the tradition of the zoot suit — and the defiance it represents.
Born in Mexican immigrant communities in the United States in the 1930s, pachuco culture started out as the gangsta style of its time — complete with criminal associations, baggy pants and bling.
It was a time of deep prejudice in the American south and west, where restaurants often posted signs reading "No dogs, negroes or Mexicans."
In a show of defiance of the dominant white culture, young Mexicans joined urban blacks in sporting the zoot suit — long jackets, baggy pants tapering to a peg at the ankles, Oxford shoes, dangling watch fobs and splaying hats.
More:
http://www.capitalfm.co.ke/lifestyle/2017/08/31/mexicos-pachucos-keep-zoot-suits-defiance-alive/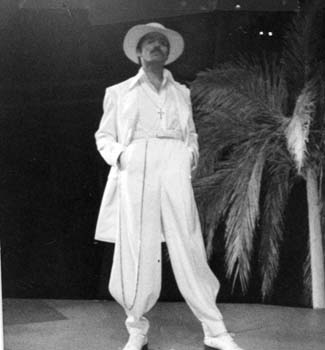 ~ ~ ~
Combing the Zoot Suit Riots and the Murder At Sleepy Lagoon
By Brandon Diaz
March 09, 2016
It was 1940s Los Angeles. Orange groves hung strings of citrus just miles to the south. Houses were popping up in the San Fernando Valley to the east. A jaunt to the Pacific lay just a few miles west. Young couples swooned over one-another, necking on those beaches, sipping bottled Cokes and puffing Lucky Strikes under blistering Southern Cali suns.
Los Angeles was in a boom.
Its greater metro area had a population larger than that of 37 states. Some 2.8 million Angelenos planted their flags and seeded their roots. There were Japanese, Chinese, Filipinos, Armenians, Italians, Blacks, and Mexican-Americans weaving into the sprawl, all amongst one another. The depression was over, and industries offered jobs, good-paying jobs. The stability felt tactile. Some sense of the promise of America being delivered. Actual prosperity a few turns of a wrench away.
But with cultural richness blossoming, one specific tragedy would pour floodlights over over the city, illuminating a bigoted mirk that crawled the social undercurrent of 1940s LA: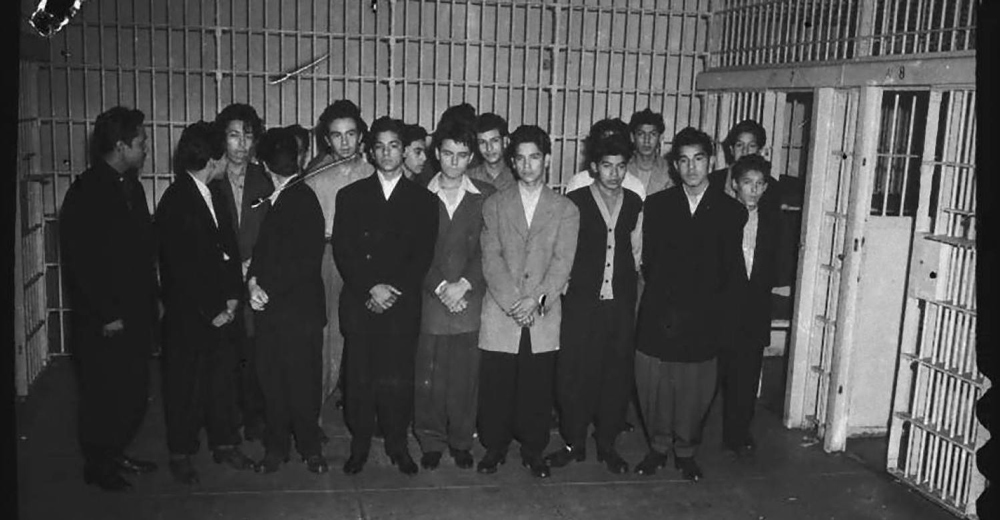 More:
https://thehundreds.com/blogs/content/combing-the-zoot-suit-riots-and-the-murder-at-sleepy-lagoon
6 replies, 5536 views
Replies to this discussion thread
| | | | |
| --- | --- | --- | --- |
| 6 replies | Author | Time | Post |
| Mexicos pachucos keep zoot suits, defiance alive (Original post) | Judi Lynn | Aug 2017 | OP |
| | brush | Aug 2017 | #1 |
| | Judi Lynn | Aug 2017 | #2 |
| | brush | Aug 2017 | #3 |
| | Brother Buzz | Aug 2017 | #5 |
| | mahatmakanejeeves | Aug 2017 | #4 |
| | Skittles | Sep 2017 | #6 |
---
Response to Judi Lynn (Original post)
Thu Aug 31, 2017, 11:50 AM
brush (44,229 posts)
1. Thanks for the post. I didn't know the movement was still alive. What a kool look.
---
Response to brush (Reply #1)
Thu Aug 31, 2017, 01:18 PM
Judi Lynn (153,603 posts)
2. I didn't know until reading the 2nd article above that the people who wore the suits
were actually the objects of race hatred.

Very, very sad. Even sadder, when we realize that California WAS Mexico until the United States took it from Mexico. The Mexican people who lived there as natives suddenly became second class citizens in their own country, just the way it happened everywhere in the Americas.

A lot of people don't seem to remember that California WAS Mexico.

I think these suits are very interesting.

Thanks for your comment.
---
Response to Judi Lynn (Reply #2)
Thu Aug 31, 2017, 01:26 PM
brush (44,229 posts)
3. Film maker Ken Barnes covered Mexican California in his film on the West.
If I remember correctly he even went into the Pachucos a bit.
---
Response to Judi Lynn (Reply #2)
Thu Aug 31, 2017, 05:49 PM
Brother Buzz (32,123 posts)
5. Fifth and sixth generation Californios could argue Mexico basicly abandoned their ancestors...
and they were happy to throw in with the Yankees. That is until they discovered, by devious methods, most of their land grants became null and void; to Hell with The Treaty of Guadalupe Hidalgo that provided that the Mexican land grants would be honored.
---
Response to Judi Lynn (Original post)
Thu Aug 31, 2017, 03:27 PM
mahatmakanejeeves (47,887 posts)
4. I love zoot suits. I never see that stuff at thrift stores, and I'm looking. NT
---
Response to Judi Lynn (Original post)
Mon Sep 4, 2017, 06:55 PM
Skittles (145,798 posts)
6. those guys rock the zoot suit