Wed Mar 22, 2017, 06:57 PM
Bill USA (6,436 posts)
EXTRAORDINARY: Nunes just annulled the House Intelligence committee's charge of a legitimate
nonpartisan investigation of possible links between the Crotch Groper's campaign committee and operatives of Bromance buddy, Vlad Putin.

Nunes obtained information from Intel community and shared it with the WHite House which is enough right there to finnish off this committee's claim of a legitimate, nonpartisan investigation.. but he also did not share this information with the other members of the committee (well, not with any Democrats on the committee. He may have shared it with REpugnants but they're not talking).

Rep Adam Schiff, the ranking Democratis member released a statement on Nunes perfidy.

[div style="border:1px solid #000000;padding:10px;" class="excerpt"]

[div style="border:1px solid #000000;padding:10px;" class="excerpt"]Adam Schiff‏@RepAdamSchiff

Today, Chairman Nunes shared information with WH still withheld from our committee. He cannot conduct a credible investigation this way.


Link to tweet
/photo/1?ref_src=twsrc%5Etfw&ref_url=http%3A%2F%2Fwww.democraticunderground.com%2Findex.php" target="_blank">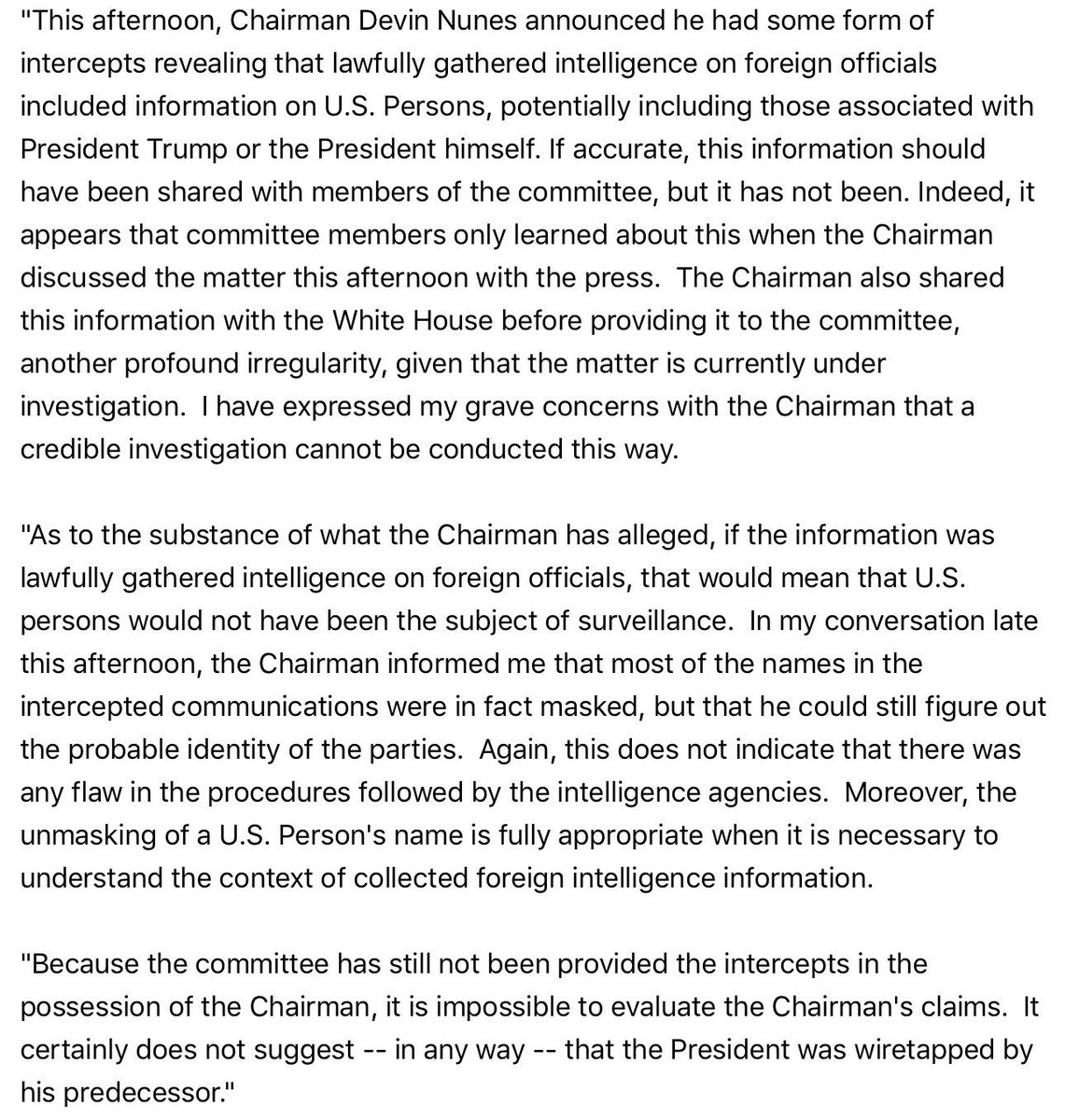 :large


here's a good article which shows a series of tweets by Schiff: WATCH: Adam Schiff Responds to Devin Nunes' Trump Updates





Democrat Adam Schiff, the ranking member of the House Intelligence Committee, held a hastily-planned press conference to respond to committee chairman Devin Nunes' decision to give President Donald Trump updates on the Russia investigation and wiretapping without showing the evidence to Schiff. He said that Nunes' actions mean that there is reason to create an independent commission to investigate Russia's involvement.

Schiff, who is also from California, said that Nunes' actions created "enormous doubt" that Congress can handle an independent investigation into Russia's meddling in the 2016 presidential election. He said he will ask House Speaker Paul Ryan about creating an independent commission.

"We have certainly made it clear now for many weeks … we do an investigation through our intelligence committees but we also have a truly independent commission," Schiff said. "A commission would have a dedicated staff and resources solely on this … issue."
(MORE)




IN ANY LEGITIMATE CONGRESS (i.e. not run by the GOP) THIS WOULD MEAN AN INDEPENDENT PROSECUTOR'S TIME HAS COME.



3 replies, 4144 views
Replies to this discussion thread
| | | | |
| --- | --- | --- | --- |
| 3 replies | Author | Time | Post |
| EXTRAORDINARY: Nunes just annulled the House Intelligence committee's charge of a legitimate (Original post) | Bill USA | Mar 2017 | OP |
| | Eliot Rosewater | Mar 2017 | #1 |
| | C_U_L8R | Mar 2017 | #2 |
| | CanonRay | Mar 2017 | #3 |
---
Response to Bill USA (Original post)
Wed Mar 22, 2017, 07:12 PM
Eliot Rosewater (26,870 posts)
1. It is clear the GOP has no interest in our laws or our country. They could not get away
with this if millions of their voters put on their patriot shoes tomorrow.

But if they dont, if they dont demand patriotism, the country will cease to exist.
---
Response to Bill USA (Original post)
Wed Mar 22, 2017, 07:23 PM
C_U_L8R (40,180 posts)
2. Is Nunes purposely blowing up the committee?
Given recent events, it might have come down to
Impeachment or Self-Defenestration
---
Response to Bill USA (Original post)
Wed Mar 22, 2017, 09:06 PM
CanonRay (11,712 posts)
3. Maybe that was the goal?
He can see where it is going and wants out. Or maybe I'm giving him too much credit