Wed Mar 9, 2016, 09:05 PM
KoKo (84,711 posts)
At Secretive Meeting in Sea Island, GA Tech CEOs And Top Republicans Commiserate, Plot To Stop Trump
When I saw one of the Reporters on "Democracy Now" today talking about the 50 Private Jets from all over the world who flew into Secluded Sea Island Georgia for this Secretive Meeting, I was immediately reminded of another secretive meeting, many decades ago, reported about in the book "The Creature from Jekyll Island" (also off the Georgia coast) which also a meeting of the Grand Wall Street Wizards to create the Federal Reserve Bank in 1910. But, this time the urgency is to Stop Donald Trum
LINK:
http://www.amazon.com/The-Creature-Jekyll-Island-Federal/dp/0912986212
-------------
KARL ROVE IS BACK....GIVING ADVICE:
Karl Rove shared focus group findings that give hope to the GOP establishment.
Billionaires, tech CEOs and top members of the Republican establishment flew to a private island resort [Exclusive, Secluded Sea Pines Island] off the coast of Georgia this weekend for the American Enterprise Institute's annual World Forum, according to sources familiar with the secretive gathering.

The main topic at the closed-to-the-press confab? How to stop Republican front-runner Donald Trump.
Ryan Grim Washington bureau chief for The Huffington Post
Nick Baumann Senior Enterprise Editor, The Huffington Post
Matt Fuller Congressional Reporter, The Huffington Post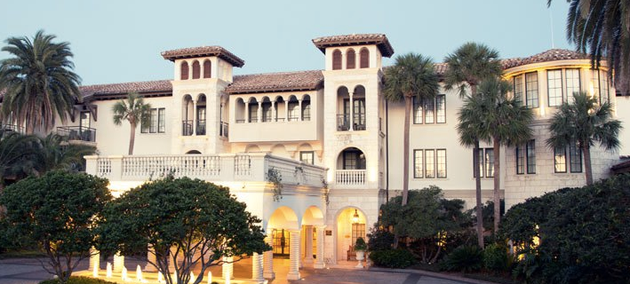 THOSE ATTENDING:
Apple CEO Tim Cook, Google co-founder Larry Page, Napster creator and Facebook investor Sean Parker, and Tesla Motors and SpaceX honcho Elon Musk all attended. So did Senate Majority Leader Mitch McConnell (R-Ky.), political guru Karl Rove, House Speaker Paul Ryan,
GOP Sens. Tom Cotton (Ark.), Cory Gardner (Colo.), Tim Scott (S.C.), Rob Portman (Ohio) and Ben Sasse (Neb.), who recently made news by saying he "cannot support Donald Trump."
Along with Ryan, the House was represented by Energy and Commerce Committee Chair Fred Upton (Mich.), Rep. Kevin Brady (Texas) and almost-Speaker Kevin McCarthy (Calif.), sources said, along with leadership figure Cathy McMorris Rodgers (Wash.), Budget Committee Chairman Tom Price (R-Ga.), Financial Services Committee Chairman Jeb Hensarling (Texas) and Diane Black (Tenn.).

Philip Anschutz, the billionaire GOP donor whose company owns a stake in Sea Island, was also there, along with Democratic Rep. John Delaney, who represents Maryland. Arthur Sulzberger, the publisher of The New York Times, was there, too, a Times spokeswoman confirmed.
"A specter was haunting the World Forum--the specter of Donald Trump," Kristol wrote in an emailed report from the conference, borrowing the opening lines of the Communist Manifesto.
"There was much unhappiness about his emergence, a good deal of talk, some of it insightful and thoughtful, about why he's done so well, and many expressions of hope that he would be defeated."
"The key task now, to once again paraphrase Karl Marx, is less to understand Trump than to stop him," Kristol wrote. "In general, there's a little too much hand-wringing, brow-furrowing, and fatalism out there and not quite enough resolving to save the party from nominating or the country electing someone who simply shouldn't be president."
A highlight of the gathering was a presentation by Rove about focus group findings on Trump.
The business mogul's greatest weakness, according to Rove, was that voters have a very hard time envisioning him as "presidential" and as somebody their children should look up to. They also see him as somebody who can be erratic and shouldn't have his (small) fingers anywhere near a nuclear trigger.
Rove's presentation was on the subject of how William McKinley won in 1896, according to an agenda subsequently obtained by HuffPost.
McKinley's campaign manager, Mark Hanna, is often referred to as the first Karl Rove -- the first true political operative in the U.S. system. McKinley was running against William Jennings Bryan, a populist and a bigot who riled up the masses by assailing coastal elites and bankers.
The race took place in the first Gilded Age. In today's Gilded Age, the parallels are clear.
Continued at......
http://www.huffingtonpost.com.au/entry/aei-world-forum-donald-trump_us_56ddbd38e4b0ffe6f8ea125d?adsSiteOverride=au
žion=australia
8 replies, 2887 views
Replies to this discussion thread
| | | | |
| --- | --- | --- | --- |
| 8 replies | Author | Time | Post |
| At Secretive Meeting in Sea Island, GA Tech CEOs And Top Republicans Commiserate, Plot To Stop Trump (Original post) | KoKo | Mar 2016 | OP |
| | leveymg | Mar 2016 | #1 |
| | KoKo | Mar 2016 | #2 |
| | leveymg | Mar 2016 | #4 |
| | CurtEastPoint | Mar 2016 | #6 |
| | KoKo | Mar 2016 | #7 |
| | CurtEastPoint | Mar 2016 | #8 |
| | JFKDem62 | Mar 2016 | #3 |
| | leveymg | Mar 2016 | #5 |
---
Response to KoKo (Original post)
Wed Mar 9, 2016, 09:17 PM
leveymg (36,418 posts)
1. Hard to say which is worse, Trump or the Jekyll Island cannibals
I'm rooting for the volcano that erupts and destroys all of them.
---
Response to leveymg (Reply #1)
Wed Mar 9, 2016, 09:19 PM
KoKo (84,711 posts)
2. I know....and, there's just Something About South Carolina/Georgia Coast that Haunts!
---
Response to KoKo (Reply #2)
Wed Mar 9, 2016, 09:29 PM
leveymg (36,418 posts)
4. It's everywhere the slave ships arrived and fortunes were made. All that bad Karma
The rotting legacy festers for centuries before springing up most terribly. Horror really is the only thing that is inevitable in American politics.
---
Response to KoKo (Reply #2)
Wed Mar 9, 2016, 09:44 PM
CurtEastPoint (10,324 posts)
6. Jekyll Island is in Georgia.
---
Response to CurtEastPoint (Reply #6)
Wed Mar 9, 2016, 09:51 PM
KoKo (84,711 posts)
7. Yes......it is. I corrected to SC/GA Coast.
Thanks for pointing that out! I grew up there...between Savannah and Charleston and they tend to meld together in my mind.
---
Response to KoKo (Reply #7)
Wed Mar 9, 2016, 10:33 PM
CurtEastPoint (10,324 posts)
8. It's all good. I have friends in St Simons, Beaufort and Edisto. Lovely areas.
---
Response to KoKo (Original post)
Wed Mar 9, 2016, 09:23 PM
JFKDem62 (383 posts)
3. The oligarchs and political elite are losing control of the populace
They do not understand what is happening or why. They are clueless.
And they fall back on their tried and true methods of manipulation
and brain washing to get the American people back in line.
It won't work any more.
---
Response to JFKDem62 (Reply #3)
Wed Mar 9, 2016, 09:32 PM
leveymg (36,418 posts)
5. It's about a century late. But, hubris is on its way.