Thu Dec 5, 2013, 11:04 AM
Celefin (532 posts)
UK battered by storms and braced for severe floods
Source:
The Guardian
The Environment Agency is warning that some homes may have to be evacuated on the east coast, as it issue 140 flood alerts across England and Wales with 3,000 properties expected to suffer from flooding in the next 24 hours.
Scotland's rail network closed
The entire rail network in Scotland has been closed because of the volume of debris on the tracks including trampolines, hay bales and trees, Network Rail Scotland has announced.
It said it all lines will need to be clear before service can resume.
Overhead lines have been damaged in at least 10 places, it said in Twitter updage
Scottish Hydro Electric said up to 80,000 homes are without power across the north of Scotland, PA reports. The worst affected areas are in the Highlands, Tayside and Argyll, with road blockages affecting work to restore the supply.
The number of properties affected is expected to rise during the day as winds move across from west to east, the company said.
More than 1,000 homes in Suffolk are to be evacuated ahead of tonight's tidal surge.
Suffolk County Council said where possible, people living in areas that have been issued severe flood warnings should make arrangements to stay with family or friends outside of the affected areas.
The authority is also arranging emergency accommodation in sports and village halls for people who have no alternative place to stay.
North Wales
Read more:
http://www.theguardian.com/uk-news/2013/dec/05/uk-weather-warning-east-coast-braced-for-floods-live-updates
---
The storm has turned out to be more severe than expected in many places, reaching hurricane strength of average windspeeds around 90 miles an hour with gusts of up to 146 miles an hour and there are about 300 flood warnings across the entire UK.
Central pressure of the system right now is 969mb, position is the south of Norway,
Half an hour ago the storm hit the west coast here in Denmark with an accompanying tidal surge of 3.5 to 4.5 meters.
This is some serious stuff around here with trees uprooted, roofs blown off and coastal flooding.
Going to be an interesting night with the storm peaking in late evening. It's not a hurricane but it has been quite a while since a storm over the north sea threw something like this against the coastal defenses. Real possibility of the most severe storm on record.
North Wales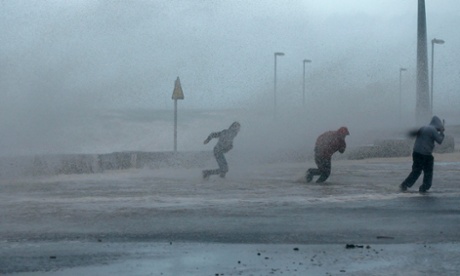 Edinburgh, Scotland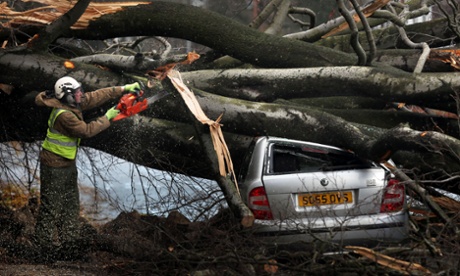 Denmark an hour ago
5 replies, 1219 views
Replies to this discussion thread
| | | | |
| --- | --- | --- | --- |
| 5 replies | Author | Time | Post |
| UK battered by storms and braced for severe floods (Original post) | Celefin | Dec 2013 | OP |
| | dipsydoodle | Dec 2013 | #1 |
| | KoKo | Dec 2013 | #3 |
| | dipsydoodle | Dec 2013 | #4 |
| | KoKo | Dec 2013 | #2 |
| | Celefin | Dec 2013 | #5 |
---
Response to Celefin (Original post)
Thu Dec 5, 2013, 11:10 AM
dipsydoodle (42,239 posts)
1. Some of Hamburg expected to flood at 6pm local time in Germany.
A low pressure system dubbed Xaver may reach hurricane force with wind speeds of more than 140 kilometers (87 miles) an hour as it traversed southern parts of the North Sea before reaching landfall on the northern German and Danish coast, according to the German Weather Service. Xaver may trigger as many as four storm tides in coastal areas and in Hamburg, the Federal Maritime and Hydrographic Agency BSH said.
Water levels may rise 1.5 meters to 2 meters above the medium-high tide level in Hamburg at about 6 p.m. local time today, and rise another 3 meters to 3.5 meters tomorrow, said Sylvin Mueller-Navarra, a spokesman for BSH.
http://www.bloomberg.com/news/2013-12-04/hamburg-girds-for-storm-tides-as-xaver-approaches-landfall.html
The overall issue is a low pressure area off the coast of northeast Scotland matching up with spring tides - the North sea acts a funnel. Last time this was major was 1953.
---
Response to dipsydoodle (Reply #1)
Thu Dec 5, 2013, 11:37 AM
KoKo (84,711 posts)
3. And wasn't it Hamburg and some other areas in Germany that had
massive flooding last Spring...or was it the year before. That was some bad stuff as I remember seeing the pictures.
---
Response to KoKo (Reply #3)
Thu Dec 5, 2013, 11:40 AM
dipsydoodle (42,239 posts)
4. That was caused by their main rivers backing up
due to continual rainfall.
---
Response to Celefin (Original post)
Thu Dec 5, 2013, 11:34 AM
KoKo (84,711 posts)
2. Thanks for this post...With what's is predicted for our West Coast and interior
here in US...we have sympathy for all who will have to deal with their own devastating winter storm and flooding across the Atlantic.
---
Response to KoKo (Reply #2)
Thu Dec 5, 2013, 11:51 AM
Celefin (532 posts)
5. Thanks for that, it's really appreciated. Storm is gearing up here on the mainland now.
Huh... temperature dropping and the roof has begun to creak.
Must be awful on the coast right now; also in the meantime it's pitch black.
And the rain is predicted to turn to hail during the night.
Well, who needs sleep?
Hope you stay safe in your own storms.