Mon Feb 25, 2013, 05:27 PM
struggle4progress (92,363 posts)
Nobel prize for discovering DNA up for auction
Source:
Agence France-Presse via Global Post
The Nobel prize awarded to Francis Crick in 1962 for discovering the structure of DNA has been put up for auction by his family along with one of his lab coats, his books and other memorabilia.
It is believed to be the first Nobel prize placed at auction in more than 70 years and the opening bid is set for $250,000, Heritage Auctions said Monday.
Some of the proceeds from the April 10 auction in New York will help fund research at the new Francis Crick Institute in London set to be completed in 2015.
His family said Crick was a modest man who preferred to outfit his office with a big chalkboard and a portrait of Charles Darwin than to display his many awards ...
Read more:
http://www.globalpost.com/dispatch/news/afp/130225/nobel-prize-discovering-dna-auction
---
A DNA Lesson, From the Expert's Pen
By NICHOLAS WADE
Published: February 25, 2013
... The letter, to be auctioned at Christie's on April 10, with a value the auction house estimates at $1 million to $2 million, is an unusual combination of the historic and the quotidian.

Signed "Lots of love, Daddy," it spells out each syllable of DNA's full chemical name, "des-oxy-ribose-nucleic-acid," with the admonition to "read it carefully." At the same time, it contains the first written description of DNA as a code and of the mechanism of DNA replication — preceding the pivotal scientific articles about DNA's structure and its genetic implications by more than a month. (A letter written five days earlier by Dr. Watson to the biologist Max Delbrück dwells mostly on the structure, with only a brief mention of how DNA might reproduce itself.)

The final piece in solving the puzzle of DNA was achieved on the morning of Feb. 28, 60 years ago this week, when Dr. Watson saw how the bases of DNA paired up. He and Crick then repaired to the Eagle pub in Cambridge, England, where Crick informed everyone within earshot, "We have discovered the secret of life," as indeed they had.

Crick wrote the letter to his son, if not in the very heat of discovery, at least the day after the problems of authorship had been resolved with the group at King's College London, where Rosalind Franklin had generated critical X-ray data on DNA. "He could now — March 19 — relax and write to Michael," said Robert Olby, Crick's biographer ...
4 replies, 1819 views
Replies to this discussion thread
| | | | |
| --- | --- | --- | --- |
| 4 replies | Author | Time | Post |
| Nobel prize for discovering DNA up for auction (Original post) | struggle4progress | Feb 2013 | OP |
| | Exultant Democracy | Feb 2013 | #1 |
| | Enrique | Feb 2013 | #2 |
| | WinkyDink | Feb 2013 | #3 |
| | AlbertCat | Feb 2013 | #4 |
---
Response to struggle4progress (Original post)
Mon Feb 25, 2013, 05:37 PM
Exultant Democracy (6,468 posts)
1. Where is an extra $250k when you need it?
I'm definitely going to try to get my richest friend to buy this just so I can visit.
---
Response to struggle4progress (Original post)
Mon Feb 25, 2013, 05:43 PM
Enrique (27,461 posts)
2. "discovering DNA" is an unfortunate mistake in their headline
DNA was known about a hundred years before Crick figured out its structure, and long before its role in genetics was known. Carry on...
---
Response to Enrique (Reply #2)
Mon Feb 25, 2013, 06:21 PM
WinkyDink (48,912 posts)
3. Or perhaps thousands......
A Syrian cup from ca.2000 BCE: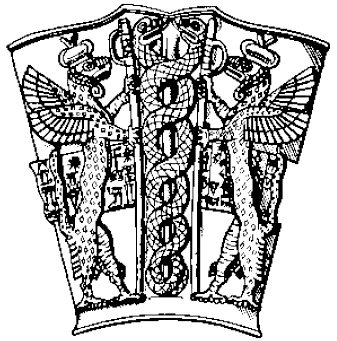 ---
Response to struggle4progress (Original post)
Mon Feb 25, 2013, 07:31 PM
AlbertCat (17,505 posts)
4. Perhaps Rosalind Franklin's family can buy it.