Thu Feb 21, 2013, 01:19 PM
ErikJ (6,335 posts)
The happiest and saddest states according to Twitter
This discussion thread was locked as off-topic by OKNancy (a host of the Latest Breaking News forum).
Source:
CNN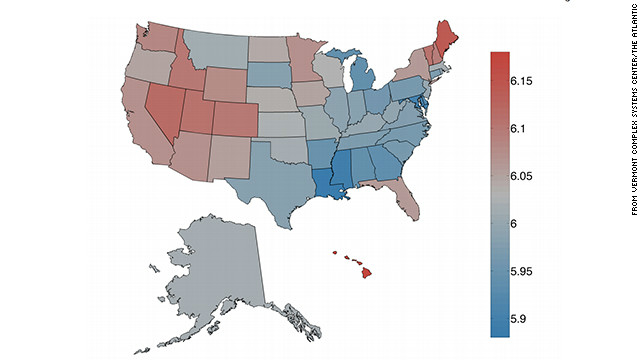 CNN) -- If you're sick of cheerful, happy people, it might be wise to avoid Hawaii or Napa, California. They were found to be the United States' happiest state and city, respectively, in a recent study of geotagged tweets.Researchers at the University of Vermont sifted through more than 10 million geotagged tweets from 2011 to map out the moods of Americans in urban areas. They ranked the locations based on frequency of positive and negative words using the Mechanical Turk Language Assessment word list.
The list includes 10,000 words that have been rated on a scale 1 to 10 according to how "happy" they are. On the lower end of the scale are negative words such as mad, hate, no, boo, smoke and jail, as well as a colorful and thorough assortment of expletives.
Happy words include the omnipresent LOL and haha, as well as good, nice, sleep and wine, and food or beach related words. According to the list, rainbow is one of the happiest words and earthquake is one of the saddest.
Maine, Nevada, Utah and Vermont round-out the top five happiest states list, following rainbow and beach-filled Hawaii. Louisiana was found to be the saddest state, followed by Mississippi, Maryland, Michigan and Delaware. One reason for Louisiana's low cheeriness ranking (they must not have measured during Mardi Gras) is its inhabitants' fondness for profanity.
..............................................more
Read more:
http://www.cnn.com/2013/02/19/tech/social-media/twitter-happiness/index.html
1 replies, 502 views
Cannot reply in locked threads
Replies to this discussion thread
| | | | |
| --- | --- | --- | --- |
| 1 replies | Author | Time | Post |
| The happiest and saddest states according to Twitter (Original post) | ErikJ | Feb 2013 | OP |
| | OKNancy | Feb 2013 | #1 |
---
Response to ErikJ (Original post)
Thu Feb 21, 2013, 01:21 PM
OKNancy (39,579 posts)
1. way over the 12 hour limit - locking
Statement of Purpose for Latest Breaking News Forum
Post the latest news from reputable mainstream news websites and blogs. Important news of national interest only.
No analysis or opinion pieces. No duplicates. News stories must have been published within the last 12 hours.
Use the published title of the story as the title of the discussion thread.
http://www.democraticunderground.com/?com=about&forum=1014
Cannot reply in locked threads