Mon Feb 18, 2013, 06:38 AM
onehandle (51,122 posts)
Janay Mcfarlane Dead: New Mom Shot Just Hours After Sister Attended Obama's Gun Speech
Source:
Huffington Post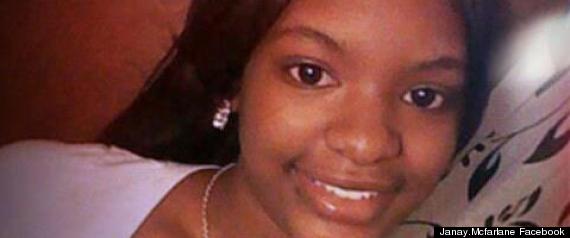 CHICAGO — An 18-year-old Chicago woman was killed the same day her sister had sat on the stage behind President Barack Obama, listening to him push for gun control legislation.
Janay Mcfarlane was shot once in the head around 11:30 p.m. Friday in North Chicago, Lake County Coroner Thomas Rudd told the Chicago Sun-Times. Mcfarlane, a mother of a 3-month-old boy, was in the Chicago suburb visiting friends and family.
North Chicago police said two people are being questioned in connection with Mcfarlane's death, but no charges have been filed.
"I really feel like somebody cut a part of my heart out," Angela Blakely, Mcfarlane's mother, said.
Read more:
http://www.huffingtonpost.com/2013/02/17/janay-mcfarlane-dead_n_2707425.html
5 replies, 3478 views
Replies to this discussion thread
| | | | |
| --- | --- | --- | --- |
| 5 replies | Author | Time | Post |
| Janay Mcfarlane Dead: New Mom Shot Just Hours After Sister Attended Obama's Gun Speech (Original post) | onehandle | Feb 2013 | OP |
| | secondwind | Feb 2013 | #1 |
| | valerief | Feb 2013 | #2 |
| | Kurska | Feb 2013 | #3 |
| | Eleanors38 | Feb 2013 | #5 |
| | AllyCat | Feb 2013 | #4 |
---
Response to onehandle (Original post)
Mon Feb 18, 2013, 08:52 AM
secondwind (6,414 posts)
1. insanity reigns
---
Response to onehandle (Original post)
Mon Feb 18, 2013, 09:12 AM
valerief (53,235 posts)
2. If only people had guns growing out of their necks insteads of heads, this could
have been prevented.
---
Response to onehandle (Original post)
Mon Feb 18, 2013, 09:57 AM
Kurska (5,739 posts)
3. What the fuck is wrong with Chicago?
Isn't this like the third time this has happened? Someone from Chicago meeting Obama and then getting killed in gang violence?
---
Response to Kurska (Reply #3)
Wed Feb 20, 2013, 05:35 PM
Eleanors38 (18,318 posts)
5. NPR ran the first half of a two-hour broadcast on Chicago; the other half this Sunday...
Suggests that you are in a gang in the poor African-American areas of Chicago whether you like it or not. Also suggests that the murder/revenge/murder/revenge cycle is COMPLETELY out of control.
I doubt there is a conspiracy (though there is hostility to better education/advancement among some gangsters), but merely some young punks getting juice, whether or not they hit the "right" target in the murder cycle. Give it time, and there will probably be some more of these kids being murdered, given the dynamic and frequency of the murders.
It is quite discouraging listening to the school officials in the broadcast trying to decide whether or not to cancel a playoff football game due to the murder of a student -- the officials have to consider whether or not the football team is involved in both the instant murder and any contemplated murder-in-revenge. Again, these kids have no choice: You Are In A Gang. And the school cuts across gang "boundaries."
Listen to the broadcast, if you can handle it.
http://www.thisamericanlife.org/
---
Response to onehandle (Original post)
Mon Feb 18, 2013, 10:01 AM
AllyCat (10,244 posts)
4. Devastating. What on earth has this country come to?