Thu Jan 10, 2013, 03:15 AM
alp227 (29,877 posts)
Benefits of College Degree in Recession Are Outlined
Source:
NYT
Young adults have long faced a rough job market, but in the last recession and its aftermath, college graduates did not lose nearly as much ground as their less-educated peers, according to a new study.
The study, published on Wednesday by the Pew Charitable Trusts, shows that among Americans age 21 to 24, the drop in employment and income was much steeper among people who lacked a college degree.
The findings come as many published articles and books have told the stories of young college graduates unable to find work, and questioned the conventional wisdom that a college education is a worthwhile investment and the key to opportunity and social mobility. The study did not take into account the cost of going to college.
"This shows that any amount of post-secondary education does improve the labor market outcomes for those recent graduates," said Diana Elliott, the research manager for Pew's Economic Mobility Project. "This is not necessarily to discredit those individual stories."
Read more:
http://www.nytimes.com/2013/01/10/education/study-shows-college-degrees-value-during-economic-downturn.html
3 replies, 1668 views
Replies to this discussion thread
| | | | |
| --- | --- | --- | --- |
| 3 replies | Author | Time | Post |
| Benefits of College Degree in Recession Are Outlined (Original post) | alp227 | Jan 2013 | OP |
| | 2Design | Jan 2013 | #1 |
| | barkway | Jan 2013 | #2 |
| | jtuck004 | Jan 2013 | #3 |
---
Response to alp227 (Original post)
Thu Jan 10, 2013, 06:45 AM
2Design (9,099 posts)
1. Just can't find work
---
Response to alp227 (Original post)
Thu Jan 10, 2013, 09:48 AM
barkway (11 posts)
2. misinterpretation of results?
Is it possible the reason those with degree faired better than those without is because those with the degree were having to settle for jobs those without a degree usually have because they couldn't find work in their chosen field, thus causing more without degrees to be unemployed?
---
Response to barkway (Reply #2)
Thu Jan 10, 2013, 02:56 PM
jtuck004 (15,882 posts)
3. Very possible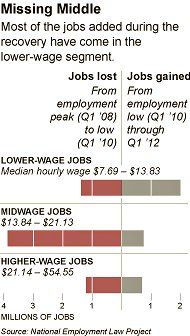 And this doesn't reflect the near 4 million jobs still we are short from early 2008, nor does it tell you that we have added another 8 million+ people since then.
So yeah.