Sat Jan 5, 2013, 06:19 PM
undeterred (34,658 posts)
Rebels assault 2 towns in Central African Republic despite peace talk plans
Source:
CNN
(CNN) -- Rebels attacked two towns Saturday in the Central African Republic even as government officials planned for peace talks next week, authorities said. Meanwhile, opposition and pro-government militias are recruiting child soldiers as the country faces a rebellion in the north, the United Nations warned. Rebels demanding the resignation of President Francois Bozize have seized various towns and threatened to head to the capital of Bangui.
The Seleka rebel coalition assaulted the towns of Alindao and Kouango in a direction toward the capital from Bambari, where they already seized control, said Josue Binoua, minister of decentralization and territorial administration. The rebels launched their offensive about 1 a.m. Saturday, said Jules Gauthier Ngbapo, a spokesman for Binoua. "They are shouting and asking people to come out," Ngbapo said. "The rebels tell civilians that they are there to protect them."
snip
Armed groups are forcing children under age 18 to fight, carry supplies and serve as sex slaves, the agency said Friday. Before the conflict started last month, 2,500 children were linked to various armed groups. That number is expected to rise as the recent conflict continues, officials said.
About 300,000 children have been affected by the rebellion, including family separation, sexual violence, displacement and lack of access to education and health facilities.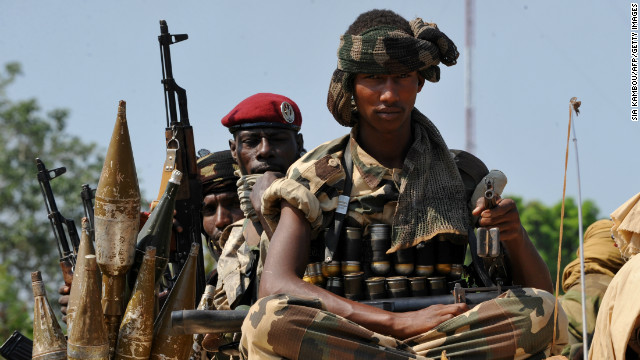 Read more:
http://www.cnn.com/2013/01/05/world/africa/central-african-republic-unrest/index.html
1 replies, 1993 views
Replies to this discussion thread
| | | | |
| --- | --- | --- | --- |
| 1 replies | Author | Time | Post |
| Rebels assault 2 towns in Central African Republic despite peace talk plans (Original post) | undeterred | Jan 2013 | OP |
| | undeterred | Jan 2013 | #1 |
---
Response to undeterred (Original post)
Sun Jan 6, 2013, 06:53 PM
undeterred (34,658 posts)
1. The Tragedy of the Central African Republic
By TEE NGUGI | Sunday, January 6 2013 at 15:36
"Hollande, save me!" shouted the man walking up the street towards Old Nyati's house. The walk was taxing on his corpulence, and he sat down at the side of the road to rest, wiping perspiration from his face with a black polka-dot handkerchief. When he resumed his journey, he changed his repertoire, crying out in melodrama reminiscent of Juliet in Shakespeare's Hamlet: "Barack, Barack, where art thou Barack Obama." I was inclined to laugh at this odd performance, when I remembered that often times in Africa, tragedy disguises itself as comedy. So I followed the stranger to Old Nyati's compound, eager to understand his tragic circumstances.
"I am Francois Bozize," declared the stranger, scanning the crowd gathered at the village sage's compound with a pair of sad eyes. "I honour your village with my presence because I want to take advantage of its peace to think of a way to persuade Hollande and Obama to help me stop the rebels advancing on my capital."
It was difficult to reconcile this fat figure with sad eyes with the image of a man who had come to power through a coup. "My dear Central African Republic is in danger." As I listened to him, I sensed the megalomania that afflicts all African presidents. They all seem to think that they are indispensable guardians of their country's survival. Bozize's deep sadness was not occasioned by the hazards suffered by citizens as a result of the civil war. He was saddened by the prospect of being pushed out of the presidency of the impoverished country.
The following day, I passed by the house at the edge of the village, hoping to get a chance to talk to the fat man with a tragic visage. But he was nowhere to be seen in the compound and the door and windows were closed. I stood undecidedly at the picket fence, and then I heard someone whistle from up the tree that stood in the compound. Then to my considerable astonishment, I saw Bozize climbing tentatively down the tree.
http://www.africareview.com/Blogs/The-Tragedy-of-the-Central-African/-/979192/1658732/-/cgwke9/-/index.html